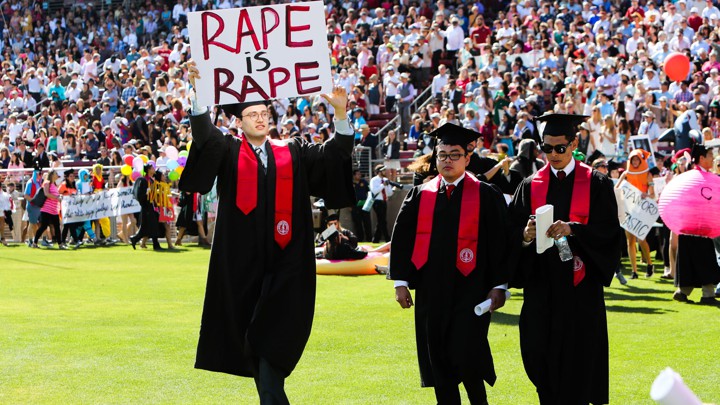 College sexual assault is notoriously difficult to adjudicate. Two students have sex. More often than not, both have been drinking. When one—or, perhaps, bafflingly, both—partners report the incident to the campus Title IX office as an assault, fact finders have to rely almost entirely on the conflicting testimony of the two people involved to determine who was able to give consent, and who wasn't.
The current system is designed to place blame on one person—in practice, usually a man. In her latest piece for The Atlantic, writer Caitlin Flanagan argued that the system has "infantilized college women, demonized male sexuality, and [been] responsible for harsh punishment meted out to an unknown number of college students, almost all of them male." Just because a complainant is a woman, Flanagan suggested, fact finders shouldn't automatically assume she is the victim. The piece left me with a question, which I put to Masthead members on our forums: What if Title IX offices used androgynous names in incident reports, and adjudicated cases without knowing the gender of the individuals involved? While it would likely be logistically difficult to enact this kind of policy, grappling with the issue reveals why it's so difficult for campuses to handle cases of sexual assault.
To access this story, become a member
Sign up for our brand-new membership program, The Masthead, and you'll not only receive exclusive content you can't find anywhere else—you'll also help fund a sustainable future for journalism.
We want to hear what you think about this article. Submit a letter to the editor or write to letters@theatlantic.com.