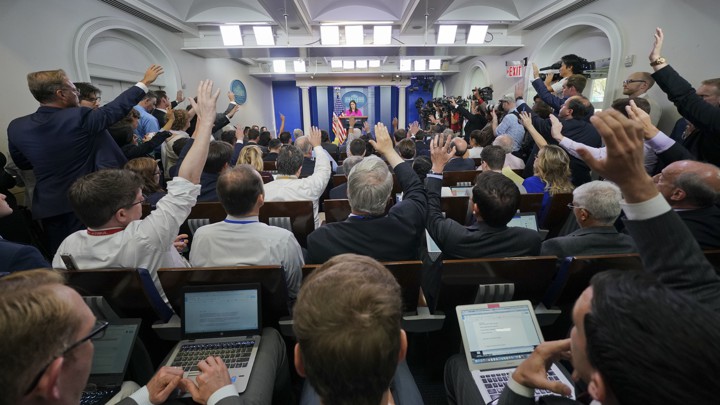 The president lies. That sentence has arguably been true as long as there have been presidents. The question on The Masthead's forums in recent days has been, what should journalists do about it? Today's issue picks that question apart from several angles: Are journalists really reluctant to use the word "lie"? How do Atlantic writers and editors report about lies? And why do we expect so much honesty from the president to begin with?
---
Are Journalists Actually Reluctant to Use the Word "Lie"?
By Caroline Kitchener
In a recent tweet, Maggie Haberman of the New York Times called out President Donald Trump for telling two "falsehoods." That comment launched a debate over whether, and how often, journalists should call the president's false statements, "lies." "The reality," Haberman wrote, "is that what he does can be hard to label because, as anyone who has worked for him will tell you in candor, he often thinks whatever he says is what's real." Haberman's point reflects the New York Times' official position. "I actually think using the word 'lie' is a crutch. Real journalism is to actually challenge things factually," said Dean Baquet, the paper's executive editor, last year.
To access this story, become a member
Sign up for our brand-new membership program, The Masthead, and you'll not only receive exclusive content you can't find anywhere else—you'll also help fund a sustainable future for journalism.
We want to hear what you think about this article. Submit a letter to the editor or write to letters@theatlantic.com.