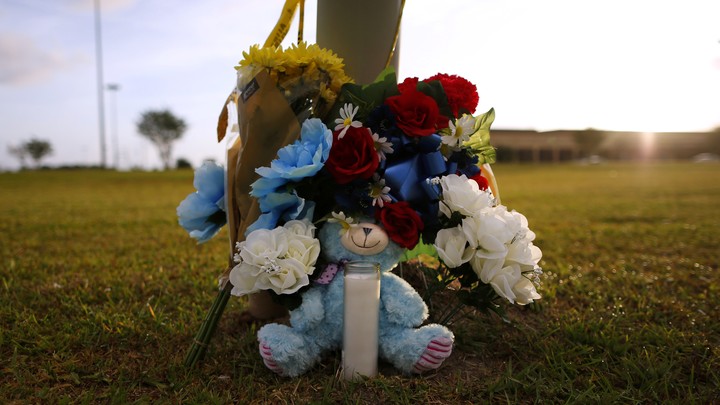 In the United States, Memorial Day—which will be observed on Monday—is a holiday intended to honor veterans who died in service. Memorializing tragedy is deeply inscribed in American culture as part of the nation's response to traumatic events. But it's hard to memorialize a traumatic event without instigating trauma, and it may be especially difficult for memorials of shootings in particular. Do memorials of shootings, like the one underway in Sandy Hook, Connecticut, help—and, if so, how? Karen Yuan investigates.
---
Before we dive in, is there something on your mind? Discuss it in our brand-new forums. You can join the new, member-driven book club, hear from an Atlantic editor why Ratatouille is the greatest summer blockbuster of all time, or just talk about the latest news. Your Masthead membership gets you in.  
---
The Challenge of Memorializing Shootings
By Karen Yuan
A memorial for a shooting is, in its way, an American ritual. First come the flowers, candles, and handwritten notes. It's a public, social form of grieving that seems almost structured. "After a shooting, we know what to do, where to go," said Erika Doss, a professor of American Studies at the University of Notre Dame. It's a human impulse to share in the experience of grief at the site of a tragedy. And over time, spontaneous memorials evolve into permanent ones.
But memorials, as reminders of a painful past, can cause distress. It's difficult for a memorial to remind visitors of a tragedy without reminding them of the pain and grief associated with it. "[When] you don't get the benefit of memorializing, you just get trauma all over again," said Billie Pivnick, a psychologist who consulted on the design of the 9/11 Memorial in New York. "You want visitors to revisit rather than relive. They're coming through, but they're not stuck there."
Some, like Doss, are skeptical of the construction of memorials for shootings in particular. For her, memorials can help process tragedy, but they cannot heal the larger cultural trauma that shootings represent. "Memorials aren't supposed to solve problems; they commemorate the dead. But they also perpetuate the problem." No memorial will end shootings, after all. "I'm tired of shooting memorials, because I'm tired of shootings," she said.
There are different ways to respond to the tragedy of a shooting, and for Dan Krauss, working on a memorial is his way. Krauss is the chairman of the Sandy Hook Memorial Commission. "After that day, I was looking for something to put energy into. I'm not really a political person; the gun rights or gun control stuff—that wasn't me." His daughter was in second grade at Sandy Hook Elementary School when the shooting happened in 2012, and she's one of the reasons he joined the commission. "I think of her all the time in this work," he told me. He hopes the memorial will become a place where the community can honor victims.
The tragedy feels all too recent for many in Sandy Hook, and the work of memorializing grief without causing grief is "hard, very hard," Krauss said. "I think you start by focusing on the people it impacted." The commission consults families of victims in its decisions, Knauss said. Three of its members lost children themselves. But receiving input from grieving families has required patience. "We needed time to build their trust," said Knauss.
The commission evaluated 188 proposed designs for the memorial. The designs members liked put the victims "front and center," said Krauss. Designs that were "overly heavy," like a gash in the landscape called "the void," were passed over. "We really wanted it to be someplace inviting and open ... We didn't want the memorial to stir up anybody's feelings." The memorial isn't meant to be a painful place.
In trauma, victims feel alienated from other people. That exacerbates feelings of fear and helplessness. Done right, memorials can make people feel it's "safe" to experience those difficult emotions, since, in a public space, they no longer feel alone. "You notice you're a human being among human beings," Pivnick said. "You know you're being witnessed." The idea of feeling "safely held," developed by the psychoanalyst Donald Winnicott, posits that people can experience distressing emotions in a "safe" way as long as they're in the right environment. That's why memorial design matters. "The idea is to make the pain bearable."
The 9/11 Memorial was built around the idea that visitors should be able to choose how they engage with it, said Pivnick. A visitor can stay on the periphery by following a timeline of events on the walls, or become immersed in news videos from the day or phone calls from passengers of hijacked planes. But those immersive experiences are optional. She also recommended the memorial be built with more exits than usual, so overwhelmed visitors could easily leave. "It had to be the 'safe enough' museum," she said. "Not totally safe, but safe enough for people to have reactions and not run away screaming."
That careful design didn't matter for some. Steve Kandell, whose sister died on 9/11, wrote an essay in BuzzFeed detailing the memorial's "vulgarity with the noblest intentions." The memorial's hallway timeline of the plane hijackers' movements and news videos of collapsing towers didn't make him feel better. Instead, he experienced the memorial as part of a narrative about how tragedy is commemorated in this country. "This tchotchke store—this building, this experience—is nothing more than the logical endpoint for our most reliably commodifiable national tragedy," he wrote.
The contention surrounding memorials encapsulates the tension between the need to remember tragedy and the need to move on from it. When I asked Krauss why the commission wanted to build a memorial, he suggested the answer was obvious: "Well, it's important to remember history. It's something that happened."
True, memorials can't eliminate all trauma, and not everyone will be able to visit the memorial. "That's okay," he said. For him, the value lies in a having a monument of remembrance. And the process of working on a memorial has, in itself, helped the community to grieve together.
---
Today's Wrap Up
Today's Question: What's a memorial you've visited that affected you deeply? Or a memorial that didn't, and should have? Let's discuss in the forums.

What's Coming: You won't see an email from us Monday because of the holiday. But we'll be up and about on the forums in the meantime. Stop on by.

Your Feedback: Hit that button and let us know how we're doing.
We want to hear what you think about this article. Submit a letter to the editor or write to letters@theatlantic.com.
Karen Yuan
is a former assistant editor at
The Atlantic
.