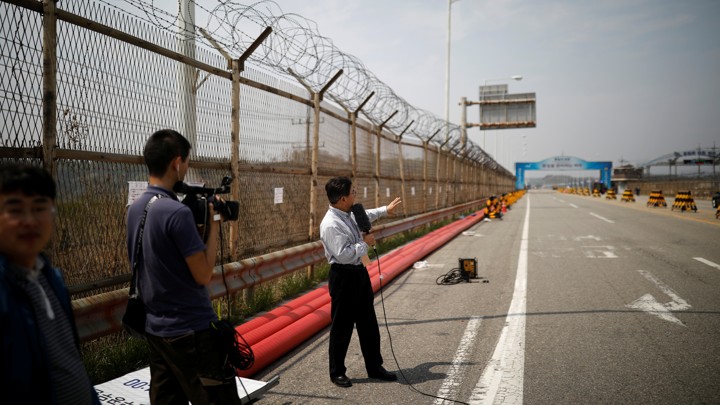 The Atlantic's Uri Friedman is just back from South Korea, where he was reporting on the latest diplomacy between the U.S. and North Korea. You can read his latest articles here, but for The Masthead, we asked him to take us deeper. In today's issue, Uri will walk us through his trip with a series of photographs. They reveal a country eager for peace, but deeply unsure of what comes next. Then we'll highlight a few lesser-known characters behind the drama.
—Caroline Kitchener
---
Dispatches from South Korea
As told to Caroline Kitchener by Uri Friedman
This is Jung Gwang-Il, a defector who escaped from North Korea after his release from a political prison camp there. He met with President Trump in the Oval Office in February. He now runs an organization called No Chain, which sends USB drives and other informational materials into North Korea. A lot of it is K-Pop or South Korean soap operas, not necessarily political stuff. He thinks the best way to address the rift with North Korea is to open people's eyes to the wider world, which might lead to popular revolution.
To access this story, become a member
Sign up for our brand-new membership program, The Masthead, and you'll not only receive exclusive content you can't find anywhere else—you'll also help fund a sustainable future for journalism.
We want to hear what you think about this article. Submit a letter to the editor or write to letters@theatlantic.com.
Uri Friedman
is a staff writer at
The Atlantic
, covering national security and global affairs.