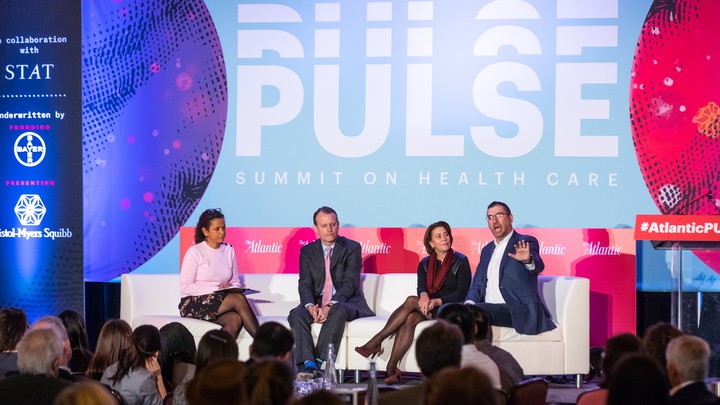 In poll after poll, Americans continue to rank health care as a top concern. Rising costs mean that people either can't afford the care they need, or have to make big sacrifices to get it. But reducing these costs and making care affordable requires untangling a Gordian knot of overlapping systems and incentives.
Boston has been at the center of America's health-care challenges. It houses some of the nation's top hospitals and medical schools. Massachusetts introduced a forerunner of the Affordable Care Act, "RomneyCare." On Monday, we traveled to Boston for PULSE, an AtlanticLIVE summit exploring the forces behind today's health-care system (you can watch the conversations here; links to individual sessions are embedded throughout our summary below). After the event, we held our very first Masthead meet-up, where Boston members got to know Atlantic writers and editors, and each other. In today's issue, we'll share a few reflections from the day.
—Caroline Kitchener and Gloria Oh
---
Generation Z? iGen? Post-Millennials?
Before we dive into today's stories, I want to ask for your help: We're trying to decide what to call the generation after the "Millennials." All sorts of names have been spitballed in the media—the Y2K Generation, the Founders, the @generation—and there isn't a clear consensus yet. So we're looking to you for suggestions. What should we call the youngest generation? Tell us here, and we'll publish our favorite names.
---
The Health-Care Cost Labyrinth
By Gloria Oh, associate producer for AtlanticLIVE and editorial lead for PULSE
Patients are paying higher premiums, subscribing to more high-deductible plans, and paying around one third of their medical bills out of their own pockets. This means more and more individuals are shopping for their health-care needs. Now, patients are consumers, seeking to understand how pricing works in order to make informed decisions about their care. But these new consumers are shopping in a marketplace that's unlike any other, a dizzying labyrinth of products from insurance companies, medical providers, and state and federal governments. The complexity not only makes it difficult for patients to understand their choices, but it also means that experts disagree on why costs are rising.
Guiding patients through the maze
The evolution from patient to consumer has not been easy. Health-care language is notoriously complex and filled with jargon that can make even a health-care expert's eyes glaze over. Add cultural and linguistic barriers, subtract education, and you get millions of patients who don't engage with health care until they become sick and desperately need it.
"If things are simple, they are available and accessible to everyone," said Elisabeth Rosenthal, the editor in chief of Kaiser Health News and author of An American Sickness in a conversation with James Hamblin. "The problem is things are so incredibly complicated now, you need like a PhD and a coding degree to understand what's going on." So what can be done?
Some leaders are trying to meet patients where they are by delivering "culturally competent care." Individuals like Kyung Hee Choi, who leads the Asian Health Services program at Holy Name Medical Center in Teaneck, New Jersey, are helping ethnic minorities navigate the health-care landscape. Choi says she brings doctors to community centers like churches and temples to offer lectures and preventive screenings. Walter Ramos, president of Carney Hospital in one of greater Boston's historically diverse communities, trains his staff to be attuned to the shifting needs of their patient population.
How money makes the maze
"In my view, there's a lot of money coursing through the health-care system, and there are a lot of perverse financial incentives right now that prompt not necessarily the best behavior," said Ceci Connolly, the president and CEO of the Alliance of Community Health Plans, a nonprofit that matches health plans with providers.
Of course, different actors in the system—insurers, providers, policy makers, and patient advocates—disagree over who is most responsible for the opacity and misbehavior in it. When representatives of those various constituencies sit on stage together, as they did in Boston, their different points of emphasis emerge clearly.  Andy Slavitt, the former acting administrator for the Center for Medicare and Medicaid Services, called out insurance companies and payers as being part of the problem by making "record profits in the market."
But Matt Eyles, incoming CEO of America's Health Insurance Plans, responded by pointing out that profitable commercial plans were only part of the portfolio offered by the insurance companies his organization lobbies for. Those insurers also work with Medicaid, Eyles said, which illustrates the complexity in the system. Connolly, whose organization sits between providers and insurers, said rising premiums were the fault of rising costs. "That's hospital costs, physician visits, specialists, and prescription drugs," Connolly said. "Those are the drivers of your premiums. So as much as you get frustrated about your premium or your copay or your deductible, as a nation, we've really got to be willing to look at the underlying cost of care."
"Over the next number of years," Slavitt said to Connolly and Eyles, "you guys are going to be challenged to answer the question, what actual value do you add? I think if the insurance companies don't figure out how to answer that, and not to Washington but to the American public, you guys are going to be in an existential crisis I think you've never seen before."
---
Reading All Sides of the Health-Care Debate
In conversations about health care, there are a lot of different stakeholders that struggle to make themselves heard. The Atlantic has published pieces from many of those perspectives. Here are a few:
---
The Masthead Goes to Boston
By Caroline Kitchener
It was fitting, I thought, for The Masthead to hold its first member meet-up in Boston, half a mile away from the hotel where our magazine was founded, over 160 years ago. Thirty members came out to talk about The Atlantic, and meet the people behind it. For everyone who couldn't make it to Boston yesterday, I've asked a few of those members to share their favorite aspects of the city with you. If you want to experience Boston like the locals, here's what they suggest:
Climb on the old forts at Castle Island. Don Bermont has spent most of his life in Boston. "I went to college here, I met my wife here, I went away for grad school, came back, and have been here ever since." On a clear day, Don will walk with his wife, his children, and his grandchildren—who all live in the Boston area—along the harbor. They'll walk through South Boston, past the Sea Port, to Castle Island, home to a series of old military forts, utilized during the Revolutionary War to protect the city. "You can climb up on the forts and walk around," he said. Ferries shuttle passengers from the harbor to lighthouses in the area and other outlying islands. "We still do that all the time."

Surf university websites for free events. Kimberly Nelson moved to Boston two years ago from Winston-Salem, North Carolina. When she arrived, she quickly discovered what she sees as Boston's ultimate perk: free lectures. "There are like 500 universities in Boston," Kimberly said. "You can go to any university website, poke around, and see what interesting thing is happening … It's just a matter of knowing where to look." Recently, she learned about toxic stress and child development. Before that, she sat in on a lecture on charter schools. Nelson is a speech writer, focusing primarily on theology and education. "I enjoy getting inside someone else's head … taking their ideas and expressing them in a way that means something." The free lectures provide excellent inspiration.

Find a way into Harvard's Widener Library. "I'm not a party person," Hannah Ellsberg, a freshman at Harvard, told me. "My idea of a good time is museums. All the museums. I also generally enjoy libraries." Her favorite is—no question—Widener, Harvard's main library, and one of the largest collections of books in the world. Her first semester, Hanah worked at Widener as a "puller," spelunking in the cavernous reaches of the massive library to retrieve books for students who request them. "You go far underground and walk between these 1950s shelves that move when you click the buttons on the sides of the bookcases." If Masthead members make it inside Widener (access is restricted mostly to students, researchers, and alumni), Hannah suggests they make a bee line for the section on fairy tales, myths, and magic. That, or the section on the social psychology of Barbie. "Those are absolutely fascinating books," Hannah gushed. "I know exactly where the Barbie section is." If you can't get into Widener, Matt Thompson, our executive editor, and a former Bostonian, says the Mapparium is a worthy consolation prize.
---
Today's Wrap Up
Question of the day: What should Masthead members do when they visit your town or city? Reply to this email and let us know.

What's coming: On Friday, we'll report on how generations get their names. Don't forget to make a suggestion.
We want to hear what you think about this article. Submit a letter to the editor or write to letters@theatlantic.com.
Gloria Oh
is an associate producer at AtlanticLIVE.