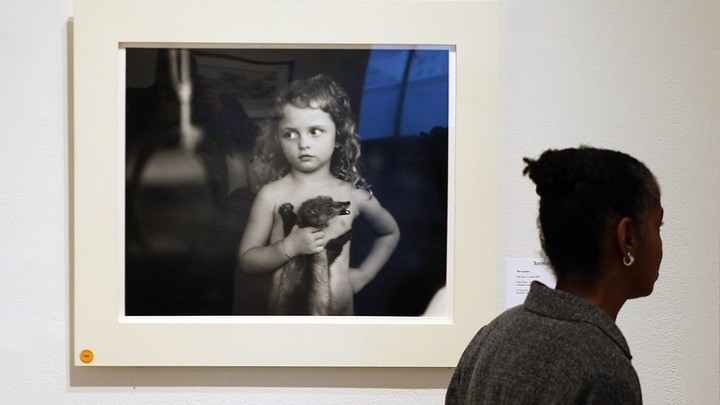 The word "family" evokes warmth, love, and intimacy. It is the closest community many of us will have. But a family's tight embrace can easily become constricting, a source of tension and discord. As The Atlantic's new Family section nears its first month since launch, we wanted to take a look at the challenging aspects of family life. Annika Neklason reflects on a wife and mother's critique of the family, published in The Atlantic in 1946, and Karen Yuan talks to Atlantic contributing editor Alex Wagner, whose new book confronts difficult moments in her family's past. To close us out, I look into a vivid recent debate: When a photographer and mother invites the world to view her family's most private moments, how much is she at liberty to share?
—Caroline Kitchener
---
Calling All Washington, D.C., Masthead Members
We're meeting up! On Tuesday, May 1, at 5 p.m., we're hosting a reception at the Newseum with our education team, associate editor Alia Wong and staff writer Adam Harris. They'll share some thoughts on the biggest issues in education, and then the floor is yours! They'll take your questions, and spend some time getting to know you. This event will be intimate—it's only open to Masthead members in the D.C. area—so you'll have the chance to talk to them one-on-one. You're also invited to The Atlantic's annual education summit, immediately preceding our event. RSVP here.
---
What Was Wrong With the Family … 70 Years Ago
By Annika Neklason, Atlantic archives editor
Though the early postwar years are now often remembered as a stable and idyllic era for the American family, Della D. Cyrus contended in a 1946 Atlantic article that family life was in a state of crisis. As families shrank and individuals found more support and satisfaction outside of familial bonds, she wrote, spouses became estranged, parents grew overwhelmed, and children were alternately abandoned or over-mothered. In sum, Cyrus argued, "The family lets people down."
Cyrus's article bears some clear markers of its time. At no point, for instance, does she consider a family situation without a heterosexual married couple at its core, or with a father staying home from work to care for his children. The mothers she describes receive no maternity leave; the question of how their childbearing will affect their employment is replaced with the assumption that it will diminish their professional lives.
But some of the familial failings she details, dated as they are, still resonate more than 70 years later. Her description of young women overburdened with parenting and household work, for example, though rooted in a time when mothers were almost universally expected to stay home, remains relevant. "Let the magazines call a woman Homemaker, Queen of the Kitchen, Princess of the Parlor," Cyrus writes. "The woman herself knows that she is the unhired help doing the hack work of the world."
She captures, too, the way in which the resources for family support were and are most accessible to the privileged group that can best afford them:
If a good nursery school is available for the children and the family can get and pay for a first-rate housekeeper, the woman may work at an outside job she likes, to the greater satisfaction of everybody, including her husband. But desirable housekeepers and nursery schools are available to only a select few. Most mothers must resort to makeshift arrangements which are bad for the children and leave the mother with most of the work to do at home in addition to her other job.
Tasked with the constant and often conflicting duties of keeping their homes clean and their children happy, and without any outside help, Cyrus describes how women were worn down and dissatisfied with their familial lives. Their husbands, she writes, were similarly dissatisfied. "Men suffer because women suffer, and, suffering, cannot give them what they need and expect to find in the family." The child, according to Cyrus, is "cramped and lonely and pushed away and over-watched by a mother who is too tired and too busy and too unhappy to give him the kind of mothering he needs."
Considering all of this, Cyrus asks, "Why do we not look at the family with loving but dry eyes, and see it for what it is, an antiquated institution designed for another time and another way of life, but now badly in need of remodeling if not actually remaking?" Decades later, the idea of the American family is, perhaps, in the midst of a long remodeling process, expanding to allow women more professional freedom and to include single and non-heterosexual parents and stay-at-home fathers. But the continued resonance of parts of Cyrus's critique suggests that it could have more evolution ahead.
The full article, "What's Wrong With the Family?", available exclusively to Masthead members, can be found here.
---
Your Own Family, Reconsidered
By Karen Yuan
Atlantic contributing editor Alex Wagner grew up hearing her mother wax nostalgic about her family's life in Burma. But, as Alex writes in her new memoir Futureface, "It always rang alarm bells when anyone got misty-eyed about the good times, because, in reality, those were often actually pretty bad times for quite a few other people." After researching her family's history, she discovered her relatives' complicity in enabling racial division in Burma. But by grappling with the darker side of her family, Alex says she was able to understand her forebears more completely and more richly.
Karen Yuan: Was it hard to confront your family?
Alex Wagner: When you find out that someone harbors racist or bigoted ideas, usually it's good to confront them, especially if they are people you love and hold dear. There were definitely uncomfortable moments, but I didn't feel like I was doing something wrong … And as a journalist, I've had so many confrontational interviews that were televised. On TV, it's a different kind of confrontation entirely—more sweat-inducing. This began as a personal mission, the kind that could be dealt with over weeks and months and years, so there was more of a dialogue around it.
Karen: What were some of those uncomfortable moments?
Alex: I talked to my Burmese mom about her attitudes towards the Chinese, and to my grandmother about her attitudes towards Indians. Talking to the older generation, there's a sense of imperviousness that a lot of them have when it comes to their bigotries. It can be frustrating to say, "You need to understand why this is a questionable position," or, "I want to know why you take this position towards this group of people." It's uncomfortable, but it's also about discovery. There is a lot of tenderness in being honest about the full spectrum of someone's humanity. Even if people have poisonous aspects, they also have laudable aspects, and both are important in work like this.
Karen: You write that family members on your mother's side would stubbornly stick to this rose-tinted narrative of your family history. How were you able to hold them—and yourself—accountable?
Alex: Ask very specific, very pointed questions over and over again. Especially since you're so reliant on memory in these conversations, trying to find factual sources to corroborate or serve as counterpoints to whatever narrative you've been given is important. There would be a narrative spun by my grandmother, and then a narrative I got from experts in the field who knew about, say, Burmese agrarian finance in the 1920s. You have to put those two things together to get the real story. I definitely had an interior monologue about whether what I was writing was fair, or whether I'd done enough research to accurately answer a question. But self-doubt is the guardrail for memoir and actually serves the writing. Also, having an editor, or someone with an outside perspective who you really fundamentally trust, giving you really honest feedback is indispensable.
Karen: You hadn't spoken with members of your father's side of the family for a while. How did you overcome the discomfort of reaching out to them?
Alex: I felt no small amount of guilt that I had been a shadowy figure who only re-appeared when I was writing a difficult family memoir. But the truth is, nobody was judging me. We often over-ascribe the amount of our own importance in other people's lives. Turns out, when you pick up the phone to talk to relatives, most of the time they're happy to hear from you. And they had wanted to find the answers to a lot of the same questions.
Karen: How did your family react to what you wrote about them?
Alex: My family's reactions seem to be generally positive, because this isn't a takedown of my family, but an exploration of the stories we've told ourselves for a long time, and the truth behind those stories. They're interested or surprised ...There are parts of the book my mother does not like … but nobody's angry. As far as reporting on family: It's important to be straight-up with people about what you're doing. Any political journalist will tell you that when you're interviewing a source, you don't want to leave them with the wrong impression of what an article's focus is going to be.  
Karen: What's your advice for people who want to investigate their own families?
Alex: Do it. It's always really important to know and find the truth. Start talking to relatives now, because it's a long and winding road, filled with distractions, and lovely dinner conversations,  and nostalgia, and catching up—and it is time-intensive. But a lot of beautiful, serendipitous moments come out of interviews like these. Knowing people's stories intimately brings you closer to them. My great-grandfather and grandfather became real people to me. The only way someone becomes real to you is if you understand their flaws and shortcomings, because then you can develop a full picture of their humanity. I feel like I understand my forefathers much better than I ever did before.
---
What Sally Mann Tells Us about Parental Rights
By Caroline Kitchener
Countless works of art and literature involve artists probing the lives of their parents. It's less common for artists to train their lens on their children. Yet in an era of iPhones and Instagrams, parents have never had more opportunities to publicly document the lives of their kids. What considerations and complexities are involved in "sharenting"? To inform that question, I wanted to consider an extreme case, one that preceded our social media moment: the photography of Sally Mann.
Mann is famous for taking pictures of her family. On their sprawling, 423-acre farm in Lexington, Virginia, she captured her three children as she saw them every day—nursing a bloody nose, posing coyly on a lounge chair, dancing naked in a field. They were intimate images, snapshots only a parent might produce, and were widely celebrated when her book Immediate Family was published in 1992. But they were also highly controversial.
The images were emotionally rich and intensely personal, and, to many, they were offensive. The San Diego Tribune published a review that asked, "It May Be Art, But What About the Kids?" Many media outlets, including The Wall Street Journal, chose to censor the photographs. The questions these images raise about the rights and responsibilities of a parent to her kids have legal, ethical, and artistic dimensions.
Legally, Mann was "working under an inchoate threat," Edward de Grazia, a professor at Yeshiva University's Benjamin Cardozo School of Law who specialized in art and censorship, and who has since passed away, told The New York Times when Mann's 1992 collection was published. "Any federal prosecutor anywhere in the country could bring a case against her in Virginia and not only seize her photos, her equipment, her Rolodexes, but also seize her children for psychiatric and physical examination." Amy Adler, a professor of art law and feminist theory at New York University, told me that certain photos in Mann's collection could potentially, in her opinion, qualify as child pornography. "There is an unmistakable layer of sexuality that one can see in some of her images of her children," Adler said.
But it's been 26 years since Mann published Immediate Family, and she was never prosecuted for making the photos. "The spirit of child pornography law is that we need to protect children from horrible, unimaginable abuse," Adler said. Prosecutors have to look at the whole situation, and evaluate whether or not children were harmed in the process of making the art. There is more child pornography in the world than prosecutors could ever possibly sift through, Adler told me. They can't go after everyone, so they have to make choices. Who poses the greatest risk to children, and their safety? Probably not a mother who, by all accounts, cares deeply about her children. Adler said, "They're not going to waste their time with someone like Sally Mann."
The ethical considerations in a case like Mann's are more difficult to tease out. I wasn't able to reach Mann for comment on this piece, but she has written and spoken extensively on the process that informed her decisions. In writing and in interviews, Mann has emphasized that she felt comfortable publicizing the images in part because her children played an active role in making the photographs and deciding what should be published. "I have no objections, none," Jessie, Mann's oldest daughter, told The New York Times after Immediate Family was released. Before the book came out, Mann took her two oldest children to a psychologist to make sure they really wanted the photos to be published. Daniel Shybunko, the psychologist, told the Times that the children "certainly recognized the consequences that were negative as well as positive." When they weren't comfortable with a particular photo, they exercised "veto power."
As they grew into adults, Mann's children have continued to publicly endorse and participate in her work. "It was offensive to me as a child that people would make the assumptions about my mother's work that they did," Mann's daughter Jessie told an interviewer in 2016. "We all worked hard on those photos and we are proud of them, so to have critics suggest that we were being exploited, undermines our engagement and collaboration. That is what happens to women and children in art; they get mistaken for objects rather than agents."
But as Mann acknowledged in her 2015 book, Hold Still, at least one of the dangers her critics warned about proved real. As Sarah Boxer recounted in a review in The Atlantic, "after the publication of Immediate Family, the Manns acquired a stalker. Mann had unwittingly summoned a real Humbert Humbert, expressly devoted to her family. He wanted to know more about them all. He tried to get information from neighbors and friends. He wanted to be part of the family." Mann addressed those critics in her book, writing: "It will make their vengeful day when I admit now that they were in some measure correct."
This leaves us with the most subjective question: Did the artistic intent and value of the images outweigh the potential harm to Mann's children? Mann has emphasized that, as a mother, she was clearly not trying to harm her children. She has said that, while she cannot control what people do with the art, the photos were not designed to elicit attention from pedophiles, a major concern of Mann's critics. "Her intent was not to exploit the children, but rather to create good works of art," Adler said.
While many called her images intentionally "sexualized," Mann disagrees. "I was gobsmacked by my babies," she wrote in The New York Times, "… their meaty beauty and smell, the doughy smoothness of their skin, the pulsing crater of fontanel." There was "a parental carnality, even a kind of primal parental eroticism," but that, she said, is an entirely distinctive frame from which to approach a photograph. "… To confuse it with what we call sexuality, inter-adult sexual relations, is a category error." The decades-spanning furor over Mann's work is a testament, in part, to its power.
As a famous photographer and bestselling author, Mann's decision-making process was uniquely public. But every day, parents grapple with decisions that have a major impact on their children, without knowing how those decisions will play out down the road, or how their children will respond as adults. These decisions can be as routine as, "should I share this photo," and as far-reaching as, "how should I respond to my child's gender dysphoria?" When Mann decided to publish Immediate Family, she couldn't be sure how the photos would shape her children's lives. But would she do it again? "Yes. Yes, and yes, resoundingly, absolutely, we would do it all over knowing what we know now."
---
Today's Wrap Up
Question of the day: What family issues would you like to see us report on?

What's coming: Friday is 4/20. We'll talk about the past and future of cannabis in the United States.
We want to hear what you think about this article. Submit a letter to the editor or write to letters@theatlantic.com.
Karen Yuan
is a former assistant editor at
The Atlantic
.