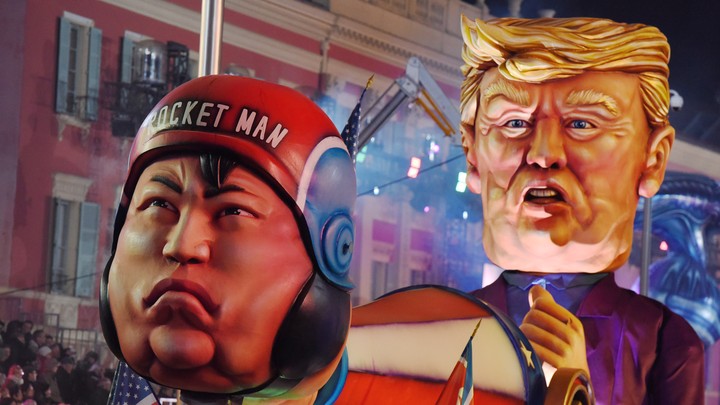 After repeatedly threatening war with North Korea and piling on new sanctions, the Trump administration has suddenly shifted to diplomacy, accepting (in theory) an invitation for Donald Trump to meet with Kim Jong Un. That about-face, the administration would argue, is the best chance to get North Korea to get rid of its nuclear weapons, or "denuclearize."
It's a good moment to review where the North Korean crisis stands. In today's issue, we will: update you with the latest analysis from the newsroom; explain one of the key ethical challenges of reporting on a totalitarian state; and dive into the questions The Atlantic has been asking about North Korea for decades.
—Matt Peterson
---
What Does North Korea Really Want?
This morning, I called up Uri Friedman, a reporter who has been covering North Korea for The Atlantic. With some light edits, here's how Uri answered my questions about the crisis. And if you're still looking for more after you read his answers, take a look at Uri's story about H.R. McMaster's rhetoric on North Korea and his interview with former Defense Secretary Bill Perry.  
The North Koreans asked for this meeting. Do we know what they want?
We don't. We have heard very little from North Korea itself on the summit and on what they want. A lot of it has been relayed second-hand from top South Korean officials who met with Kim Jong Un.
This is not the first time North Korea has said they are willing to talk about denuclearization. The context is very important. They say if the security threats to us are no longer there, we don't need nuclear weapons. But that's like when the U.S. officials say, Listen, we hate nuclear weapons. We would be OK with removing them if the rest of the world also removed their nuclear weapons. This is pie-in-the-sky in terms of what they would want in order to disarm. I would be very skeptical.
When North Korea says it's willing to talk about denuclearization, what they may want in return is sanctions relief. They may want big concessions from the United States in exchange for freezing their nuclear weapons program in place. They might even want tacit acknowledgement by the United States that North Korea is a nuclear weapons state. In that case, they would retain some of their nuclear arsenal, but maybe not with a fine-tuned capability to hit the United States.
Does the possibility of a summit mean that the balance of power has shifted in the world?
The United States is, along with Russia, the most powerful nuclear weapons state in the world. It is also the leader in nuclear nonproliferation efforts. It is well-positioned to be the gatekeeper of the nuclear club. Unfortunately, what we've learned is that the nuclear club has a lot of entrances. You don't need to go through the front door in order to get nuclear weapons.
North Korea has for decades wanted a summit between the leader of North Korea and the leader of the United States. An administration official told reporters last week that one reason that the Trump administration is saying we're going to do this, even if North Korea hasn't earned it, is that North Korea is a totalitarian country where only one person's decisions matter. That's Kim Jong Un. Why not speed up this process and skip these lower-level meetings where we're twiddling our thumbs and talking about denuclearization? Why not go talk to the one person who can make a difference in whether North Korea denuclearizes or not?
What could derail the summit?
More tests. "North Korea has promised not to test additional ballistic missiles or nuclear weapons. If they were to test something else, even something ambiguous like a satellite, I think the summit would be off."

More conditions from the U.S. "At this point, the only preconditions for the summit are that North Korea agrees to talk about denuclearization, which it says it has, and that North Korea halts its missile and nuclear tests, which so far it has. But if the Trump administration starts saying, well, we want North Korea to agree to more, North Korea might resist."

The summit with South Korea. "In April, there will be a summit between the president of South Korea and Kim Jong Un. My guess is the South Korean president, who's been orchestrating a lot of this diplomatic breakthrough behind-the-scenes, is going to lay the groundwork for the U.S. summit afterward. Watch what comes out of that summit. Does North Korea agree more specifically on what exactly it means by 'denuclearization' than it has so far? Does South Korea agree to start joint economic enterprises as a concession? If that first summit falls apart for any reason, it's very unlikely that the second one between the U.S. and North Korea would take place and would be successful."
—Uri Friedman and Matt Peterson
---
The One President to Give Up His Country's Nuclear Weapons
Last year, Uri Friedman interviewed F.W. de Klerk. He's probably better known as the last white president of South Africa, who gave up power to Nelson Mandela. But he also gave up South Africa's nuclear arsenal, making his country the only one in history to voluntarily relinquish nuclear weapons it had built. Here's what de Klerk had to say about North Korea:
So far, sticks have been used [against North Korea]. Maybe the time has arrived to also say, 'Can we devise a carrot which can bring people around the table that are not talking to each other at the moment? What should that carrot look like?' Whether there is enough reasonableness and sanity on the side of North Korea to take a meaningful look at an offer of a carrot is another question. Nobody can change that if it's unchangeable …
The lesson we've learned in South Africa, in a wider context apart from nuclear weapons, is that only through negotiation, only if enemies or opponents talk to each other, can peace be achieved, can a new dispensation be agreed upon. If you don't talk, you get thrown deeper and deeper into more conflict.
—Uri Friedman
---
How to Take a Picture of North Korea
North Korea is tricky for photo editors. The government has tremendous power over any information that comes out of the country, especially photos of its leaders. We asked Atlantic photo editor Emily Jan how to visually depict a country that, historically, has worked so hard to control the cameras.
Since Kim Jong Un came into leadership in North Korea, the most isolated country in the world, the government has gradually granted more access to foreign press photographers. Day to day at The Atlantic, we use several wire resources with varying degrees of presence in the DPRK. But even so, press access to the administration—and the entire country—is tightly controlled. That means most of the images coming out of the country, particularly of Kim, are a form of propaganda. There has been so little interaction between officials from the U.S. and North Korea that, in the days following the Trump-Kim meeting decision, we didn't have much to choose from. In the end, we used an AP photo, taken in Seoul, of a TV split screen showing the two leaders. But that in itself told a story.
Perhaps these new relationships mean we'll see more images coming out of North Korea. Especially as we look toward more stories about North Korea and their interactions with the rest of the world, I'll be pointing the newsroom towards a variety of viewpoints and moments, and careful selection of body language and facial expressions. As this semi-viral image of a Trump-Trudeau meeting (in which Trudeau looks skeptically at Trump's outstretched hand) shows, a photo is a mere split-second of a moment and not the whole story. We have to be dogged about proper crediting (Was this photo taken by the Korean Central News Agency? The AP? Another source?) and captioning, and do our best to guide readers with accurate information and a diversity of perspectives.
—Emily Jan
---
70 Years of North Korean Crises
Atlantic writing on North Korea, from 1953 to today, provides perspective on the fraught history and evolution of the relationship between the Korean peninsula and the United States.
—Karen Yuan
---
Today's Wrap Up
Question of the day: What are your lingering questions about North Korea? Reply and let us know.

Your feedback: How are we doing? Take our quick survey and tell us what you thought of today's issue.

What's coming: On Wednesday, we'll report on how Billy Graham and other prominent American evangelicals evolved on key issues in the latter half of the 20th century.
We want to hear what you think about this article. Submit a letter to the editor or write to letters@theatlantic.com.
Matt Peterson
is the editor of The Masthead, the membership program at
The Atlantic
.
Uri Friedman
is a contributing writer at
The Atlantic
and the managing editor at the Atlantic Council.
Emily Jan
is an art director and photo editor at The Atlantic.
Karen Yuan
is a former assistant editor at
The Atlantic
.