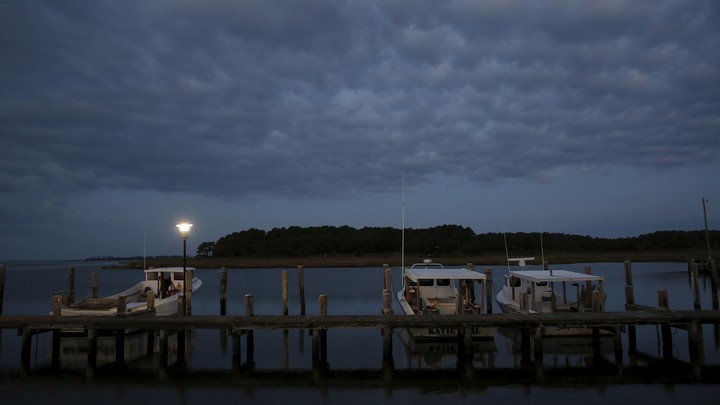 The national conversation about guns seems to be getting louder. The mass shooting in Parkland, Florida, triggered a new round of exhaustive media coverage, culminating in last weekend's March For Our Lives. But in the communities most affected by gun violence, these issues are, for some, much harder to talk about. "Everyone in town whispers about what happened," Rebecca Carnes, a Masthead member from Newtown, Connecticut, wrote in our Facebook group. To learn more about how communities reckon with these tragedies, I talked to Rebecca, along with a few people in a small Alaskan town that struggles with a different kind of gun violence. To close us out, Atlantic visuals editor Emily Jan shares some of her photos from Saturday's march in New York City.
—Caroline Kitchener
---
"No, we're not going to talk about it."
At the March For Our Lives, Parkland student Emma Gonzalez captivated the crowd with silence. After a few brief remarks, she stood, and cried, and stared, without saying anything, for the better part of 6 minutes and 20 seconds, the duration of the shooting at Marjory Stoneman Douglas High School. With her silence, Gonzalez, a victim who turned to activism, called attention to just how loud the gun debate can be—and also how, in the communities most affected by violence, some might choose not to use words.
This week, I talked to two women, Wilma Bell-Joe and Masthead member Rebecca Carnes, who live in towns that have suffered terrible violence in different ways: Hooper Bay, Alaska, and Newtown, Connecticut—3,843 miles apart. Hooper Bay has the country's highest rate of firearm suicide. Newtown was, as you know, the site of one of the deadliest school shootings in U.S. history. Many residents of both towns have responded to these tragedies with silence.
As scholars learn more about the consequences of mass violence, they're "realizing the extent to which it impacts the whole community," not just friends and family of those killed or wounded, said Amy Nitza, the director of the Institute for Disaster Mental Health at the State University of New York at New Paltz.
When Carnes' kids came home from school on the 5th anniversary of the Sandy Hook shooting in December, they told Carnes they'd had a moment of silence at school, but they didn't know what it was for. "It was so weird," Carnes said. "They didn't give the kids a reason." In letters to parents, the school refers to the shooting simply as "12/14." A few months ago, she tried to bring it up with an former colleague. "She got very shaky and nervous," Carnes told me. "She said, 'No, we're not going to talk about it—I can't.'"
Carnes feels the urge to talk about Sandy Hook most intensely when she's standing outside her kids' school, a few minutes from where the shooting took place, with the other parents, waiting to pick up her kids. But now, she never says anything. "I'm so afraid of offending someone, of someone else overhearing, of someone telling the administration." The implicit message from many high-profile local politicians and school officials, she said, is, "Shut your door, and shut up. Keep it inside. Just deal with it."
This reaction, Carnes told me, is largely a protective mechanism. Immediately after the shooting, the national press descended on her town. Carnes heard that, "even as parents were parking at [Sandy Hook] school, trying to get to their children, to see if they were alive or dead, the press was pulling up, too." According to The New Yorker, approximately two hundred journalists set up camp in Newtown after the shooting. Every day for a week, Carnes said, there were TV trucks parked, back to back, on both sides of main street, nudging as close as possible to the flagpole and the sharp, white steeple that came to represent the town. "There is a certain pressure to grieving in the public eye," Carnes said. Newtown residents wanted their privacy. But in the process of shutting out the press, Carnes told me, they also shut out each other.
Almost three years after the Sandy Hook shooting, four young adults in Hooper Bay, a small Native American village on the fringes of the West Alaskan coast, committed suicide in the span of two weeks, contributing to the town's exceptionally high rate of firearm suicides. In Hooper Bay, Bell-Joe told me, most residents live on food stamps, and, since many of the village elders have passed away, young people have a hard time understanding their heritage. She leads Native Survivors, a suicide prevention group that invites locals to join "talking circles," small groups designed to facilitate discussion of suicide. But Bell-Joe struggles to get people to come. "They want to keep it hush-hush," she told me. When I reached out to a few residents who posted about suicide on a Hooper Bay Facebook discussion group, Onkima LoneWolf, who grew up in Hooper Bay, warned me to be careful. "This is a very touchy subject," she said.
Unlike Newtown, the silence in Hooper Bay had nothing to do with press coverage. When I called Bell-Joe, her first question was, "How did you find me?" She told me she'd never been contacted by national media—nor had anyone she knew in Hooper Bay. When she saw my message on Facebook, she said, "I thought maybe you were a hacker ... I couldn't believe you were sending me a message from all the way down there." Despite having the highest firearm suicide rate in the country, Hooper Bay has largely avoided national media attention. Their silence, Bell-Joe told me, stems instead from fear of judgement. "Most people are critical and judgemental" in their response to suicide, she said. "That's what [people here] want to avoid—the criticizing and the judging."
For communities affected by mass tragedy, particularly when it touches on an issue as nationally disputed as guns, Nitza said, silence is a common response. But that silence can permeate a town for different reasons. "The big question," according to Nitza, "is, 'Do you perceive that other people are supporting you, or do you believe that other people are judging you or blaming you?'" If residents feel like there is something wrong with their community—and those problems led to the violence, they'll probably be hesitant to talk. This distinguishes towns affected by suicide clusters from those affected by school shootings, and other random acts of mass violence. "This kind of shame is about believing there is something wrong with you," Nitza said. "That is very isolating."
In towns like Newtown and Hooper Bay, Nitza said residents often situate themselves into a hierarchy of pain. Community members, she said, will be hyper-conscious of who deserves to be upset, asking themselves, "Who has the right to feel impacted?" That leaves people like Rebecca Carnes, who lives in Newtown, but doesn't personally know anyone who died, wondering how much to say.
"I can't really talk," Carnes said, right before we hung up. "I didn't lose a child."
—Caroline Kitchener
---
Following the March from Behind a Camera
Emily Jan, The Atlantic's visuals editor, covered the March For Our Lives in New York City.
Last weekend in New York, I joined the throngs of people marching down Central Park West to photograph the people who took to the streets. These are a few of the people I met.
​Click here, or on any of the images, to check out more scenes from the march on The Atlantic's Instagram.​
—Emily Jan
---
Today's Wrap Up
Question of the Day: Are there topics people don't like to bring up in your community? Tell us about them.

What's Coming: Next week, we'll talk to Adrienne Green and Vann Newkirk, the masterminds behind the Martin Luther King special issue of The Atlantic. Reply to this email, and send us your questions for them.

Your Feedback: How did you like today's issue of The Masthead? Click on the button below to let us know.
We want to hear what you think about this article. Submit a letter to the editor or write to letters@theatlantic.com.
Emily Jan
is an art director and photo editor at The Atlantic.