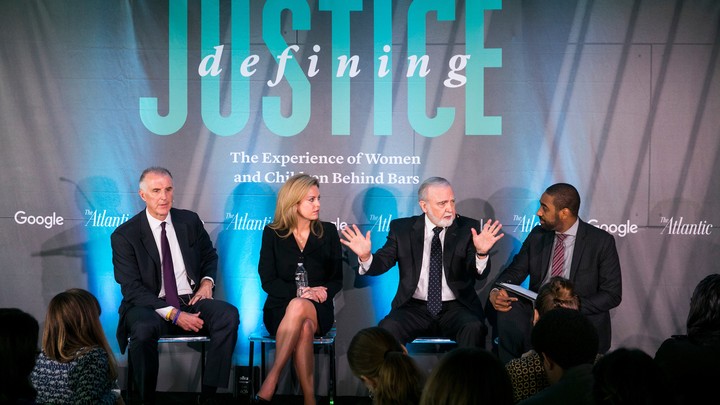 Criminal justice reform has recently deepened a divide between Washington's conservatives. Efforts to reform prisons, evaluate sentencing policies, and discuss reentry initiatives are all points of contention—not, as you might expect, between the two parties, but among Republicans.
On Wednesday, The Atlantic convened lawmakers and reform advocates at the National Union Building in Washington, DC. You can view a video of the event here. In this issue, we'll give you an intimate view of the conversation. Margaret Barthel, who produced the event for AtlanticLIVE, reports on its key moments.
---
Conservatives Debate Criminal Justice Reform
The Trump administration has complicated Republican efforts on criminal justice reform. Last spring, Attorney General Jeff Sessions directed federal prosecutors to pursue the severest charges and sentences possible in court. In the process, it dropped Obama-era policies that enjoyed bipartisan support. Reformers in each party hope that top Trump aide and son-in-law Jared Kushner will bend the president's ear to their cause.
But the White House's investment in reforms backed by Republicans like Rand Paul looks questionable. That leaves Republican leaders on the issue in the tricky position of disagreeing with the titular head of their party.
Where conservative reformers disagree
One of the divides evident on-stage was between two aspects of the problem of criminal justice and incarceration. Should the focus be on preventing more people from being incarcerated? Or should it be on making the vast majority of those who are incarcerated more ready for life after prison?
In his State of the Union address, President Trump alluded to support policies that emphasize so-called back-end reform—initiatives targeted at helping inmates re-enter society, often through a combination of education and job training, addiction treatment, and mental health services.  Those measures seem more palatable to the White House in general. Is that a sign that conservative reformers are shifting their focus toward reentry and away from more controversial proposals like sentencing reform?
In an interview on stage, Senator Mike Lee (R-UT) admitted that the White House supports only the reentry-oriented parts of the Sentencing Reform and Corrections Act, which passed out of the Judiciary Committee last week. The legislation includes both back-end reform and rollbacks for mandatory minimum sentences. (Sessions has called the latter proposal a "grave error.") Lee didn't seem phased by being out of step with the administration. "I think they're best put forward together," he said.
Mark Holden, the General Counsel of Koch Industries, a longtime conservative business voice for reform, was pragmatic about his differences with the Trump administration: "At the federal level there seems to be a lot of consensus on [prison reform] right now, and I'd like more, but I also want to get something done."
Could opioids change the criminal justice conversation?
One of the most tense moments of the morning came during a panel that included Holden; Larry Leiser, the president of the National Association of Assistant United States Attorneys, a group that takes a Sessions-like tough-on-crime outlook; and Holly Harris, who leads the Justice Action Network, which supports reform initiatives in the states.
Predictably, the three argued back and forth on the effectiveness of sentencing reform and how to measure the success or failure of justice systems in states that have enacted it. But, unexpectedly, their discussion of the underlying reasons people get involved in the justice system in the first place—especially addiction and the opioid epidemic— yielded a tentative ceasefire.
Harris introduced the topic with a personal story about her brother's struggle with addiction. "I think we need to be focusing more on treatment," she said, noting that prosecutors are often supportive of treatment options.
Leiser agreed. "Until we face the issue of what are we doing to keep people from leading a life of crime, we're always going to be in the mess we're in right now."
"So we need to give them alternatives," Holden said. "Jobs, education, that's what we need." Later, he emphasized that he didn't want to see opioids approached like crack was in the 1990s, as a criminal problem and not an addiction problem. That position was a dig at today's sentencing practices, which date back to the crack epidemic and which Leiser supports. But everyone agreed that the justice system wasn't the ideal response to drug addiction.
That moment of agreement captured a question that will drive the debate going forward: Will the moral weight of the opioid epidemic influence conservative criminal justice policy and rhetoric?
And emotionally, that fleeting moment felt important, too. Leiser and Holden spent another fifteen minutes talking to each other after they got off stage. Harris weighed in, too. "We spend a lot of time talking past each other, and we should spend more time talking to each other," she tweeted. "[Leiser] was brave to show up, and couldn't have been more gracious after."
---
Masthead Questions About Criminal Justice Reform
We asked members to help guide us through the event with their questions and comments. (They're presented with light edits.) Margaret discusses these answers.
I would love to hear about re-entry programs. I loved the phrase "returning citizen." —A'Lelia
The idea of a "returning citizen" would be more a euphemism than a reflection of today's reality. A felony conviction shrinks the rights and access Americans usually enjoy. Very few states let convicted felons vote, for instance.
Topeka Sam, who runs The Ladies of Hope Ministries, an organization in New York City dedicated to helping women returning from prison reestablish their lives in their communities. Access to health care and housing are among the many challenges these women face, Sam said. So is the stigma a felony conviction carries. She noted that her reentry home, Hope House, faces opposition from neighbors who aren't interested in living side by side with women who've been incarcerated. It's hard, she said, to feel "as if you are still whatever the system felt that you were."  
I'd like to hear more about parole reform and addressing how punitive and political it is. —Ana
Piper Kerman, author of the bestselling memoir, Orange is the New Black, sees herself as a living example of the political nature of racial disparities in sentences. She committed a similar offense to Ramona Brant, a black woman. Both were first-time, nonviolent, and regarding a relationship with someone involved with narcotics. But while Kerman received a 15-month sentence, Brant received a life sentence without parole. "It's overwhelmingly about race, access to justice, and access to counsel. These things have not been transformed in the system."
Juvenile sentences pose a particular problem for parole reformers, Kerman said. "We are the only nation in the world that sends children to die in prison through juvenile life without parole sentences."
Criminal law is not just about punishment, it's our shared morality. That ends up being influenced by our social norms of what we imagine a criminal is. —Aditi
Holly Harris from the Justice Action Network paused a heated policy discussion to make a poignant personal comment about how we define who is a "criminal." "We keep talking about 'these people,' 'the criminals' … I had every privilege a child could have, basically a perfect upbringing. I've struggled with alcohol abuse my entire life. My brother … a basketball superstar … he had a serious brain injury and had surgery. He became addicted to the pain medication. We're all in this together, let's be very clear. I want to be very careful about how we talk about 'these people,' because it's us."
How do we address the sexual abuse of incarcerated women? Do we anticipate change in the processes that result in their incarceration? —Aditi
When Democratic Senator Cory Booker asked the warden of the federal facility in Danbury, CT, how many women in it were survivors of sexual violence and trauma, she told him the answer was 95 percent. "We as a society take … the most victimized people, and our answer to their pain is to throw them into jails and prisons," he said.
Kerman was pessimistic about change. The trend of incarcerating women, many of them victims of trauma, is ticking up. "Ironically, though we have seen far more discussion on reform for women in criminal justice system, we have seen far less progress in terms of reducing the number [of incarcerated women]. Incarceration of women continues to increase."
---
Today's Wrap Up
We want to hear what you think about this article. Submit a letter to the editor or write to letters@theatlantic.com.
Margaret Barthel
is a producer-reporter at WAMU-88.5 and a former producer at AtlanticLIVE.