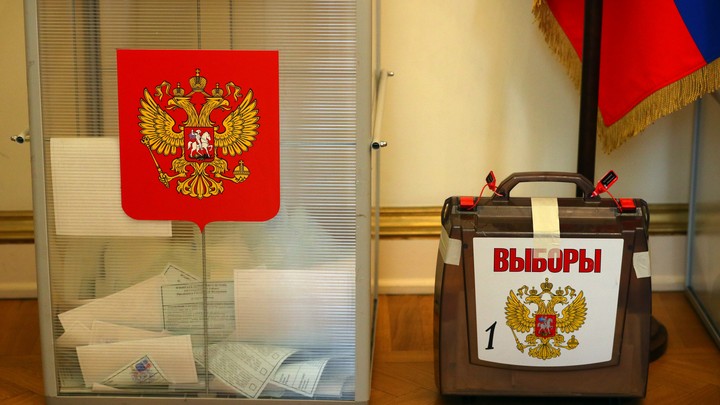 I am writing these words in advance: Vladimir Putin was re-elected on Sunday for another six-year term as Russia's president. Some aspects of contemporary Russia are routine and predictable, like Putin's re-election with more than 70 percent of the vote. But Russia's decision-making, especially about foreign policy, can be a black box.
In today's issue, we'll peer into that black box. We'll talk about what we know about Russia, and whether we can keep trusting that information.
—Matt Peterson
---
A Brief Guide to Putin's Power
Russia's election was decidedly not a turning point for the country. But the fact that Putin felt the need to go through the ritual of staging an election gives us important clues to what will come next.  
What happened on Sunday was not exactly an election. "We don't have words to talk about the Russian election," said journalist Masha Gessen. Putin's only serious political rival, the anti-corruption campaigner Alexei Navalny, was not allowed to run. "Any vote is a vote for Putin since the election is a PR-driven referendum on Russia's present, not an occasion to choose its future," wrote the Russia scholar Sean Guillory. And while Putin is genuinely popular in Russia—more on that below—election officials went to ludicrous lengths to ensure his resounding "victory." How ludicrous? Watch the video of a woman moving balloons conveniently in front of a security camera as ballots are about to be counted.  
This election was a given, but the next one won't be. The entire system is built around Putin's personal power, and he'll try to preserve it. "His goal is to stay in power another day, another year, and to deal with complications when—and if—they arise," wrote The Atlantic's contributing writer Julia Ioffe. But Putin will need a plan B when his term ends in six years. The last time Putin switched in and out of the presidency to avoid term limits, the move drew large protests. When his term is up this time, he could change the constitution or create a new position aside from the prime ministership. Just don't expect him to share his plans before they're ready.
Putin does not rule alone. "Putin is both an individual and a synecdoche—shorthand for a group of powerful movers and shakers around 'the body' (as his confidantes call him)," wrote the scholar Mark Galleoti. In recent years, Putin has granted some power to a select few, even at the expense of the power of the state, according to Galleoti. That could mean a nasty fight for control. "What might be called the Court of Putin—the top 40 to 50 people in the Kremlin and their oligarch allies—will spend the next presidential term brawling over that future," wrote Neil MacFarquhar.
Putin has personally shifted his focus to foreign policy. "He leaves the nitty-gritty of domestic issues to others," an anonymous Kremlin insider told the Financial Times. Putin's marquee foreign policy moves are the basis of his popular support. "It is no coincidence that the 2018 presidential election is scheduled for March 18, the anniversary of the signing of the treaty that formalized Crimea's accession to Russia," wrote Andrei Kolesnikov of the Carnegie Moscow Center. Russia's seizure of Crimea from Ukraine has drawn a lot of attention. But "while the West has focused its concern on Ukraine," wrote journalist Mark MacKinnon in the Globe and Mail, Russia has made a series of quieter moves that open the door to absorbing South Ossetia, as well as Abkhazia, another breakaway region of Georgia." Both of those territories were allowed to vote in the Russian election.
Putin wants to upset the West. "If flag-waving American jingoism is uninterested in how the world views America, Russian patriotism is fixated on the West and often rooted in an inferiority complex," wrote The Guardian's Shaun Walker. In contrast, Putin has carefully cast himself as omnipotent and omnipresent. The campaign to hack the American election was part of this, allowing Putin to imply that he can even choose his opponents in Washington.
But what that means for Russia is unclear. Trolling the West doesn't amount to a strategy for fixing Russia's domestic problems. "Ironically, in rallying around a negative consensus against Western values and sweeping domestic changes, Russia's leaders risk destabilizing the very system they seek to uphold. Thus far, they have failed to offer a clear, compelling, long-term vision of positive change for the country," wrote Kolesnikov.
Expect more chaos. Western sanctions on Russian oligarchs have made it harder for those individuals to access money outside Russia, but paradoxically, that is "giving the Kremlin an unprecedented amount of leverage over its economic elite," according to Samuel Greene of King's College London. That means there's little holding Russia back from more interference with the West. "Putin may feign dismay over Western sanctions and diplomatic repercussions after his attacks around the world, but his new term will probably mean more hostility," warned former National Security Council staffer Samantha Vinograd. Putin has found the levers of power, and will keep pulling them until he runs out of strength.
—Matt Peterson
---
How Do Russians Really Feel About Vladimir Putin?
Why are political scientists so confident in saying that Vladimir Putin is popular? The answer is that, at least for now, one credible polling agency still operates in Russia. The Levada Center has been operating independently since 2003. But there's no guarantee it will stay that way.
In 2016, the Russian government designated Levada as a "foreign agent" after it reported an 8 percent drop in the ruling party's approval ratings. Russia's "foreign agents" law is largely seen as a way for the Kremlin to crack down on organizations that it finds disagreeable, such as the human rights group, Memorial. The law requires all nonprofits that receive outside funding to register as foreign agents, which bars them from participating in any activity that is perceived to be political or interfering with domestic affairs.
Outside observers consider the Levada Center one of the most reputable sources of polling within Russia. Without it, an accurate sense of public opinion is hard to come by. The center did not release any polling data during Russia's latest presidential election cycle, citing fears of being forced to shut down permanently.
Why this matters
Pre-election polling data is usually a good indicator of vote-count manipulation. But because Vladimir Putin's victory in Sunday's election was preordained, vote counts mattered less than voter turnout.
"Putin was going to win, but the question was: Would turnout be lackluster?" said Joshua Tucker, a professor at New York University and the director of the Jordan Center for the Advanced Study of Russia. While Tucker cautioned that pre-election polling data was less useful in predicting turnout than vote counts, a significant difference between predicted and actual outcomes would amplify the perception that the ballot box was stuffed.
Another concern is that, if Levada were forced to register as a "foreign agent," it could cause poll respondents to answer the center's surveys less accurately. But an early Levada study suggests this wouldn't have a significant impact, because the majority of respondents don't pay close attention to such detail.
The Kremlin takes polls seriously
In the past few years, Levada has found that while Vladimir Putin's approval ratings have soared since Crimea's annexation, the government's overall approval ratings have plummeted. These kinds of polls are valuable to the Kremlin.
"Many people have thought for a long time that the Kremlin used the Levada Center and was willing to allow it to operate with such autonomy because it provided such a valuable service of objective information about the state of public opinion in Russia," said Timothy Frye, the chair of the political science department at Columbia University. "The fact that the Kremlin was willing to accept the greater uncertainty of not having the best information about polling be released to the public tells you that the Kremlin was more nervous about this election than the huge vote margin would suggest."
Frye added that as long as the Levada Center is operating, it's a sign of optimism for building a more democratic society. But given the recent crackdown on the polling agency, there's reason for concern. "It's really been tragic what's happened to it."
—Abdallah Fayyad
---
Can Reporters Still Get Information Out of Russia?
The Kremlin is a "ship that doesn't leak," Julia Ioffe told Matt Peterson recently, neither to foreign press nor Russian press. Foreign reporters face a unique set of challenges and dangers—enough to rank Russia extremely low on the Press Freedom Index of Reporters Without Borders.
It's dangerous
Russia is a deadly place for journalists. In the past few decades, dozens of journalists have been killed, many in unsolved murders. The international journalism community frequently criticizes Russian authorities for failing to investigate the murders—courts and investigators don't get backing, and ongoing investigations are opaque.

Journalists reporting on sensitive issues are targets of intimidation. The home of Zoya Svetova, a journalist and human rights activist, was raided by a team of security officials that included the FSB, the Kremlin's intelligence agency. Other journalists have been arrested and beaten in custody, or were attacked and had their equipment destroyed.

Some foreign reporters are deported or denied entry. Australian journalist Helen Womack was denied accreditation after over 30 years of reporting in Russia. She had been listed as an "enemy of Russia" on a nationalist website. Ukrainian journalist Yevgeniy Agarkov was banned from Russia for five years after reporting on the trial of a Ukrainian prisoner of war.
It's challenging
It's gotten harder to report in Russia since Putin's last term. While foreign reporters were once able to talk to officials in the administration, after 2014, that changed. "Anti-western sentiment in Russia rose," Shaun Walker recounted in The Guardian. More and more officials, suspecting that the West was working against Putin, became hostile to foreign journalists.  

The Russian government owns or controls most of Russia's newspapers and national TV stations. Yellow phones installed on the desks of state media editors link them directly to the Kremlin. In 2014, a law was signed to limit foreign ownership stakes in Russian media. As a result, the German publisher of the Russian edition of Forbes sold it to a Russian media executive, who said that the magazine would cover less politics. Foreign media is just as quarantined, as a Reuters correspondent encountered during Sunday's election:
Anti-extremist laws censor free speech. The FSB allegedly classifies the activities of journalists and publishers as "extremist," such as corruption investigations ("insult of the authorities"), protests against court rulings ("calls for illegal action"), and even publishing poetry supportive of Ukraine ("inciting hatred"). Content deemed "extremist" can draw expensive fines.

The FSB monitors internet activity, and Russia selectively blocks internet content. The Kremlin uses an internet blacklist law to ban content it deems harmful. While the Duma cited child pornography as a reason to enact the law, authorities have used it to block content as innocuous as caricatures of Putin.

Government information is hard to access. An audit of the transparency of the Supreme Court of Russia showed that less than a quarter of information on court activity was made available to the public. Last year, another "foreign agents" law was signed to allow authorities to ban foreign outlets from sessions of the Duma.
But that's the government, not necessarily the people
The Kremlin is opaque, but Julia Ioffe said the Russian people she's interviewed were, in contrast, "incredibly friendly, open, and kind." When she visited Dagestan, a Muslim ethnic republic in the Russian Federation, they shared detailed stories with her about the Russians fighting in Syria for ISIS. That was information the Kremlin would likely have withheld.
—Karen Yuan
---
Today's Wrap Up
Question of the Day: Today is the 15-year anniversary of the U.S. invasion of Iraq. Do we have any members who served in the war, or were directly impacted in another way? We'd love to hear your stories. Reply if you're willing to share.

Your Feedback: How are you liking our emails? Tell us here.

What's Coming: Wednesday, we turn to the art world to ask, could another artist have an impact like Picasso's?
We want to hear what you think about this article. Submit a letter to the editor or write to letters@theatlantic.com.
Matt Peterson
is the editor of The Masthead, the membership program at
The Atlantic
.
Abdallah Fayyad
is a writer based in Washington, D.C. He is a former editorial fellow and researcher at
The Atlantic.
Karen Yuan
is a former assistant editor at
The Atlantic
.