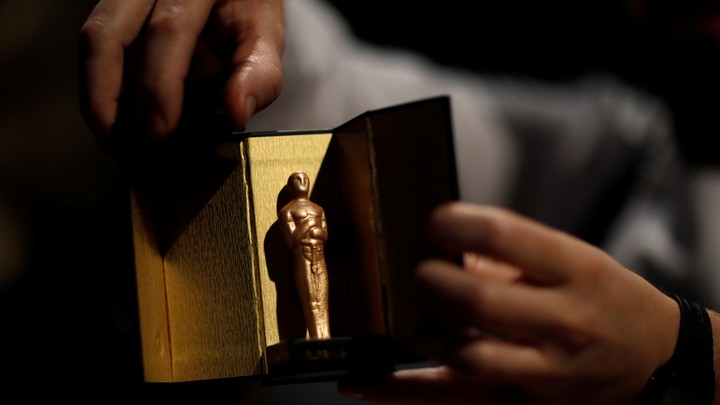 Can you beat The Atlantic's film critic? Last year, Christopher Orr correctly predicted 9 out of the 10 categories in the Academy Awards. With the Oscars coming up on Sunday, we asked Chris to review Masthead members' votes for the biggest categories and add insight of his own. (You can read Chris' full bets for this year in his annual predictions post. "I'll try to repeat what I said there as little as possible," he told us.) Let's dive in.
---
Best Picture
The Masthead Vote: The Shape of Water
The Critic Vote: Get Out
The Shape of Water was "one of the most unique products of the past few decades," wrote a member in response to the anonymous Oscar ballot sent around this week. A close second was Chris' favorite, Get Out. But, he added, "Don't count out Three Billboards Outside Ebbing, Missouri. The movie is fantastic and is considered by oddsmakers—though not necessarily me—to be neck-and-neck with Shape of Water for the top prize."
This year, nine movies were nominated for Best Picture, an unusually large slate of candidates. They're eclectic, out-of-the-box stories. "This was definitely a year for unconventional tales," Chris said. For many members, the other most unique story was Lady Bird. "Who else could make Sacramento interesting?" a member wrote. Chris wasn't so sure. "I admired Lady Bird, though less than some did—in part because despite its exceptional execution, most of the turns in its story felt unsurprising to me." His list of unique stories include The Shape of Water, Get Out, and "the ever-confounding" Three Billboards.
Best Director
The Masthead Vote: Guillermo del Toro, The Shape of Water
The Critic Vote: Guillermo del Toro, The Shape of Water
"Alas, like most of the major Oscar races this year—with the crucial exception of Best Picture—this award seems largely sewn up already," Chris said. "But here's hoping for surprises."
One unloved nominee, who received no votes from Masthead members, was  Paul Thomas Anderson, director of Phantom Thread. "It's genuinely befuddling," said Chris, but he saw two reasons why Anderson's film hasn't resonated: "First, like The Master before it, [Phantom Thread] felt almost custom-designed to draw a very small audience." The film is about a dressmaker and the woman who becomes a fixture in his life. "Second, it was released with little fanfare or publicity, despite being—in theory at least—the last performance of arguably our greatest living screen actor." Daniel Day-Lewis claims that Phantom Thread will be his last film.
Greta Gerwig, director of Lady Bird, touched a nerve with many of our members. "Hell yeah, I'm voting for a female!" wrote one. The moment in Hollywood, with Time's Up and the #MeToo movement, may have influenced the Best Director conversation to become more inclusive. "These things do matter, as Black Panther has demonstrated as much as any film in recent memory." But, he added, "Its implicit boost, and Lady Bird's prospects across the board, has already cooled somewhat." And in general, he isn't in favor of the idea that films should win purely on the basis of political impact or intentions.
Best Actress
The Masthead Vote: Frances McDormand, Three Billboards Outside Ebbing, Missouri
The Critic Vote: Frances McDormand, Three Billboards Outside Ebbing, Missouri
The Masthead community overwhelmingly voted for Frances McDormand, who starred in Three Billboards. "I don't know that she will [win], but I so look forward to seeing her, sans makeup, amid the Hollywood crowd," said a member. Sally Hawkins received the second-most votes for her portrayal of a woman who falls in love, without speaking, in The Shape of Water. "She does so beautifully, gracefully, and elegantly. That is an incredibly difficult feat," said one member. Her "magically mute performance" would have been his [Best Actress] pick in almost any other year, noted Chris. But, "I'm in 100 percent on [Frances McDormand]."
In contrast, Margot Robbie received the least number of votes. That tracks with Chris' prediction, but Robbie—the lead in I, Tonya—may still come out of this year as the star to watch. "She's very, very good, and definitely an actress to keep an eye on in the future. She's the only person who escaped Suicide Squad with her reputation not only intact, but enhanced."
Best Actor
The Masthead Vote: Gary Oldman, Darkest Hour
The Critic Vote: Gary Oldman, Darkest Hour
"The top line is spot on," said Chris. But while Chris agreed with the members on picking Gary Oldman, who played Winston Churchill in Darkest Hour, he also advocated for more love for Daniel Day-Lewis. "If you haven't seen Phantom Thread, let me recommend it highly."
Daniel Kaluuya's performance in Get Out netted him the second-most votes among members, who praised the difficulty of a role with a relative lack of genre, costume, and makeup. Chris disagreed. "I'm not sure I'd categorize his role as a profound acting challenge," he said, instead highlighting Oldman's performance. "I have no idea what it would be like to act with a water balloon attached to each of my cheeks, but I certainly hope never to find out."
---
Today's Wrap Up
Question of the day: Don't buy Chris' analysis? Write back and let us know where you think he got it wrong.

Your feedback: Take our brief survey and let us know how you liked this email.

What's coming: Next week, we're checking in on the ethics of the big tech companies.
We want to hear what you think about this article. Submit a letter to the editor or write to letters@theatlantic.com.
Karen Yuan
is a former assistant editor at
The Atlantic
.