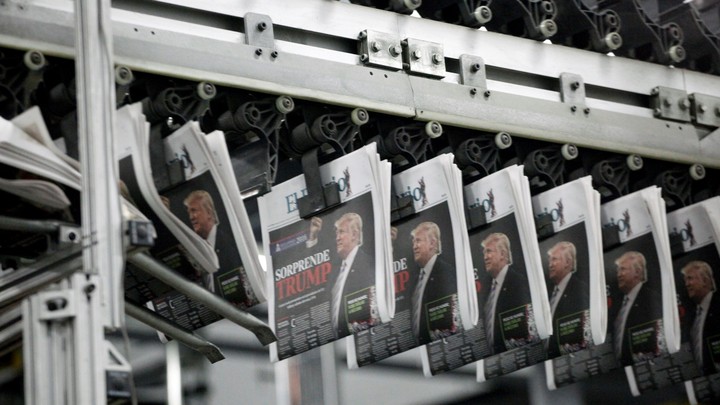 January 2017 was a doozy of a news month. Of the nearly 800 articles The Atlantic published, almost a third centered on President Donald Trump and his incoming administration. But plenty of other, less political, stories looked ahead at an uncertain year. Twelve months later, we're following up on the stories you might have missed during all that Trump coverage. Today's issue tackles superstars boycotting the Grammys, millennials opting not to run for public office, and flesh-eating worms taking over southern Florida. These are stories that left us hanging. It's now been twelve months—let's see how they played out.   
---
In Early 2017, the Grammys Were Headed for a Rough Year
What We Wrote One Year Ago: The Grammys were under fire for failing to properly recognize achievements in hip-hop, particularly by artists of color. Back in November 2016, Hip-hop artist Frank Ocean chose not to submit Blonde, an album widely considered one of the best of the year, to the Grammys. Ocean said the awards ceremony "doesn't seem to be representing very well for people who come from where I come from." Because of that apparent lack of representation, some of the biggest names in music—Drake, Justin Bieber, Kanye West—considered skipping the Grammys altogether.
What's Happened Since: Those three celebrities did, in fact, boycott the 2017 Grammys. The 2018 Grammys were held last week. "The nominations did appear to respond to the concerns about hip-hop and people of color getting sidelined, but the ceremony was a different story," Atlantic staff writer Spencer Kornhaber said. Mainstream pop artist Bruno Mars took home Album of the Year, Song of the Year, and Record of the Year, beating out hip-hop/R&B artist Kendrick Lamar, who, Spencer said, many considered the obvious front runner.
"Hip-hop/R&B became the most popular genre in America this year—it has come to dominate the Hot 100 like never before, and also has generated a number of acclaimed masterpieces such as Kendrick's album," said Spencer. Despite a more inclusive slate of nominations, Spencer says, there is a growing sense that the Grammys are out of touch with the popular music scene, which the 2018 awards show didn't fix.
---
After Stumbling, SpaceX Was Planning for a Triumphant Year
What We Wrote One Year Ago: After a months-long hiatus prompted by a disastrous rocket explosion in the fall of 2016, SpaceX launched the Falcon 9. This successful rocket launch was crucial to getting the company back on track, and reassuring NASA that it would be able to shuttle astronauts to the International Space Station in the near future. The launch "kicks off a potentially big year for SpaceX," Atlantic staff writer Marina Koren wrote.
What's Happened Since: SpaceX met many, but not all, of its goals for 2017. "SpaceX had a truly outstanding year, with 18 successful launches to orbit by its Falcon 9 launch system," said Thomas González Roberts, a space security researcher at the Center for Strategic and International Studies. "That's as many as Europe and Japan, combined."
But NASA is still waiting for SpaceX's first human launch to the International Space Station. That's important to NASA because, since it retired the Space Shuttle, the only way for American astronauts to reach the ISS is via the Russian Soyuz rocket. "Despite their delays, SpaceX or Boeing's human launch system will likely be the first commercial rocket to send an astronaut to the ISS—a huge step forward in the commercialization of human space flight," Roberts said.
---
Millennials Weren't Running for Public Office
What We Wrote One Year Ago: Atlantic staff writer Emma Green asked Shauna Shames, Rutgers professor of political science, why more Millennials weren't running for office. Shames said that the costs were too high, and Millennials "felt icky" about the extent to which money was involved in politics.
With Trump in office, however, Shames said that might change over 2017. Her greatest hope was that, "Young people will suddenly start to see more rewards to political participation. It's not that those rewards weren't there. But Millennials haven't had to think about them before—like the reward of living in a democracy."
What's Happened Since: While there are no definitive statistics on how many millennials have launched campaigns for public office in the past year, organizations dedicated to convincing young people to run have reported a surge in interest. On President Trump's Inauguration Day, the progressive organizing group Run for Something launched with the goal of recruiting and training 100 millennials to run for public office in its first year. They recruited over 12,000.
Conservative organizations have seen a similar trend. "Trump has enabled young Republicans to feel an energy that pushes them forward in wanting to run and wanting to make a difference," said Matthew Oberly, press secretary for the Young Republican National Federation. "The energy behind a candidate has not been so high in a long time."
---
Flesh-Eating Screwworms Descended on the Florida Mainland
What We Wrote One Year Ago: A rare breed of flesh-eating screwworm found its way to the Florida mainland, north of the Florida Keys, in early 2017. The screwworm—eradicated in the continental United States after a massive campaign in the early 1980s—quickly infected the deer population in southern Florida. The Department of Agriculture worried that it could spread to other animals, particularly livestock. "Florida still sends hundreds thousands of young calves to herds around the country each year," wrote Atlantic staff writer Sarah Zhang, "so a screwworm infestation could do some real damage."
What's Happened Since: The U.S. Department of Agriculture and the Florida Department of Agriculture released 180 million sterile flies in southern Florida, hoping to breed the screwworms out of existence. The two departments also established a series of checkpoints at the edge of the Florida Keys, where officials checked all animals leaving the area for signs of infestation. It worked. "Fortunately, we eradicated the New World screwworm in a relatively short amount of time and prevented its spread," said Jenn Meale, communications director at the Florida Department of Agriculture.
---
Today's Wrap Up
Question of the day: Keep track of those cliffhangers. What lingering ones from 2017 can we help resolve? What current stories will you be keeping an eye on?

Your feedback: We've been trying out a few new formats for our Masthead stories. How did you like this one? Take our daily survey.

What's coming: Tomorrow Matt Peterson synthesizes the recent writing of Franklin Foer, including his cover story on Paul Manafort, "The Plot Against America."
We want to hear what you think about this article. Submit a letter to the editor or write to letters@theatlantic.com.