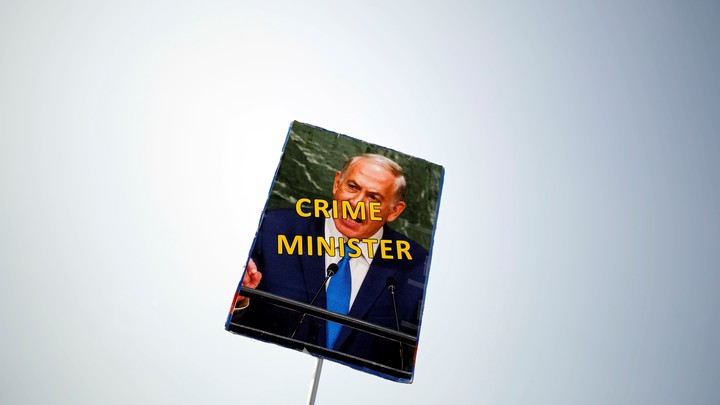 Our recent Masthead investigation into corruption focused on the United States, but Paul Manafort's case isn't the only corruption scandal rocking a nation at the moment. Israel's prime minister, Benjamin Netanyahu, is facing serious allegations of impropriety. If you don't follow Israeli politics, the scandal might seem obscure, but it threatens one of the most consequential premierships in that country's history. Here's Atlantic global writer Annabelle Timsit to bring you up to speed.
---
A Corruption Investigation into the Israeli Prime Minister Has Metastasized in the Last Weeks
Why should I care? If Netanyahu were to resign or be forced out, it would create a power vacuum at a particularly precarious time for the region. More on that below.
So what happened? Israeli police have recommended that Netanyahu be indicted on charges of bribery, fraud, and breach of trust in two separate cases. The first calls into question Netanyahu's practice of accepting gifts from powerful friends, which police claim amounts to corruption and influence-peddling. According to the allegation, Netanyahu accepted nearly $300,000 in gifts between 2007 and 2016 from Hollywood producer Arnon Milchan and Australian billionaire James Packer, in the form of cigars, champagne, jewelry, and trips.
The second involves a reported back-room deal between Netanyahu and his political rival Arnon Mozes, the publisher of Israeli newspaper Yediot Aharonot. Netanyahu allegedly promised to impose restrictions on a competitor publication in exchange for positive coverage from Mozes.
But wait, there's more: Netanyahu is currently implicated in three other corruption scandals.
One involves an aide to Netanyahu. The aide allegedly offered to bribe a judge with the promise of a nomination as attorney general. The goal, if the accusation is true, was to convince the judge to quash a criminal case involving Netanyahu's wife, Sara, and her possible misuse of public funds.
Another case involves the period when Netanyahu managed the communications ministry. Allegedly, he or his aides traded regulatory approvals for positive coverage on Walla, a news website owned by Israel's largest telecommunications company and Netanyahu's personal friend, Shaul Elovitch.
A final case involves allegations, levied against Netanyahu associates, of conflicts of interest and impropriety in the Israeli government's purchase of German submarines worth up to $2.5 billion.
Netanyahu has dismissed all claims that he has broken the law.
Netanyahu has tangled with Israeli police before, and won. Netanyahu is sometimes referred to as Mr. Teflon because law enforcement has failed to make accusations against him stick. He is also not the first Israeli prime minister to be accused of corruption. His predecessor, Ehud Olmert, was convicted, and served 16 months in jail for corruption, including a double-billing scheme in which he defrauded the government and private charities from more than $90,000. This New York Times timeline of Israeli Prime Ministers' struggles with corruption paints a picture of the problem.  
How big of a deal is this, really? Netanyahu has become a divisive figure at the same time as polarization in Israeli society has increased, which some critics have blamed on Netanyahu and his politics. Enter into that division a large-scale corruption-scandal, with potentially far-reaching political implications. Israeli newspaper Haaretz headlined its coverage of one of the cases, "If True, This Is the Worst Case of Government Corruption in Israel's History."
Meanwhile, the Palestinian peace process has stalled while the humanitarian situation in Gaza has worsened to the point of disaster. There has been renewed violence in the Palestinian territories, where the U.S. has also made consequential interventions. President Trump decided to recognize Jerusalem as Israel's capital and to cut U.S. funding to the United Nations Relief Works Agency, which provides humanitarian services to Palestinians.
And amid the Syrian civil war, which has reached its most international point, with five global powers fighting for control and for the right to influence the country's reconstruction, a direct conflict between Israel and Iran is becoming more likely.
Is Netanyahu finished? It's too early to say. If convicted, Netanyahu could be removed from office. But that possibility is still far off. The police's indictment recommendations are non-binding—ultimately, Israeli attorney general Avichai Mandelblit will make the final decision on whether to press charges, a process that could take months. Then a trial would need to be held.
In the meantime, critics have called for Netanyahu to resign, including in the pages of The New York Times, Haaretz, CNN, and The Jerusalem Post. Polls conducted by Channel 10 and the Israel Television News Company last week showed that, while Netanyahu's party (Likud) is still the most popular party in Israel, half of Israelis want Netanyahu to resign.
He also seems to have lost support within Israel's political class: Yesh Atid Party leader Yair Lapid (who has written for The Atlantic) is cooperating with the police investigation and has called for him to resign. Israeli outlets reported Wednesday that one of Netanyahu's closest confidants, Shlomo Filber, has turned state witness and will testify against the prime minister (Israeli police have not confirmed this).
So, what next? The next legal move will come from the attorney general, who has given no indication of when he plans to decide on bringing charges. Mandelblit is in a complicated position: He served in Netanyahu's cabinet and, as noted by the Times, he was once widely considered a Netanyahu loyalist. But he has proven willing to pursue corruption charges in the past: Earlier this year, he announced he would seek an indictment of Netanyahu's wife, Sara, on charges of fraud and breach of trust.
For now, Netanyahu and his party are acting as if everything is normal. There's precedent: Netanyahu has survived corruption scandals before. And there's also an argument to be made that everything is, in fact, normal: Every Israeli prime minister in the last 22 years has been accused of corruption. Only one, Ehud Olmert, actually went to jail. Will Netanyahu be next?
—Annabelle Timsit
---
Today's Wrap Up
Question of the day: What global story would you like a briefing on? Reply and let us know.
Your feedback: If you haven't taken our spring survey yet, we're holding it open for a little bit longer. Thanks to everyone who has.
What's coming: Next week, we'll react to the many excellent questions you've raised about gun coverage. There's still time to add your own in our Google Doc.   
We want to hear what you think about this article. Submit a letter to the editor or write to letters@theatlantic.com.