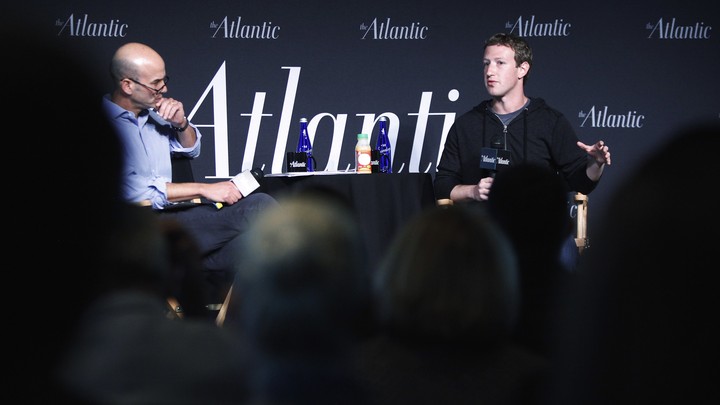 At The Atlantic, we spend a lot of time thinking about what makes a good interview. Last week, we put this question to the Atlantic writer who has probably been interviewed the most, Ta-Nehisi Coates. The best interviews, Ta-Nehisi said, are ones where it's clear the journalist is "not faking it." To learn more about what makes a good interview, I talked to two of The Atlantic's interviewing pros, Managing Editor Adrienne Green and AtlanticLIVE Executive Producer Rob Hendin. Both Rob and Adrienne focus on interviews for an audience—Rob typically works behind the scenes, setting up conversations at events and on television, and Adrienne conducts interviews herself. Today's issue explains how the professionals do it.
---
Help us make a guide to The Atlantic. There is no definitive guide to The Atlantic, so today we're asking for your help in creating it. If you read an Atlantic story that you loved this month, hop over to this collaborative Google spreadsheet and spend a second to help us index it. We'll ask you to give us a few words to describe the story, which we'll turn into a master index of everything The Atlantic published in January. And we'll throw a little swag to the member who helps index the most stories. Give it a shot here.  
---
How to Conduct a Great Interview
I asked Adrienne Green and Rob Hendin to offer a few pointers. Adrienne has interviewed celebrities like Jesse Williams and Ava Duvernay, as well as dozens of regular people for The Atlantic's "Inside Jobs" project. Before coming to The Atlantic, Rob worked at CBS News, where he was a senior producer on Face the Nation.
Know who you're interviewing. Before every interview, Adrienne scours the internet, reading her subject's past interviews and watching clips on YouTube. Going into the conversation, she wants to know which topics are going to get them to open up, and which ones are likely to put them on the defensive. "The worst thing you can do when you're interviewing is to be blindsided by your subject." By knowing a lot about her interviewee, Adrienne says she can also couch questions with context that prompts a certain kind of answer. "Celebrities are answering a version of the same thing all the time. Your job is to know that, and then figure out how to ask the question in a way that makes them tell that special story about their childhood." When she interviewed actor Jesse Williams, he told her that, as a kid, his father would force him to read a certain number of New York Times articles before he could go out to play. "Those little pieces of texture are the pieces that people remember—and often straightforward questions aren't going to get you that."  

Know what you're talking about—and if you don't, admit it. When I asked Rob about the best interview he's seen recently, he described an on-stage conversation on deep space between Atlantic senior editor Ross Andersen and Senator Ted Cruz. During the interview, Cruz (who, Rob says, is "kind of a Trekkie") spoke passionately about the nuances of space policy. The interview worked because Ross was prepared. "He knew where the different tension points were. He was comfortable with the knowledge and therefore comfortable with himself." When Cruz made an obscure reference or took the discussion in an unexpected direction, Ross knew exactly what he was talking about, and helped the audience understand, too. "You see so many people doing interviews who aren't comfortable. You can tell, they're just going from question to question." If that happens—and, as an interviewer, you feel the conversation going over your head—Adrienne suggests bringing up "the big, dumb question," the one you're afraid is too obvious to ask. "Being honest about what you don't know is the key to saving the interview."  

Be prepared to pivot. "The really good interviewer can hear where people are giving openings," Rob said. "They see the open door and go through it." Openings are moments when the interviewee lets her guard down—when she strays from her talking points, even just for a second. "Really good interviewers know where to go with that." Sometimes jumping into that opening will mean abandoning the script. On Face the Nation, Rob says that kind of improvisation was encouraged. The goal was often to make a polished politician say something she hadn't said a hundred times before.

Have a strategy for hard questions. If you ask a question you know your interviewee won't want to answer, Adrienne says, know why you're asking it—and know what response you're likely to get. "If I am going to be slightly aggressive in my line of questioning, I want to do that with intention. You don't want to ask a question about someone's wife without knowing that they never talk about their wife." But a hard question can lay groundwork for an even tougher question, or it can be intended to catch the person by surprise. Sometimes Adrienne will ask the hard question just to highlight her subject's unwillingness to answer it, repeating the question with slightly different language. "By the third time I ask, the audience will be able to ascertain that this person is dancing around the question. That avoidance becomes meaningful."

Don't fake it. I told Rob that Ta-Nehisi defines a good interviewer as someone who "doesn't fake it," and asked what that means to him. "It means being curious … being engaged with the person, and genuinely caring about what they have to say." In a lot of ways, Rob said, an interview is like a cocktail party. "There are people who will be like, 'Oh yeah, it's great to see you.'" But you can tell they don't mean it. "Other people will be like, 'Caroline, what do you do? Tell me about The Masthead.'" If you're genuinely interested, Rob said, it comes through.  
---
Today's Wrap Up
Question of the day: What other journalistic skills would you like to learn about?

Your feedback: Do you feel like you learned something from this email? Take our 10-second survey.

What's coming: Tomorrow Karen Yuan picks up another thread from our call with Ta-Nehisi: what makes good historical fiction.
We want to hear what you think about this article. Submit a letter to the editor or write to letters@theatlantic.com.