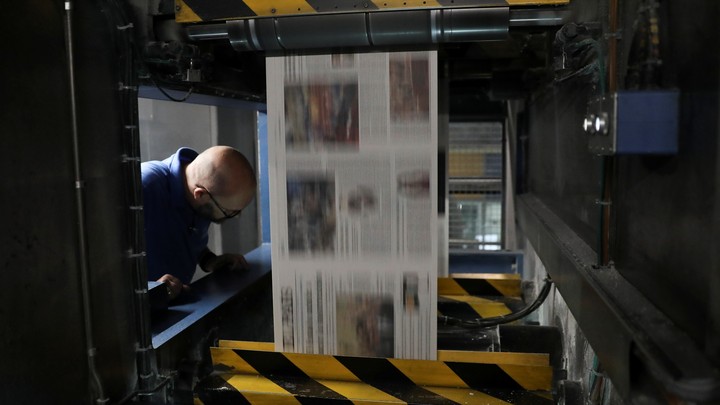 If there is one thing you've told us consistently, it's that you have too much to read and not enough time to read it. The Atlantic published a lot of stories two weeks ago—you probably read some of them—but, at the time, it was hard to know which ones would come and go quickly, and which would remain significant over time. Today, we come to you with a solution. I asked our editors to reflect on those "old" stories. With the benefit of hindsight, I asked, which piece in each section has proved the most important? Together, we developed a reading list, exclusively for Masthead members: the Atlantic articles our editors don't want you to miss.
---
Masthead Book Club with David Frum
Before we get into our main story, a special announcement! Our second Masthead Book Club selection is Trumpocracy: The Corruption of the American Republic by Atlantic senior editor David Frum. Picking up where David's January 2017 cover story left off, Trumpocracy is a close analysis of President Trump's first year in office and his impact on American institutions. I'll be reading the book with you, posting comments and discussion questions in our Facebook group along the way. Mark your calendars for Monday, February 12 at 1 p.m. EST—that's when we'll be talking to David about the book. Register for the call here.
---
This year's Oscar nominees were announced earlier this week, so a piece that I think is worth revisiting is Derek Thompson's recent discussion of just how male-heavy the professions of directing and writing films are. "Hollywood remains an industry where women are more likely to be celebrated for speaking out in front of a camera than for holding one," Derek wrote two weeks ago, on the heels of the Golden Globes, about the industry's sexual-harassment scandals. (As if on cue, the Academy nominated a woman for best cinematographer this year for the first time ever.) Derek's point was as important to consider two weeks ago as it is now, and as it will be when this year's Oscars get doled out. And probably further into the future, too.
–Joe Pinsker, associate editor for Business
---
The Culture Pick: Our Aziz Ansari Coverage
The Aziz Ansari story, published by Babe on January 14, managed to kick up a whole new swirl of questions about #MeToo: about the true aim of the movement, about the absence of a common language around consent, and about the responsibility of the media in telling the sensitive stories of women.
Our writers were eager to tackle these questions. Caitlin Flanagan started off with a scorching (and widely debated) critique of Babe, the story's writer, and the young woman known as "Grace" who went on a date with Ansari and said he ignored her verbal and nonverbal cues during a sexual encounter later that night. Flanagan pointed to a seemingly generational divide among feminists—between her own peers who were empowered to tell men "no," and a cohort of younger, largely "privileged young white women." A few days later, Megan Garber examined the paucity of empathy that transforms flirting into something that's not truly mutual, but is instead a "contest of wills: a game, but a game in which the competitors are not on the same team." James Hamblin challenged the idea that #MeToo is driving a "sex panic," arguing that men need to hear stories like the one about Ansari for sustainable change to happen. And Conor Friedersdorf suggested that fiction is a powerful, underutilized tool for probing the gray areas of consent.
–Lenika Cruz, associate editor for Culture
---
I always enjoy my colleague Ron Brownstein's explorations of America's shifting, and deepening, demographic divides. Over the course of its polling on a variety of topics in 2017, SurveyMonkey asked 605,172 respondents how they felt about Donald Trump; Ron spotted that as an opportunity, and convinced the polling firm to break out some groups too small to be examined in conventional polls.
Ron compared the aggregate views of these groups over the course of 2017 to the exit polls in the general election—not a precise parallel, but a useful baseline. By that measure, Trump's support declined among whites without a four-year college degree—one of his best constituencies in the election—and particularly among women. Similarly, Trump struggled among white, college-educated women in the November election, but his support in that group has further eroded. Those sharp declines matched broader fall-offs in support among most groups in the poll. Black and Hispanic men were among the rare exceptions, showing relatively higher levels of support, a finding that was later trumpeted, and exaggerated, by the president.
Amid the daily drama of politics, it's easy to lose sight of longer-term trends. Trump remains a remarkably unpopular president, and his support has eroded not just among demographic groups that broadly opposed his election, but also—and particularly—among some of the constituencies that were, or remain, broadly supportive of his presidency. At the same time, the gendered nature of his appeal is producing some new political fault lines, even within groups that are broadly opposed to Trump. Those trends are well worth paying attention to, whatever drama the next news cycle may bring.
–Yoni Appelbaum, senior editor for Politics
---
American workers are struggling. New technology and globalization are making some jobs obsolete and transforming others, and many workers don't have the skill sets they'll need in order to keep their jobs. Policymakers point to federal job-training programs as the solution—but history has proven that these programs often fall short of their goals. Jeff Selingo's feature for The Atlantic's "What Makes a Worker?" project sketches the landscape of a complicated issue that will only become more relevant with time. The piece is both sobering and hopeful; Selingo maps out the many obstacles to job-training programs' success, and he looks at some initiatives that are helping Americans of all ages and backgrounds gain the confidence and skills they need to face the future of work.
—Isabel Fattal, Education fellow, and Alia Wong, associate editor for Education
---
On January 11, Facebook announced that it was, for the most part, taking the "news" out of the News Feed. Going forward, it will "prioritize posts from friends and family over public content." The Atlantic's national correspondent Franklin Foer dissected this decision in his piece, "Facebook Finally Blinks," writing that in the aftermath of Russian meddling in the 2016 U.S. election, the social network at last began to acknowledge the power it holds to influence events on the world stage. "The company describes its mission as connecting the world. As it happens, the world includes many authoritarian governments," Foer writes. I was reminded of this line again this week when I read this Buzzfeed piece about how the prime minister of Cambodia uses Facebook to crack down on criticism of his government. There is never any shortage of reminders that the small tweaks Facebook makes to its product have wide-ranging consequences. Foer lauds Mark Zuckerberg for his latest move—"He's made a decision that might adversely impact his revenue for the sake of the common good"—but the effects of this decision are yet to come.
—Julie Beck, senior associate editor for Science, Technology, and Health
---
Uri's piece examines the thinking—and the foreign-policy literature—that informs the national-security adviser's posture toward North Korea.
The question Uri poses, "Why is H.R. McMaster so alarmed by North Korea?" is one we discuss frequently in the newsroom. On one level, the reasons are obvious: North Korea is racing toward developing a nuclear weapon that could hit the United States, and has demonstrated remarkable strides toward that goal. On another, though, the nature and degree of McMaster's worries have stumped a lot of foreign-policy and nuclear-strategy experts.
Many believe the United States can live with a nuclear North Korea, just as it did with the Soviet Union and China; that the costs of preventive military action far outweighs the risk Kim Jong Un would actually use those weapons (since doing so would ensure his regime's destruction); and that it's unrealistic to expect Kim to give up his weapons, as the U.S. demands, since he sees them as a matter of survival. Uri deftly explains why McMaster doesn't accept this logic—and what that means for the United States.
–Kathy Gilsinan, senior editor for Global
---
Today's Wrap Up
Question of the Day: We're planning a Masthead issue about sex education. Do you have expertise on the subject? Reply to this email and let me know.

Your Feedback: How are we doing? Take a few seconds to fill out today's survey.

What's Coming: Tomorrow Atlantic archives editor Annika Neklason writes about the movie, The Post, and President Nixon's relationship to the press.
We want to hear what you think about this article. Submit a letter to the editor or write to letters@theatlantic.com.