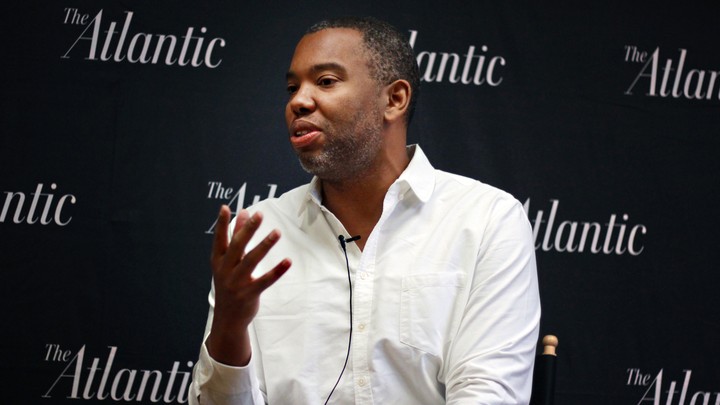 On Tuesday, January 23, members of The Masthead will have the opportunity to join a live conversation with Ta-Nehisi Coates (1 p.m. EST, register here). Ta-Nehisi has been interviewed a lot lately. A lot. So we wanted to have a conversation with him that doesn't go back over well-trodden territory. Here's a quick exchange from the podcast WTF with Marc Maron that sums up where Ta-Nehisi's head is these days.
Marc Maron: Yeah, that's how I started interviewing people, out of pure desperation, and a need to do something with my life. Why, you looking into it?

Ta-Nehisi Coates: No. One of the unfortunate things about the kind of career transition I've had...

Maron: From?

Ta-Nehisi: From journalist to whatever the fuck this is right now…

Maron: What is it?

Ta-Nehisi: I don't know.

Maron: You don't know.

Ta-Nehisi: But I used to ask all the questions. People didn't ask me questions. And I liked that a lot.
How this will work: Today, I'll start with a short syllabus of Ta-Nehisi's recent writing and interviews. I'll share with you a Google Doc that you can edit (like we did with Megan Garber and #MeToo). Between now and our conversation next week, I'll invite you to amend this doc—more on that below. The purpose of this document will be to surface the material that will fuel our conversation with Ta-Nehisi on Tuesday. And don't worry if you don't have time to jump in. We'll share a synthesis of this project next week.
---
How You Can Participate
Chances are that many of you know Ta-Nehisi's work quite well. So I'm asking for your help preparing for our conversation with him. Here's the overriding instruction: Go out in the world and bring back something he hasn't seen or been asked about in the many interviews he's done recently. And make it something that reflects his body of work. (In other words, he's already written and spoken tons and tons about race in America, and the goal isn't to stump him with obscure trivia. We'd like to present him with stories, ideas, questions, and answers that connect with what he's been asking.)
Here are a few suggestions:
Find an Open Question: Ta-Nehisi is famous for his inquiring mind. What's a question he's raised somewhere in his writing that went unanswered? Can you find or suggest an answer to it?

Add to a Quieter Thread: In addition to race, Coates has studied the French Revolution. He's learned French. He's the father of a son. He's written about not being the breadwinner in his relationship. He's written about losing jobs. What story, fact, or insight builds on those threads?

Build on What's Come Before: Is there a long-running argument or conversation with Ta-Nehisi that you've been waiting for a chance to return to? What other interviewers' question—or response from Ta-Nehisi—moved you the most?
Where you can send those ideas:
Option 1: Write in our collaborative Google Doc. You'll find it here.

Option 2: Call in and leave a voicemail at +1 202-266-7600. We may play your response live in the conversation Tuesday.

Option 3: Join the conversation Tuesday, January 23, at 1:00 p.m. ET. You can register here.
---
A Ta-Nehisi Coates Syllabus
Here's quick guide to Ta-Nehisi Coates' recent work, including links to several of his recent interviews. His new book, We Were Eight Years In Power: An American Tragedy, collects some of the essays he's written for The Atlantic over the past eight years, along with his contemporary reflections explaining his mindset and life circumstances at the time he wrote the articles.
On white supremacy
Ta-Nehisi is best known, of course, for writing about the sources and consequences of racism in American society. The position of Americans today—including the first black presidency and what followed it—is the result of a deeply embedded white supremacy, he says. While racism is often popularly thought of as personal animus, the larger story of American injustice is structural. One passage from "My President Was Black," an essay written in the interregnum between Barack Obama's election and Donald Trump's inauguration, sums up how Ta-Nehisi analyzes the nation's trajectory.  
The ghettos of America are the direct result of decades of public-policy decisions: the redlining of real-estate zoning maps, the expanded authority given to prosecutors, the increased funding given to prisons. And all of this was done on the backs of people still reeling from the 250-year legacy of slavery. The results of this negative investment are clear—African Americans rank at the bottom of nearly every major socioeconomic measure in the country.
Racism is historical, can be traced through economic policy decisions, and has a direct effect on politics today, Ta-Nehisi has said. And it damages everyone in America, not only black Americans. "If you look at the history of white supremacy in this country, it has rarely been the case that it was singularly directed at black people to the exclusion of all other groups," he told Deadspin's Dennis Young. The 1920s KKK also violently opposed Catholics, who were largely white at the time. White supremacy in America, he said, has been built around the construct of a degraded other, a role filled by black people. "If you completely took that out, you would have a really hard time defining 'white' ... Notice I don't mean actually black people, but the construction of and the stereotypes that they put on black people."
Coates has said repeatedly, in that interview and elsewhere, that "the question about race is ultimately just a question about power." In writing Marvel's Black Panther, he told Young, the relationship between race and power, "is at the heart of the comic book." The title character is the king of a mythical country, but power does not maintain itself. The overriding question, he said to Maron, is, "How does he inspire loyalty to the throne if he doesn't like being king?"  
Required Reading
Supplementary Material
On writing
In his interview with Maron, Ta-Nehisi expanded on his current moment of transition. After his book Between the World and Me came out in 2015, something changed. "I began to feel that people were putting a crown on me," he said. They wanted something more from him than his reported, edited, and crafted analysis. "Increasingly, there was a public presence that was saying, you should be doing this. You should be looking at this. You should be able to answer this. And it would be shit that I had no idea about, and sometimes no interest in at all."
He's been consistent about this: Puzzling through many of the hard problems of race hasn't necessarily armed him with answers, and he doesn't consider it his job to provide them. A member of The Atlantic Discussions group recently urged him to help bridge the racial divide in the U.S. He declined: "I'm a writer. My job is to speak that which I think is true. If that bridges the gap, that's good. If it doesn't, that's too bad."
Telling the truth as a writer isn't a direct route to political change, either. As he told the novelist Chimamanda Ngozi Adichie:
I know we like to think that if we have our facts straight and have a well-documented argument, it will change people's minds, but it doesn't. Facts are overrated. I mean, they're important. We need to know what happened. I'm a journalist and I rely on facts all the time. But as Hollywood shows us, you really need to build a story, a narrative. I'm not saying this to flatter you, but novels are more important right now. Books and stories shape conversation, they shape the imagination.
Required Reading
Supplementary Material
On hope and pessimism
Ta-Nehisi's supposed pessimism has been a lightning rod for his critics. Harvard professor Cornel West, in a critique of Ta-Nehisi that was itself widely criticized, accused the younger writer of "fatalism about white supremacy and pessimism of black freedom." Ta-Nehisi's worldview has frustrated interviewers, including late-night host Stephen Colbert, who asked the writer recently if he could offer any hope for the nation. No, Ta-Nehisi replied. "I'm not the person you should go to for that. You should go to your pastor." Pressed for more, he responded frankly: "I would have to make shit up to actually answer that question in a satisfying way."
Ta-Nehisi is an atheist, and refuses to view history in terms of inevitable progress (or ruination). He wrote in 2013, "I don't believe the arc of the universe bends towards justice. I don't even believe in an arc. I believe in chaos. I believe powerful people who think they can make Utopia out of chaos should be watched closely. I don't know that it all ends badly. But I think it probably does."
His philosophy comes through in Between the World and Me—a book written in the form of letters to his son—as a focus on the physical body. "The spirit and soul are the body and brain, which are destructible—that is precisely why they are so precious," he writes. A focus on the black body follows from that reasoning, he writes to his son, warning of interactions with the police: "All you need to understand is that the officer carries with him the power of the American state and the weight of an American legacy, and they necessitate that of the bodies destroyed every year, some wild and disproportionate number of them will be black."
That understanding of the world also led him to challenge President Barack Obama in a series of interviews before and after the 2016 election. He wrote in We Were Eight Years in Power, "If there was a difference between me and the president, it was that I thought Trump wouldn't win, whereas Obama thought, categorically, that he couldn't." In the end, both were wrong.
Required Reading
"Letter to My Son," The Atlantic, July 4, 2015, adapted from chapter one of Between the World and Me
Supplemental Material
---
Today's Wrap Up
Question of the Day: What are your suggestions for our conversation with Ta-Nehisi?
Your Feedback: Take our quick survey to let us know what you think of this issue.
What's coming: Tomorrow, Caroline Kitchener talks to one of our illustrious members: Kenyatta Cheese, founder of Know Your Meme.
We want to hear what you think about this article. Submit a letter to the editor or write to letters@theatlantic.com.
Matt Peterson
is the editor of The Masthead, the membership program at
The Atlantic
.