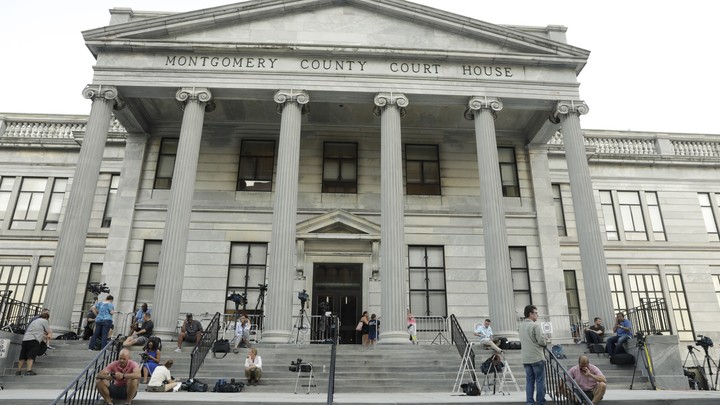 For months, sexual harassment victims have been sharing their stories online. The next logical step, for many, will likely be the legal system. Inside the courtroom, however, victims can easily lose control of their stories. "There have to be ways of giving individuals agency in this process rather than taking it away from them," Matt Thompson, our executive editor, wrote during our recent "Google Doc Chat" about #MeToo. To learn more, I got in touch with Debra Katz, a civil rights attorney who has been trying cases of sexual harassment for over three decades. Here's what I learned.   
---
When #MeToo Leaves Facebook for the Courtroom
Of the thousands of sexual harassment cases that workers file against employers every year, only 3 to 6 percent ever make it to the courtroom. That's because judges tend to dismiss these kinds of lawsuits, but also because civil rights attorneys make every effort to settle out of court. Before Debra Katz, a Washington, D.C.-based lawyer who specializes in sexual harassment, agrees to take a sexual harassment case to trial, she warns her clients to carefully consider what they're about to do.
While the legal process can bring healing and justice to some victims, for many more, it can be traumatic. The experience, Katz says, "can taint somebody to such a degree that they become unrecognizable to themselves." Imagine that, while suing your employer for emotional damages in a sexual harassment case, the defense discovers something deeply personal about your life, and uses those personal details to prove you had ulterior motives for filing the lawsuit. You don't recognize those motives, but after hearing them outlined in court, you might begin to believe them. The accused may have a similar experience.
The #MeToo movement that swept through social media last year allowed victims of sexual misconduct to tell their stories while maintaining at least some measure of control over the narrative. In a Facebook post, a victim can choose how much to share, and with whom. If a victim chooses to seek legal damages in court, however, she surrenders her agency in ways that might surprise unprepared plaintiffs.
Everything is available online. Lawsuits in any jurisdiction in the U.S. are in the public record, easily accessible through a variety of court document search systems. With the term "sexual harassment" and the name of a plaintiff or defendant, any member of the public can pull up the lawsuit. That includes not only the plaintiff's allegations, but also the accused person's defense, which, for sexual harassment cases, often includes highly personal details. "If the defendant's narrative is, 'Jane Smith is a liar,' or 'Jane Smith was known to have consensual sexual relations with all of her employees and was on the verge of being fired,' that will be part of the public domain," Katz said. The lawsuit itself and the defendant's answer are available online before any claims are adjudicated. If a plaintiff is suing a coworker or the company where the harassment took place, public litigation can seriously impact the plaintiff's career prospects. According to Katz, HR departments use these databases to screen candidates. "Employers don't like to hire people who bring suits against prior employers. Even people who bring the most meritorious cases of sexual harassment find it very difficult to get a job once they have initiated litigation." (It may be a form of illegal retaliation for companies to refuse to hire candidates who have sued a former employer.)

If you told someone what happened, that person can be forced to testify. Immediately after an incident of assault or harassment, a victim will often confide in someone they trust. Victims tend to assume those conversations are private, but if they eventually decide to take the case to court, they're probably not. "If the plaintiff spoke to Jane Smith about these allegations, the defendant would likely subpoena that individual," Katz said, compelling that confidante to disclose every detail of a conversation that took place while the victim may have still been in trauma. While licensed therapists and lawyers enjoy legal privilege, the right to keep information confidential, with their clients, almost everyone else can be forced to testify. Since there is so much gray area in sexual harassment cases, victims often question whether what happened was really harassment, or if they somehow welcomed that behavior. It doesn't matter that the witness is a friend or family member, said Katz. If the material is damaging to the plaintiff, the defendant can use it in court.

"You're crossing the Rubicon when you file a sexual harassment lawsuit," Katz said. Once the legal system is formally involved, it becomes extremely difficult for a plaintiff to back out and drop charges. Even if a victim has second thoughts, once the allegations are public, the plaintiff would likely need to seek the defendant's permission or a court order to get the case dismissed. That's not easy to do. "You can have some fairly vindictive defendants," Katz said, who demand that their legal costs be paid in exchange for agreeing to let the case against them be dropped. While Katz spends a lot of time making sure a client understands what to expect from a lawsuit—she encourages them to talk to spouses and even therapists before moving forward—she says there can always be surprises. "Even the most well laid out litigation plans can go sideways, depending on rulings made by the court, witnesses who decide to come forward, tactics taken by the defendants." To give clients as much agency as possible during a lawsuit, Katz will keep them well-informed, and invite them to weigh in on strategy decisions. "Ultimately, though, this is a bit of a roller coaster ride."
---
Today's Wrap Up
Question of the day: We've written a lot about sexual harassment since the Harvey Weinstein allegations became public in October. What aspects of the #MeToo movement would you like to know more about? Reply and let us know.

Your feedback: We missed your comments when we were gone last week. Take a second to check in with our very brief survey.

What's coming: Tomorrow, Matt Peterson writes about the history of dissent in Iran.
We want to hear what you think about this article. Submit a letter to the editor or write to letters@theatlantic.com.