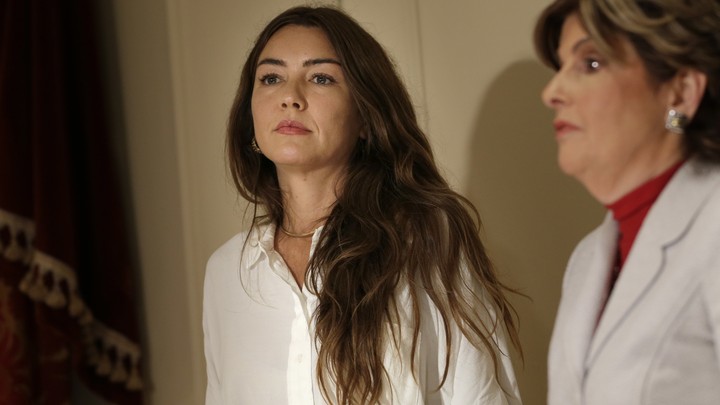 "We are only two months into the so-called Weinstein effect," Atlantic culture writer Megan Garber told me on our call Monday. "Two months, in the grand scheme of things, is no time at all." A story as big as the sexual-harassment revolution, in other words, could still get a lot bigger or change in ways we haven't anticipated. In today's issue, I'll revisit the call with Megan to reflect on what's happened so far and what might be yet to come. And I'll announce a special Masthead experiment in collaborative journalism.

Megan Garber dissects the Weinstein effect
Here's what I learned from our call on Monday.
Why does this feel different? Social media has played a big role. As Megan pointed out, "The term 'sexual harassment' was coined in the '70s, to give name to what many women were experiencing at work." If what's happening now feels like a movement or a revolution—Megan called it a "weather system"—that's in part due to the many people sharing their experiences on Twitter, Facebook, and other platforms. "When you look at #MeToo," Megan said, "that's women adding their voices to a chorus. People can say to one woman, 'I don't believe you. I don't believe you. Please stop talking.' All the kind of things that women are often told. But you can't shut up a whole movement."
Why is this happening now? It didn't come out of nowhere. Donald Trump's election, Megan explained, had already provoked a political reaction similar to the "Year of the Woman," when Anita Hill's testimony in Clarence Thomas's Supreme Court confirmation hearings inspired record numbers of women to run for Congress. For some liberal women, that political reaction mirrors the emotional response to the #MeToo movement. Just look at the outpouring after Time magazine selected "The Silence Breakers" as its "Person of the Year." "I cried tears of anger last year when Donald Trump said Time Person of the Year should go back to Man of the Year," tweeted the gun-control advocate Shannon Watts. "Today I'm crying tears of joy."
How far will it go? For change to be sustained, it has to go beyond high-profile individuals. As Caroline Kitchener reported last month, "while the movement has toppled an astonishing number of highly visible, powerful men, there is little evidence that the 'Weinstein Effect' will trickle down the corporate ladder." Megan echoed that sentiment on our call. "For any change to be meaningful, it's going to have to happen at all levels. I want to know the stories of the women in service industries, and I want to know the stories of women in basically every industry." Time's cover story tried to address this issue head on, by presenting the stories of Taylor Swift and Ashley Judd alongside anonymous woman from service industries. But it's telling that some less powerful women opted to omit their names. Legal and HR structures that could help lower profile victims are slow to change. "So much harassment training is like an episode of The Office," the acting chair of of the Equal Employment Opportunity Commission told Time's journalists.  
What does it mean for journalism? Even if they're not involved, journalists feel implicated. "It is our industry," said Megan. "It's right to use 'our,' because I think especially among journalists, there's a sense of, 'We're in this together.'" Any industry where prominent men have a history of abusing younger women should be thinking about how that power structure has affected the broader culture. Megan reached back to the 2008 presidential campaign, where she thought sexism manifested differently than in the Trump v. Clinton race. "I feel like in 2016 it was a little bit more subtle and insidious, but in 2008 it was very in-your-face." That said, the process of reporting these stories has had unexpected side effects. Just look at social media, which is enabling the journalism that's driving the highest-profile stories. In #MeToo, Megan sees a "productive synergy between journalism and the public at large."
What next? We may see a backlash. "There's a narrative that's been arising for the past couple weeks that's sort of the witch hunt element of all of this," said Megan. Those pushing back object to the idea that "everyone's a criminal." "The reason there is a backlash is because white men still have power," the journalist Rebecca Traister said on Slate's I Have to Ask podcast. "And so there will be resistance from those power-holders, combined with the various people who want to support that kind of power. That includes lots of white women, and older people who came of age in a different world." (As an aside, Megan recommended Traister's story about how the narratives we use to understand the world have been shaped by powerful white men. Go read it.)

Let's Talk More
Megan and I spoke for three-quarters of an hour, and I feel like we barely scratched the surface. We left a lot of questions unaddressed. How is the Weinstein Effect different for people of color? What are the responsibilities of men, particularly bystanders who have witnessed but not participated in it? As Barbara put it on our Facebook page, what is the experience of "women who started their careers before sexual harassment was on anyone's radar"?
Let's do something only the Masthead can do: try to answer these questions together. Today, we're trying another participatory experiment, which we're calling a "Google Doc chat." I'm posting this note into a Google Document that anyone can edit. On Thursday, December 14, at 2 p.m. EST, Megan Garber will join us for another hour. When you click on that link, you'll see this story, and we encourage you to interact with it in three distinct ways: (1) There's a place at the bottom to add your overall comments and questions. (2) You can highlight individual phrases and sentences, and write comments and questions that address specific points. (3) If you've got a reply to someone else's comment, you can reply to that comment and add a thread. If you've never used Google Docs this way before, we'll have a few examples for you in the link. (And if you're not available at that time, you're more than welcome to jump into the doc before or after the call. It's available now.)

Today's Wrap Up
Question of the day: What was your reaction to our call with Megan Garber? Reply to me, or, better yet, share your thoughts in our collaborative Google Doc.
Your feedback: Take a second to tell us how you're enjoying the Masthead on our brief survey.
What's coming: Tomorrow, Abdallah Fayyad writes about the history of wedge issues in politics.
We want to hear what you think about this article. Submit a letter to the editor or write to letters@theatlantic.com.
Matt Peterson
is the editor of The Masthead, the membership program at
The Atlantic
.