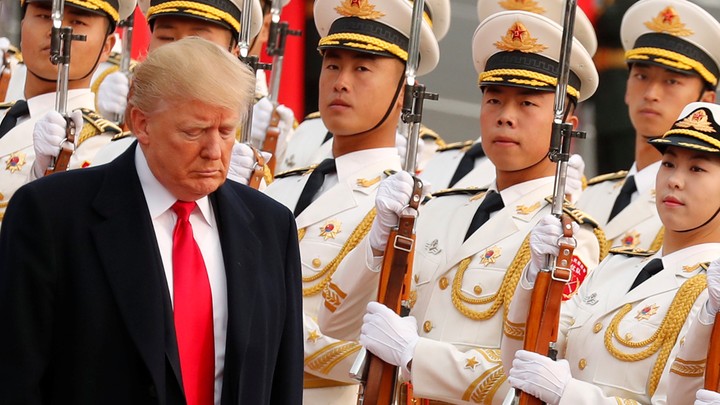 Exactly a year into the Trump era, it's a good moment to reflect on how much has changed. Today, I'll look at some of the assumptions that President Trump is testing in American foreign policy. And I'll relay conversations with Masthead members about what this first year has changed for them.
Unanswered Questions About Trump's Foreign Policy
When I spoke to Jeff Goldberg on Monday's conference call—here's the recording—he called President Donald Trump a "radical isotope. You have no idea which way he's going to go on anything." That unpredictability has made a lot of professional foreign-policy watchers nervous. But while Trump has certainly changed America's role overseas—with Syria on board the Paris Climate Agreement, the U.S. is now the only country in the world to oppose the plan—he has also challenged long-held assumptions. Here are three unanswered questions raised by the Trump presidency.
1. Is Trump, in fact, a good deal-maker?
The president's view of trade is straightforward: Each country should use its leverage to get the best possible deal. Speaking in Beijing yesterday, he made clear that it's as true for China as for the U.S.: "Who can blame a country for being able to take advantage of another country for the benefit of its citizens? I give China great credit." That view—and his promises to blue-collar workers during the campaign—led him to drop out of the Trans-Pacific Partnership and reopen NAFTA negotiations. Those moves put in question both the foundation of America's trade relationships (Canada and Mexico are U.S. trade partners Nos. 1 and 3, respectively) and its future (TPP-member Japan is No. 4, not to mention the other members).
What we still don't know is whether this strategy will be effective. The remaining TPP countries have decided to ratify their deal without Washington. Singapore is among them, and its leader has expressed a pointed preference for negotiating in groups rather than one-on-one. According to Prime Minister Lee Hsien Loong, the Trump team's view is that "bilaterally, you are bigger than any other partner that comes along and so you get a better deal. As a result of which I think not that many partners will be keen to deal with you bilaterally."  
Of course, some countries will still have to deal with the U.S., even if they're not keen to. Because of the huge volume of trade Mexico and Canada do with the U.S., they have to renegotiate NAFTA whether they like it or not. Trump, accordingly, has gone in hard. Washington wants concessions, and according to Commerce Secretary Wilbur Ross, "we are not in a position to offer anything in return." NAFTA talks are reportedly nearing a breaking point—though the author of the Art of the Deal might say you need to be able to walk away from the table in any deal. Still, if that deal collapses, Trump will find out how much the U.S. needs its neighbors.
2. Will the single-minded focus on North Korea be worth it?
The president and his national security adviser, H.R. McMaster, have consistently ramped up the rhetorical pressure on Kim Jong Un's regime. Trump has also marshalled the attention of China, Japan, and South Korea toward the North Korean threat. His critics argue, however, that his focus on North Korea has come at a cost to other U.S. interests in the region. On his current trip to Asia, Trump is visiting China but has opted to skip an important regional summit in the Philippines. That left former Australian Prime Minister Kevin Rudd exasperated: "For God's sake, this is just an open door for China."
Meanwhile, the aggressive posture toward North Korea has left some analysts alarmed. William Perry, the former U.S. defense secretary, has said that talking to the North can work, pointing to the Clinton administration's negotiations. But McMaster's statements suggest the administration thinks Kim is dead-set on taking over the Korean Peninsula by force. In that case, only a war would stop the North, and that would mean potentially millions of deaths. (Any attempt to destroy North Korea's nukes would require a ground invasion.)
Still, there is the chance that this gambit will pay off. Convincing the North Koreans to give up some of their weapons without violence would be a major success for any administration. Wouldn't that be worth opening a few doors for China?
3. Do dictators make better friends than democrats?
Trump's preference for working with authoritarians is clearest in the Middle East. The rulers of Saudi Arabia moved this week to crush their opponents under the guise of an anti-corruption campaign. Trump backed them to the hilt, writing on Twitter that he has "great confidence" in the Saudi king and his successor.
President Obama had moved to sideline the Saudis. They needed, he told Goldberg last year, "to share the neighborhood and institute some sort of cold peace" with Iran. Trump has begun to reverse course. His decision to start rewriting Obama's policies, starting with decertifying the Iran deal, has made America's traditional democratic allies in Europe anxious. European democrats' interest are a low priority for Trump: He has lauded Vladimir Putin despite the Russian government's attempts to intervene in elections in France and Germany. In an ever more polarized world, the United States needs to choose its friends and allies carefully. Trump has made his pick.

How the Trump Era Has Affected Masthead Members
On the Masthead's private Facebook group, I asked how the period since the election has shifted our members' perspectives. Here's what you had to say.
For several members, the past year has forced a new appreciation of the diversity of political opinions in the country. Laura had spent the time before the election talking openly about her objections to Trump's candidacy. After the election, she wrote, "I discovered how many of my friends silently disagreed with me." That realization has made some members of this community more attuned to difference. "I also try to listen better and seek out a broader range of perspectives on politics and non-politics," writes Meghan. "I see a lot more events through the prism of race and gender than I used to," added Pamela.
But not everyone sees engaging with diversity as constructive. "I've come to the conclusion that our notion of free speech is too broad," wrote Jimmy. "We need to do a better job of holding vitriolic people accountable as their views can have dire consequences for the general population." The rise of white nationalists has been a flashpoint for some. After Charlottesville, wrote Genevieve, "I have less empathy." For Ed, "the Confederate monument discussions put things into better focus from my vantage point."
These changes have prompted several members to action. Craig, who teaches communication, "realized this year that we professors have totally dropped the ball in regard to teaching students about the importance of reading … and how to develop logical arguments from credible evidence." That he needed to do more became obvious, he wrote, "like realizing those pants are just never going to fit again." Jordan took a similar path. "I've actually made myself get involved in local politics since the election." Of course, a little nudge always helps, Jordan admits: "Okay, my husband made me get involved because he was sick of me complaining and not DOING something."

Today's Wrap Up
Question of the day: We'd love to hear from conservative members of the Masthead how the Trump era has affected your thinking. Where have your views been confirmed? Where have they been challenged? And if you're a liberal who's come to love Trump, we'd love to hear from you, too. Reply to this email and let me know.
Your feedback: Keep it coming! Take this quick survey.
Coming soon: Caroline Kitchener shares veterans' reflections on violence in the U.S.
What we're thinking about: Gratitude. As U.S. Thanksgiving approaches, and we plan a little down time, we're planning a few issues on what we're thankful for.
We want to hear what you think about this article. Submit a letter to the editor or write to letters@theatlantic.com.
Matt Peterson
is the editor of The Masthead, the membership program at
The Atlantic
.