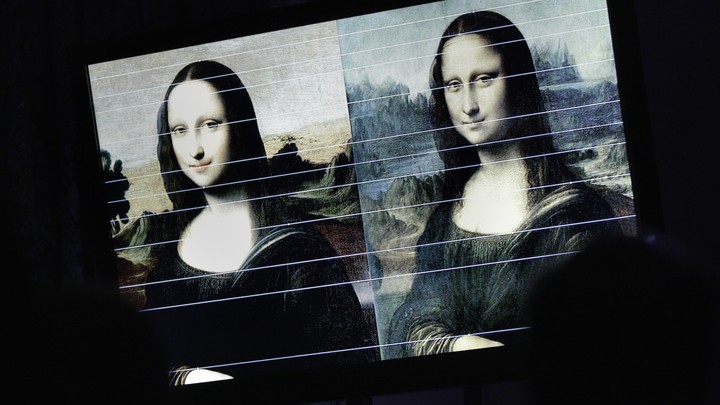 The editors at The Atlantic chose to put the Mona Lisa on the cover of the November issue. It's not political, it's not ominous, it's not particularly time-sensitive—but it's beautiful. Today, you'll hear from two Atlantic artists—David Somerville, our creative director, and Alan Taylor, our senior photo editor—about the importance of celebrating art and joy amidst staggering violence and devastating natural disasters. Enjoy the long weekend, everyone. Go find something beautiful.

Let's Talk Soon: There's no conference call next week, but our regular series of conversations with Atlantic writers and editors returns Monday, October 16, at 1 p.m. ET, with Derek Thompson, senior editor for economics, labor markets, and the media, and the author of Hit Makers. He'll talk about the future of work and his new Atlantic cover story on X, Google's moonshot factory. Register here for that conference call. And check out the list of other upcoming calls.   

MAKING THE MONA LISA SHINE
David Somerville is responsible for the creative design of The Atlantic's magazine covers. We talked about the design process for the November issue.
Caroline: What was your initial vision for this cover?
David: We wanted a palate cleanser. We've recently had covers on North Korea, slavery, people going crazy, and the White House sinking into the ground. The idea of something beautiful or joyful felt really great.
Caroline: Why is that balance important?
David: It's important for us to be able to look at a year, or 10, or 100 years of The Atlantic, and see the full spectrum of life. If every cover was, "the world is ending, why can't things be better," we'd miss out on a real part of The Atlantic's DNA. Ralph Waldo Emerson and Mark Twain, deeply Atlantic people, were often realists, often cynical. But they also loved beauty and humor and nature. We need to put something important on the cover, but joy is no less important than despair.
Caroline: Walter Isaacson's piece on the science behind the Mona Lisa's smile—how Leonardo got it to change as its viewed from different perspectives—and Atlantic staff writer Derek Thompson's exploration of X, Google's "moonshot factory." In very different ways, they're both about how big creative breakthroughs happen. What was the first cover image that came to mind?
David: We started with the full figure Mona Lisa. We thought, "If all else fails, we have this." But the concern was, does this feel like an art history textbook or a museum brochure? You get the classic Mona Lisa on the cover and it's kind of like looking at a picture of your aunt. So we wanted to explore how to make it surprising. At the same time, we wanted to pursue something that wasn't the Mona Lisa, in case that didn't work out.
Caroline: How did you try to make the painting feel fresh?
David: Blake Kathryn does the most amazing metallic sculptures, and I immediately thought, "Yes, let's get the Mona Lisa done like that." But then we encountered this unsolvable problem: To make it feel like Blake's art, it had to look less like the Mona Lisa. But to make it read well on the newsstand, it had to look exactly like the Mona Lisa.
Caroline: Wow, Mona Lisa as a skeleton. This is seriously cool.
David: There is a lot about the anatomy behind the Mona Lisa in Walter Isaacson's piece. The idea was to get an artist's rendering of Mona Lisa's skeleton—and then print a spot gloss, to create a raised shiny area on the cover, just around her skeleton.
Caroline: Why didn't you go with this?
David: It seemed very creepy.
Caroline: What about this modern, techy version?
David: We wanted to create something that was digitally native, 3D, and fully virtual. Maybe we'd have the face rotate online. But it wasn't meaningful enough on a magazine cover.
Caroline: Let's talk about the potential covers that weren't the Mona Lisa.
David: This was when we started thinking, maybe this issue is really about the technology of creativity and failure. This cover is about the idea that you have to make a lot of mistakes before you arrive at a finished product. You're going through all these pencil shavings, using all that lead, drilling through all those ideas… but eventually the shavings become a rocket that is driving you to creative success. This would address the Google X feature more directly than the Mona Lisa piece, because they do a lot to celebrate failure in their lab.  
Caroline: And now we arrive at the crumpled ball. Why did you think this might work for the cover?
David: I loved the crumpled paper as a metaphor for creative process. The idea was that the crumpled paper is the center of power—at the center of the atom. At the heart of this enormous power of creativity is failure and struggle.
Caroline: Do you think people get that message from this image?
David: Probably not as it appears here. It would have taken more development, which is why it ultimately fell a little flat. The more you look at it, the more you like it. But it runs the risk of feeling a little clip-arty, because you are using classic symbols.
Caroline: How did you end up with the final version?
David: We did a lot with shading to make the rest of the background fall away, so she felt studio lit. It's the Mona Lisa, just less of it than you've seen before. We wanted to display the painting in a way that would take away the distractions, and make you focus on the smile.
Caroline: Now, the big question—why put Mona Lisa on the cover? Why is this an image that still matters? It's pretty significant—and rare—that a mainstream magazine chooses to put a piece of classical art on a cover.
David: The honest truth is that art and beauty really matter. Ugliness is lazy, and ugliness is cool. It's easy to be cynical. And it's hard to put something in front of someone and say, in a sincere tone of voice, "Look at this. Isn't this wonderful?" Doing that comes with vulnerability. The other person can say, "No it isn't, you're an idiot."
David Foster Wallace was an advocate of New Sincerity, the idea that we should get rid of all this irony and just love things. Magazine covers are a very satirical, very "I know that you know that I know" kind of place. With good reason. A lot of that humor and snark is great. But if we believe that we exist to contribute something significant to the American conversation, then we have to contribute more than knowing irony or warnings about the end of the world.
If we have a platform to make people stop and look at art again, and see something as ubiquitous as the Mona Lisa with fresh eyes, why wouldn't we use our platform to do that? We need to take that opportunity because, as far as I can tell, there is a deep-seated human desire for beauty. And it's rare to actually find a way to offer that to people.

A LITTLE MORE BEAUTY, JUST FOR YOU
As the senior photo editor for The Atlantic, I look at thousands of photographs a day, every day. It can often feel like a bleak perspective on the world, especially over the past few weeks of disaster after disaster. Nobody likes to see difficult stories every single day. So, when appropriate, and if the news of the day isn't pressing, it's a joy to compose photo essays that are transportive, or silly, or just an exercise in beauty or observation. This photo essay on Norway is an example of that. Enjoy!
–Alan Taylor, Senior Editor at The Atlantic
Click here to see Alan's full photo essay.

TODAY'S WRAP UP
Question of the day: Yesterday, The Atlantic published "A Death at Penn State" by Caitlin Flanagan. It's a gut-wrenching account of the hazing that led to the death of student Tim Piazza. Today, we'd like to hear your Greek life stories—the good and the bad. Just reply to this email.
Your feedback: Take a couple of seconds and tell us what you thought. Fill out our survey.
What's coming: Next week, Matt will share a few lessons that the world's oldest democracies, such as the United States, can learn from some of the newest, in sub-Saharan Africa.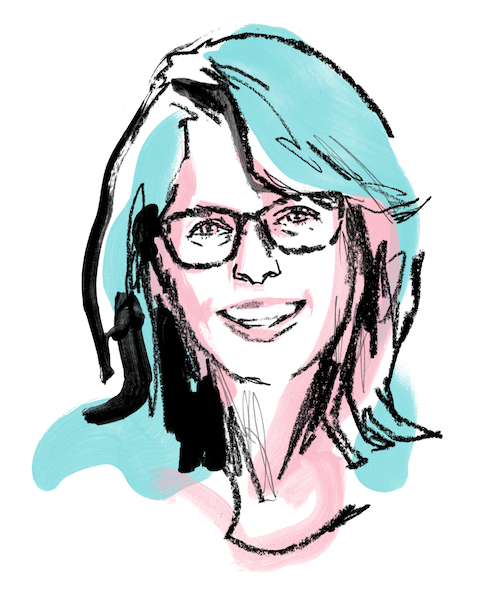 Caroline Kitchener
ASSOCIATE EDITOR,
MASTHEAD
We want to hear what you think about this article. Submit a letter to the editor or write to letters@theatlantic.com.