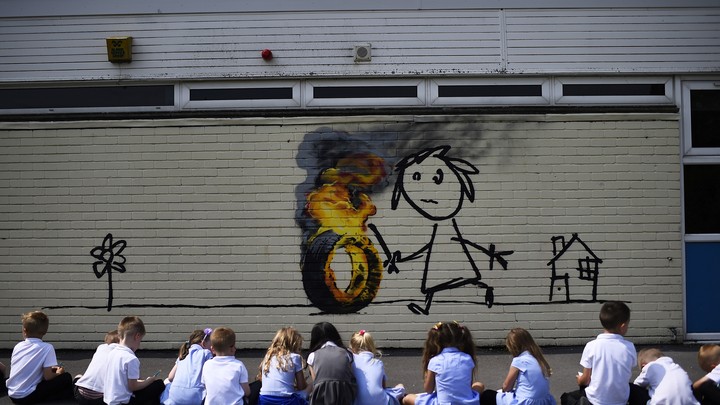 A national shift as big as the election of Donald Trump will have ripple effects throughout U.S. culture, as artists and performers process the change. Masthead member Jennifer asked us to to dive in. "Who are the protest artists of our generation?" I enlisted The Atlantic's culture experts to find examples of works of music, theater and visual art responding to the national moment. You'll also hear directly from one of those artists, director Noam Shapiro. He'll tell us why it's more important than ever to create theater that can change minds.

Join us Monday, Sept. 18, at 1 p.m. ET for a conference call with Uri Friedman, Atlantic staff writer and author of The Masthead's first exclusive feature, "How Germany Overcame the Refugee Crisis." (You'll get the recap and a transcript later in the week if you miss it.)  Hit this link to RSVP and get instructions for joining the call.
If you haven't had a chance to read Uri's piece yet, take a look.

A NEW GENERATION OF PROTEST ART
Spencer Kornhaber and Sophie Gilbert, culture writers for The Atlantic, and Kriston Capps, staff writer for CityLab, bring us the music, theater, and visual art that has something to say about the state of the world today. If all art is provocative, protest art exists to provoke. The images and descriptions of some of these works may stir you.
MUSIC
Damn by Kendrick Lamar
Lamar has been one of this generation's great protest artists for a while now, though his messages are harder to boil down than people might think. He makes music about racism and injustice, but also about the way human nature and life in America can corrupt our souls. Damn disses Donald Trump and furiously responds to Fox News pundits who've criticized hip-hop, but it also critiques Lamar and his peers' own apathy. On songs like "XXX," you hear him struggling between the desire for peace and being pushed, by the world around him, toward something more radical. Click here to listen to "XXX."

Prophets of Rage by Prophets of Rage
This is for anyone craving old-fashioned slogan-slinging. A supergroup formed during the 2016 election, Prophets of Rage includes Chuck D of Public Enemy, Tom Morello of Rage Against the Machine, and B-Real of Cypress Hill. The songs are full of chunky riffs to make you pump your fists, with choruses that literally say "fuck racists"—which maybe wasn't the sort of chant we thought we'd be needing in 2017, but here we are. It must be said, though, that the album mostly makes me want to listen to old Public Enemy and Rage Against the Machine songs, which were a lot sharper and even more radical. Click here to listen to "Radical Eyes."

Navigator by Hurray for the Riff Raff
The Bronx-born folk artist Alynda Segarra's sixth album imagines a fictional city experiencing an extreme version of the gentrification and segregation we see in urban America today. The songs are generally from a personal point of view, but you get glimpses of what it feels like to have your culture chipped away by larger forces. She dedicates "Rican Beach" to the protestors at Standing Rock. Another highlight, "Pa'lante," quotes the Nuyorican poet Pedro Pietri and mentions the civil rights martyr Emmett Till. Its title roughly translates to "Go Forward." The way that she sings it, you can imagine it being shouted at rallies.  Click here to listen to "Pa'lante." ​

—Spencer Kornhaber, Atlantic culture writer
VISUAL ART
Laocoön by Sanford Biggers
Sanford Biggers Studio
Biggers produced one of the most painful images of his generation this image—an oversized, inflatable, vinyl Fat Albert, partially deflated, installed face down on its stomach. It summons to mind the images of Michael Brown, shot the year before in Ferguson, Missouri, by police officer Darren Wilson, and left for dead for several hours. Biggers's piece drew complaints from critic Taylor Renee Aldridge, who objected to seeing a representation of black bodies surrounded by gallery goers (at Art Basel Miami Beach in 2015). Aldridge asks whether an artwork—even one that plainly protests racial violence, even one made by a black man about black men—can escape the overly rich, overly white milieu of the art world or the neutralizing passivity of reproduction via social media.

Straight by Ai Weiwei
Getty Images
Ai can turn anything into a political statement, whether mangled steel or fresh-cut flowers. Because of the persecution he has endured from the Chinese government, he may be the contemporary artist mostly closely linked to protest art. After the Sichuan earthquake in 2008, Ai reclaimed some 200 tons of twisted, steel-reinforced bars from schools that collapsed and had them painstakingly straightened for exhibition. He also published the names of thousands of children killed during the quake—deaths that the Chinese government does not recognize. That's when the trouble started for Ai, who was jailed for 81 days in 2011.  For more than 600 days after his release, he put a bouquet of flowers in a bicycle basket outside his studio to protest the government's refusal to return his passport. His humor, his use of repetition, and his embrace of social media has made Ai a global voice for resistance and irreverence.

Christ's Entry into Journalism by Kara Walker
Kara Walker, courtesy of Sikkema Jenkins & Co., New York
Walker's new show at Sikkema Jenkins & Co. includes this massive collage and ink drawing, Christ's Entry Into Journalism (2017)—a play on the name of a painting by Benjamin Haydon, Christ's Entry Into Jerusalem (1814–20). The piece, a loose satirical drawing in the way of an Honoré Daumier caricature, includes depictions of Frederick Douglass and James Brown. In it, a waitress at a party serves Trayvon Martin's severed head on a platter. President Donald Trump is shown hiding behind the legs of a Ku Klux Klan member, defecating on the floor.
—Kriston Capps, CityLab staff writer
Theater
The Hamilton Protest
Just after the election, the cast felt compelled to protest the presence of Vice President-elect Mike Pence in the audience.  The Trump administration, they felt at the time, was diametrically opposed to everything Hamilton stood for. Pence seemed to understand that, but Donald Trump demanded an apology. The show's creators wanted to point out to Pence that the show he was taking in could teach him and the president something about American values. It was a peaceful and respectful protest, but one that demanded to be heard. Click here to watch the clip.
Building the Wall, directed by Robert Schenkkan
Dashed off in a fit of rage after the election, it's set in 2019. A black history professor is interviewing a white prisoner. The prisoner was a security guard who committed atrocities under the orders of the Trump administration, and the professor is trying to find out how it happened. It wasn't a hit, and The New York Times noted that it failed to engage the audience's imagination, instead engaging in some predictable grandstanding. But I hope there are more plays like it that consider the broader impact of Trump on Americans rather than the tempting but overexposed man himself. Click here to watch a Time interview with the playwright.

Ruined, directed by Lynn Nottage
Ruined, which won the 2009 Pulitzer Prize for Drama, is set in a bar run by Mama Nadi, a kind of Mother Courage-style figure. It documents how war has engendered a culture of rape, abuse, and sexual slavery by telling the stories of resilient but traumatized women. By focusing on how war impacts women who weren't directly involved in fighting, it subverts the traditional narrative of plays about war. This isn't an explicitly political play in terms of hectoring speeches, but it moved me more on an issue than anything else I can remember. Click here to watch a scene from the play.

—Sophie Gilbert, Atlantic culture writer

WHAT A THEATER DIRECTOR WANTS TO SEE IN THE TRUMP ERA
In the months leading up to the 2016 election, the director Noam Shapiro staged "The Resistible Rise of Arturo Ui," a Bertolt Brecht play about the rise of a demagogue and political outsider who seizes power through democratic means. A year later, I asked Shapiro to reflect on what kind of theater he wants to see in an era of political turmoil.
Two weeks after the election, I attended a one-minute, rapid-response play festival in Brooklyn called "Our Response/Our Country." Some of the plays attempted to assess our political climate, but most were simply cathartic. One featured four characters yelling expletives for 60 seconds. My favorite play was another that,  instead of riling us up, asked us to consider how we work toward a better future.
It's too early to know what political theater will look like in the age of Trump. Most of the plays and musicals that will respond to the new president haven't been written yet. As a director, I'm looking forward to a wave of responses to Trumpism by artists who will speak truth to power, shine a light on hate, and look forward.
What we've mainly seen so far are political satires and dystopian dramas. Which makes sense: comedy and fear sell. But as an audience member, I don't feel the need to see endless impersonations of Trump or direct references to his presidency. The reality of this administration is crazier than fiction.
I'm interested in nuanced theater that challenges us to confront the xenophobia, racism, sexism, and religious prejudice that run through this country and divide us even more than Trump does. I'm looking for plays and musicals that allow oppressed, marginalized, or underrepresented voices to say, "We are here." I'm seeking out urgent theater that holds us accountable for our actions, reminds us of our shared humanity, and catalyzes our pursuit of equity and justice.
While theater's capacity to change the world might seem limited, I believe its capacity to change minds is profound. Artists can take the lead in shaping our understanding of what it means to be an American during the Trump presidency. By making us laugh and feel, the protest art and political theater of our generation can help us think and see.
—Noam Shapiro, co-founder and artistic director of Lyra Theater

TODAY'S WRAP UP
Question of the day: What great art have you seen that reflects this moment of change?
Your feedback: Keep the feedback coming, we're paying close attention. Take our survey and let us know what you thought of today's email.
What's coming: We'll be talking to Uri Friedman at 1 p.m. ET on Monday, Sept. 18. We'll take your questions for Uri before and during our conversation with him.
What we're thinking about: Many of you have written to us about North Korea. Next week we'll provide some historical context for the current conflict.
Enjoy the weekend, everyone!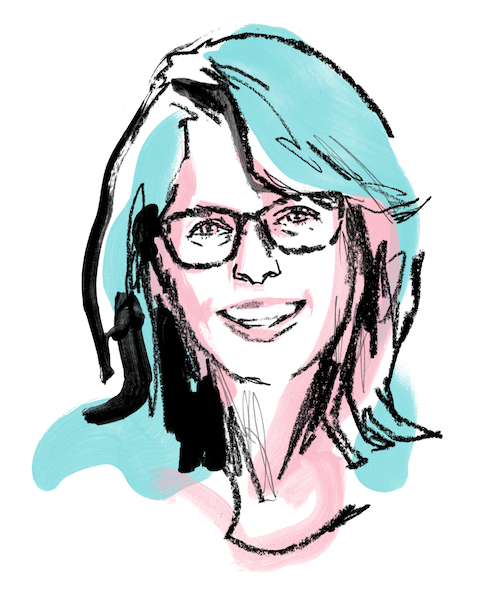 Caroline Kitchener
ASSOCIATE EDITOR,
THE MASTHEAD
We want to hear what you think about this article. Submit a letter to the editor or write to letters@theatlantic.com.