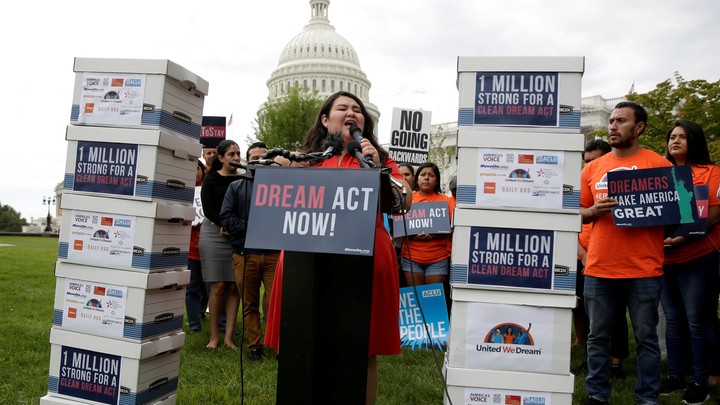 Even before the politics of DACA brought immigration back into the headlines, we started working on something special for you. For The Masthead's first exclusive feature, Uri Friedman reports on how one country, Germany, saw the politics of immigration all but disappear, even as hundreds of thousands of refugees arrived in the country. We'll present an excerpt of his longer story here—go and read it on our website. To wrap up, we'll bring our immigration discussion back to the United States. I talked to Dreamer Joel Sati about the tendency to characterize DACA recipients as good, deserving immigrants—and how that narrative affects undocumented immigrants who don't qualify for the program.
***
How Angela Merkel Won Back Control of Germany's Refugee Crisis
In the fall of 2015, refugees and migrants headed en masse to Europe, driven by worsening war, warm weather, and welcoming signals from Germany. The European Union's "Dublin" system, which determines the EU member responsible for processing a given asylum request, broke down. So did Germany's decades-old system for apportioning refugees across German states based on each state's wealth and population. Initially, on Chancellor Angela Merkel's watch, hundreds of thousands of asylum-seekers went unregistered and hundreds of thousands of asylum applications went unprocessed. Who could even think about assimilating these newcomers into the labor force? The pressing challenge was far more elemental—to provide them food and housing.
The chaos reached its pinnacle in 2016, when men of North African and Middle Eastern origin sexually assaulted hundreds of women during New Year's celebrations in the city of Cologne, sparking public outrage at the government's bumbling response. The day before the city's mayoral election, a man upset over refugee policy stabbed the leading candidate in the neck. A spasm of violence against foreigners ensued.
"Two cardinal principles of Germany's migration consensus—control over flows and investment in integration—have thus been directly undermined by the ongoing crisis," Friedrich Heckmann, a migration expert at the University of Bamberg, wrote that year.
Merkel, however, has been clawing her way back to control ever since. This is the story of how a leader whose government was once judged by eight in 10 Germans to have lost control of the migrant crisis, is now poised to win a fourth term as chancellor in elections on September 24.
The German journalist Bernd Ulrich once observed that Merkel "watches politics like a scientist" (she's a former quantum chemist), learning and recalibrating with every observation. And she seems to have learned that the 2015 refugee experiment, having blown up in her face, cannot be repeated. The EU's Dublin system has been reinstated. Border controls between Austria and Germany, both members of the EU's passport-free Schengen area, have been temporarily imposed. In the spring of 2016, as several Eastern and Central European countries closed a popular migrant route from Greece through the Balkans, Merkel orchestrated a controversial deal in which the EU essentially paid Turkey to become a sponge for asylum-seekers. The Turkish government agreed to prevent migrants from leaving its shores for Europe and to take in migrants deported from Greece. The German government, for its part, has passed stricter asylum laws, sped up asylum processing, and increased deportations of those not granted asylum, especially in 2016. The upshot: Some 280,000 migrants entered Germany last year, relative to 890,000 in 2015.
Now, thanks in part to McKinsey consultants and tremendous support from volunteers and civil-society groups, Merkel's government also has a handle on processing and meeting the basic needs of those applying for asylum.
—Uri Friedman, Atlantic staff writer
Read the whole story on The Atlantic's exclusive members page.
***
Does DACA Make It Harder for Other Undocumented Immigrants?
The closest thing to agreement in America's political debate is over the status of the Dreamers. Even some who want to build a wall on the U.S.-Mexico border support giving some kind of relief to the approximately 800,000 young people who came to the U.S. when they were young, have graduated or are currently in school, and have no criminal record. But as Atlantic staff writer Priscilla Alvarez points out, "DACA recipients and other undocumented immigrants are interconnected. You have those whose families are undocumented and depend on the legal income brought in by beneficiaries."
Most DACA coverage focuses on how Dreamers stand apart: how they're "deserving" and "innocent," valedictorians and Ivy-League graduates, not to be confused with other undocumented immigrants. I wanted to know how this narrative affects the general undocumented population, so I asked DACA recipient Joel Sati this question: "Does a narrative that sets DACA recipients apart hurt undocumented immigrants who don't qualify for the program?" Here's what he told me.
In principle, I don't disagree with the benefits that DACA has provided—I have personally benefited from it—but I do disagree with the premise on which DACA is based. It is based on setting apart this small group of "exceptionally deserving" people. We constantly hear this narrative of, "these kids came here through no fault of their own." But when you say that, the blame is placed on the parents. Undocumented parents now are in a worse situation because they are seen as people who came here not to contribute, but to take away. They are the guilty. By extension, we think it's okay to deport them. It is okay to deny them their rights. By saying he supports DACA recipients while saying that he's going to deport 3 million criminal immigrants, Trump encourages the presumption that non-DACA, Hispanic immigrants are inherently criminal. What might benefit a very small group of people is incredibly damaging to the vast majority of undocumented immigrants in this country.
I wasn't always a PhD student at Berkeley. Before DACA, I couldn't work. I couldn't go to school. I was just here, in the United States, pretty much wasting away. The person I was then deserves the same rights as the person I am now. It's easy to make a case for someone like me because I have those ostensible markers of success, but cherry-picking the stories of valedictorians or students with high GPAs is harmful. There are so many people who are pushed to the margins because they don't fit these narratives. Even organizations that are supposed to protect immigrants don't have the framework to defend the people at the margins because the media focus has been on these people who meet our traditional conceptions of success.
—Joel Sati, DACA recipient and doctoral student in the jurisprudence and social policy program at Berkeley Law
***
Today's Wrap Up
Question of the day: Tell us your immigration stories. Have you left the country where you were born? When and why?

Your feedback: Let us know what you thought of today's email! If you want to see changes, we want to make them. Take our survey.

What's coming: A lot of you want to talk about Trump. A lot of you don't. Tomorrow Matt Peterson tackles your questions about the American president—and your concerns that we spend too much time talking about him.

What we're thinking about: Last week, we asked you if public schools succeed in their mission to create diverse communities. We'll respond to your thought-provoking comments and questions later this week.
Talk to you tomorrow!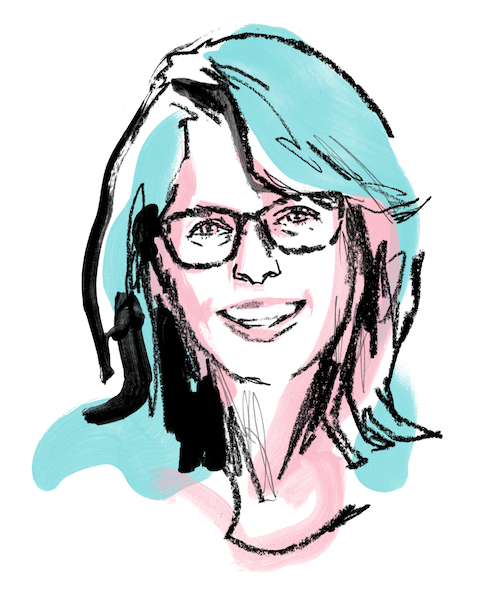 Caroline Kitchener
ASSOCIATE EDITOR,
THE MASTHEAD
We want to hear what you think about this article. Submit a letter to the editor or write to letters@theatlantic.com.