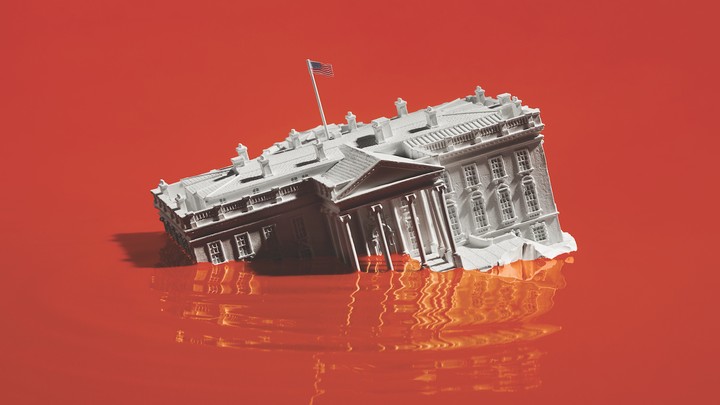 You probably don't know David Somerville, but if you read The Atlantic, you know his work. He's the guy behind our covers. Today, David takes us behind the scenes of the search for The Atlantic's October cover, which gives a damage report on the Trump presidency. And David tells us why, ironically, it's so hard to depict such a visually iconic president. Enjoy!
(If you'd like to read this on our website, it's available here.)

Join us Monday, Sept. 11, at 1 p.m. ET for a conference call with The Atlantic's Jim Fallows, longtime national correspondent. If you can't make it, don't worry. We'll send out a recording and a transcript afterward. Hit this link to RSVP and get instructions for joining the call.

WHAT MAKES A MAGAZINE COVER GREAT
Atlantic Creative Director David Somerville walked me through the design process for the cover of the October issue.

Here's the cover that will arrive on newsstands the week after next:
Caroline Kitchener: How do you choose an Atlantic cover?
David Somerville: We get all the senior editors in a room. The art team will put up to 20 potential covers on the wall. Then we discuss them, pulling down variations as we decide we don't like them. Eventually, we'll be left with three or four. The editors give the art team a final round of edits and things to try, and the top editors make a call.
Caroline: What was the concept for the October cover?
David: For this issue, we wanted to do something with an isolated object in the center. The isolated object on a bright color has been a classic cover design for The Atlantic over the last decade.
This month, our three cover stories center around the Trump presidency. We were looking for metaphors for instability, destruction, and this fine line of a thing that is troubled but not yet completely destroyed. We were asking ourselves, "Do we show a smashed White House? Or a White House on fire? Or a foreclosed White House?"
Caroline: Let's go through the covers you considered for October, one by one. Here, the White House is a bomb. What drew you to this image?
David: This was one of my favorite concepts because there is actually no damage to the White House at all. All the damage is potential. The cover gives you the simple cue that this is going to be crazy, but it's not yet crazy.
Caroline: Why didn't you go with this one?
David: First, we obviously didn't want to do anything that would suggest terrorism, because that's not what any of the pieces are about. We certainly didn't want to do anything that looked like we were advocating violence. And third, we wanted to show that it wasn't just all potential damage. There is damage that has already been done.
Caroline: You also might worry that something absolutely catastrophic would happen between the time you picked the cover, and the time the magazine came out.
David: Right, that too!
Caroline: What about this version?
David: Again, the White House is not itself damaged in any way. By showing the ground opening up underneath the White House, you emphasize the irreparable-ness that a lot of the pieces get at. You're suggesting, "We have opened a chasm, how will we close this again?" It's an inherent question of this issue.
Caroline: What about this one with the shattered seal?
David: I really liked this aesthetically, but it felt like a slower read than the White House. For covers, the design should be recognizable in an instant, but it should also be interesting enough to reward further looking. This one didn't have that, "Walking through an airport and I recognize it" thing. It just looked like a shattered circle from far away.
Caroline: Now we have something that's quite close to the final cover.
David: As soon as I saw this idea, I loved it. It does such a great job of showing damage and trouble. Some of the damage has already happened. It's a situation that's going to get worse, but it could also get better. I think it's a good metaphor. It's also surprising: sinking into a solid color. Everyone saw this sketch and was like, "I think that's going to be the one."
Caroline: Here, the White House is also sinking. How is this image different?
David: It's a different color. Originally, everyone liked the idea of a really strong, punchy red for this. But then when I opened up the image file, I was like, "Oh no. No, no, no, no, no. Nope." It looked like blood. So we immediately decided to retouch it. In the end, we decided to go with orange.
Caroline: One last question for you. What makes a truly great cover?
David: It should be excellent, it should be provocative, and it should be iconic. By excellent I mean it should be crafted really well. It should be pixel-perfect in every way. No part of the cover should be unconsidered or accidental. Every font choice, every font height, every shade of color, all of it has to be a piece of craftsmanship. A great cover also provokes an emotional reaction. It makes you feel something. When I say iconic, I mean it should be the perfect summation of a thing in an image. For example, the sailor kissing the nurse at the end of World War II in Times Square: that image just sums up that moment. This is what I want to strive for. If The Atlantic is writing journalism that defines the conversation around something, then the cover should define the image around that thing, too.

HOW TO VISUALIZE TRUMP RESPONSIBLY
As told to Caroline Kitchener by David Somerville.
As an American icon, Trump has had a visual brand for a long time. He's already been reduced to a few characteristics. You can just draw the hair, drop the orange color, and it's like, "Oh, ha ha, Trump."
That was before he became president. When he was in Home Alone 2: Lost in New York, it was cute and funny and innocent. But now his image is loaded. It's been laced with so much hatred, frankly, by publications that oppose him. They make his visual icons as grotesque as possible. This happens with any president. You had racist portrayals of Obama; you had George W. Bush turned into this crazy little monkey.
The unique problem with Trump is that, because his visual brand was so established, we already had the tools to weaponize his image. The stuff that happened on the campaign trail only amped that up. If you want to draw the most ridiculous Trump possible, you do an orange person with crazy, golden hair, tiny hands, and a long, red tie, who is groping a woman. You instantly have this gremlin. If you want to reference him visually, it's hard to do it responsibly. You want to do it in a unique way that says, "This is going to be an Atlantic piece with nuance and meaning, not just another caricature."  
What's hard is that you're also making a statement if you don't do something insane with Trump's image. On The Creative Independent, artist Katie Alice Greer said that all art is political. If your work is not overtly political then you are supporting the status quo by default. If you don't make something insane or grotesque then you are not condemning that thing. That's a hard position for a responsible artist and journalist to be in.
— David Somerville, Atlantic Creative Director

TODAY'S WRAP UP
Question of the day: What is the most powerful visual depiction you've seen of President Trump?
Your feedback: Please let us know what you thought of this email by taking this survey. This is your newsletter: tell us how it's going so far.
What's coming: We'll be talking to Jim Fallows at 1 p.m. ET on Monday, Sept. 11. Whether or not you can make the call, e-mail us your questions for Jim. Here's how you join the call:

Call this number: 888-578-6776
Enter conference code 2849446494#
Follow this link to join our simultaneous Google Conversation, and ask questions/ offer comments as you have them.

What we're thinking about: You had a lot of great questions about public schools—as well as thoughtful defenses of private schools. Many of you have also written to us about North Korea. Stay tuned. We're listening.
Have a wonderful weekend, everyone!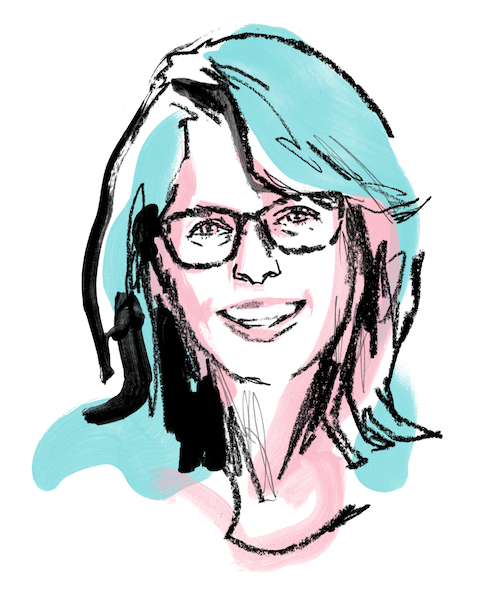 Caroline Kitchener
ASSOCIATE EDITOR,
THE MASTHEAD
We want to hear what you think about this article. Submit a letter to the editor or write to letters@theatlantic.com.