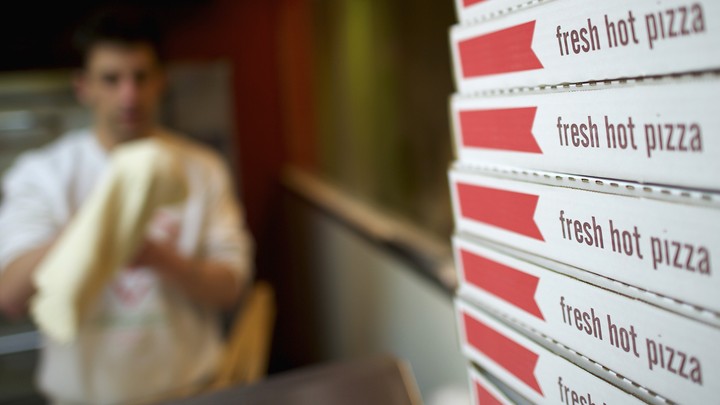 When Michael Lastoria, founder of the restaurant chain &pizza, opens his 23rd location next week in New York, he'll give a few customers the chance to claim a year's worth of free pizza—if they get a tattoo of an ampersand, his company's logo. He's confident he'll get takers. His employees have been signing up for tattoos for years. He's not, he insists, "some insane dictator," who wants to stamp his image on others. He thinks he's tapped into a new way young people relate to food, one that's rooted in our desire to find ourselves in what we eat. I talked to Lastoria at the Washington Ideas Forum this week about his company and the "Chipotlification" of the fast food industry.

Join me Monday, October 2, at 1 p.m. ET for a conference call with Atlantic senior editor David Frum. We'll talk about his notes on the Trump administration so far, and take your questions.
Register here for the call with David Frum.
Reply and send me your questions for him.

HOW WHAT WE EAT REFLECTS WHO WE ARE
I spoke to Michael Lastoria about the rapidly changing restaurant industry, and what influences our decisions about where to eat. This interview has been edited for length and clarity.
Caroline Kitchener: What's unique about fast-casual restaurants like Sweetgreen and Shake Shack?
Michael Lastoria: A lot of them are brand-led. While the food is certainly a big component, there is more to it than that. Companies are focusing on connecting with their customers over a set of shared values.
Caroline: What kind of values are we talking about?
Lastoria: A lot of consumers today are passionate about doing the right thing, and you see that reflected in what they're choosing to eat. So we see restaurants being increasingly thoughtful about supply chains—where food is coming from, how food is being prepared. And more and more of these new, elevated fast food restaurants are paying their employees close to a living wage.
Caroline: Why is this happening now?
Lastoria: Consumers are getting smarter because they have access to information they've never had before. They can learn who is behind a brand, what a brand stands for, why a brand exists, and why the founder of the food company got started in the first place. It makes people feel good to spend money at places they feel are extensions of themselves.
Caroline: How do you give people a sense of your values when they walk into your restaurant?
Lastoria: We're not a brand that splashes a ton of words on our walls. People walk into an alternate universe where the music is louder, there is a black and white theme, people smiling and dancing. For some people, that's all they need to know. Other people then go home and do more research on the company, and what we believe in.
Caroline: Do you worry that the aesthetic of an &pizza might turn off a more conservative customer?
Lastoria: We built this company for ourselves, and for like-minded people. It's not going to be for everybody, and we're okay with that. We're trying to create something for people who understand why we do what we do. And if you don't understand it, then &pizza might not be right for you. That said, our symbol is an ampersand. That's because we're a brand that likes to bring people together, celebrate diversity, and lead with social justice and values.
Caroline: Who is driving this change in the restaurant industry?
Lastoria: Typically, restaurant brands have been driven primarily by chefs. But now the barriers have been broken down a bit, which allows people like me, who don't have that deep culinary knowledge or background, to get involved in food. The industry has opened up to people who are passionate about feeding the masses, or putting healthier food into people's bodies, or building a brand that is based on solid values.
Caroline: Customization is also a huge part of the fast-casual restaurant industry. You can go into a Chipotle and get your burrito configured in 655,360 different ways. Why is that so appealing to folks?
Lastoria: People want to consume in a way that is uniquely individual. Look at the way people dress—we make a statement every single day about the way we want to look. That's a choice. Especially as the world is becoming more digital and social—and you have more opportunities to show your network of people what it is that you're consuming—you're constantly sending a particular message about who you are. I think there's a difference between someone walking down the street with a Shake Shack bag, and someone walking down the street with a brown paper bag with grease pouring out the seams, from Five Guys.
Caroline: What messages can food send?
Lastoria: It depends on the brand. You're supporting a particular brand that you feel connected to. People take pictures of themselves with our &pizza box. Sometimes they use it as a clutch. People take black and white photos with &pizza boxes with them on trips to the wild. I never expected that kind of reaction.

TODAY'S WRAP UP
Question of the day: Think about your favorite restaurants—what keeps you coming back? Is it just the food, or something else?  
Your feedback: Take 10 seconds to fill our survey, and let us know how we're doing.
What's coming: We'll be talking to David Frum at 1 p.m. ET on Monday, October 2 (you can register here). Email me your questions in advance by replying to this email.
What we're thinking about: Next week, Atlantic staff writer Ta-Nehisi Coates publishes his new book, We Were Eight Years In Power. We can't wait to read it, and share some of our reflections with you.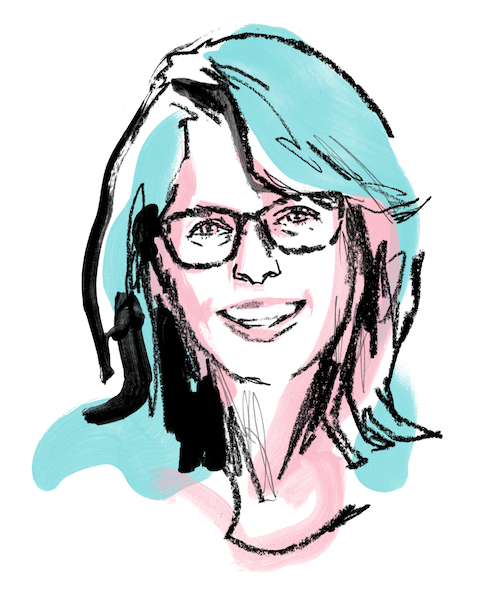 Caroline Kitchener
ASSOCIATE EDITOR,
MASTHEAD
We want to hear what you think about this article. Submit a letter to the editor or write to letters@theatlantic.com.