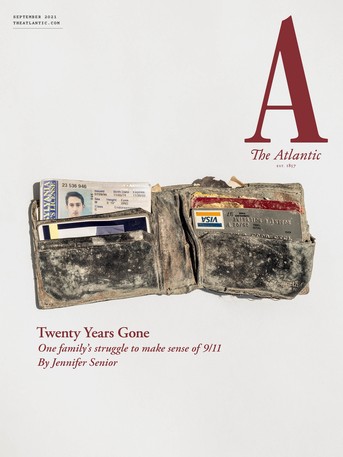 In This Issue
One family 20 years after 9/11, how the creative class broke America, and remembering Emmett Till. Plus a 17th-century priest's radical feminism, the problem with anti-racist self-help, morning people, why Millennials love dogs, Sally Rooney, Douglas Tompkins, and more.
Cover Story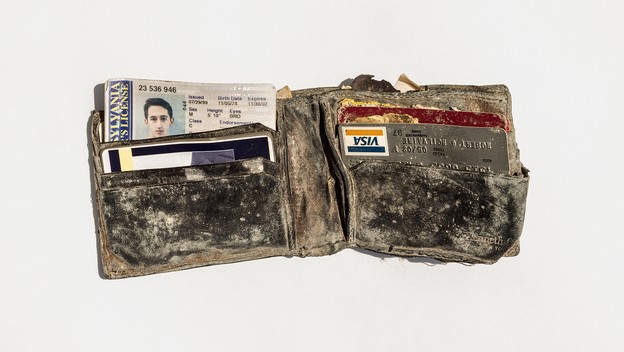 Grief, conspiracy theories, and one family's search for meaning in the two decades since 9/11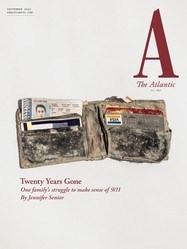 Get the digital edition of this issue.
Subscribers can access PDF versions of every issue in The Atlantic archive. When you subscribe, you'll not only enjoy all of The Atlantic's writing, past and present; you'll also be supporting a bright future for our journalism.
Features
Dispatches
Illustration by Paul Spella; image by Henny Ray Abrams / AFP / Getty

It was the first sign that the 21st century would be a period of shock and disaster.

Illustration by Dakarai Akil; images by H. Armstrong Roberts / ClassicStock / Getty; Pictorial Parade / Hulton Archive / Getty; Marty Caivano / Digital First Media / 'Boulder Daily Camera' / Getty; National Archive / Newsmakers / Getty

What are we going to do about it?

Jason Fulford and Tamara Shopsin

The only thing getting me through my 30s is a cranky, agoraphobic chihuahua named Midge.
Culture & Critics
Departments
Katie Martin

Readers respond to our June 2021 cover story and reflect on their own experiences reckoning with history and memory.

Tim Lahan

Morning people fizzle. Non-morning people get stronger as the day wears on.
Poetry