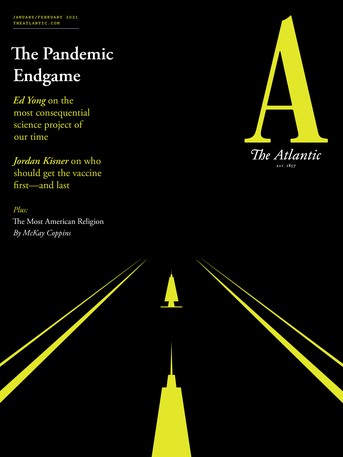 In This Issue
The pandemic endgame, the most American religion, and how Biden should hold Trump accountable. Plus Martellus Bennett, China's rebel historians, new fiction by Te-Ping Chen, installment plans, suffragists, Martin Amis, and more.
Cover Stories

Politicians' refusal to admit when hospitals are overwhelmed puts a terrible burden on health-care providers.

And what it lost in the process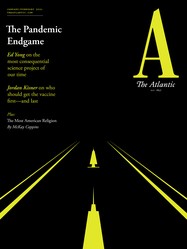 Get the digital edition of this issue.
Subscribers can access PDF versions of every issue in The Atlantic archive. When you subscribe, you'll not only enjoy all of The Atlantic's writing, past and present; you'll also be supporting a bright future for our journalism.
Features

The misdeeds and destructive acts are legion. The new president should focus on these three.

Perpetual outsiders, Mormons spent 200 years assimilating to a certain national ideal—only to find their country in an identity crisis. What will the third century of the faith look like?
Fiction
Li Hui
Dispatches
Culture & Critics
Departments
Katie Martin

Readers respond to our November 2020 issue and more.

Tim Lahan
Poetry