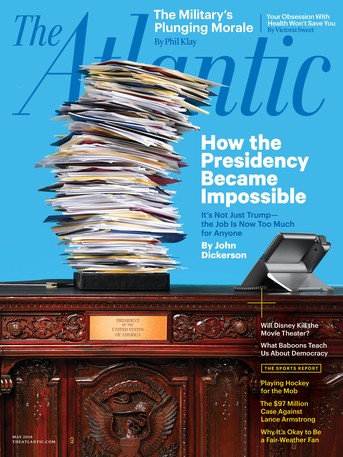 In This Issue
The Sports Report: Malcolm Jenkins, praise for fair-weather fans, Floyd Landis takes down Lance Armstrong, and the mobster who bought his kid a hockey team. Plus the U.S. military's plunging morale, James Fallows on reinventing America, a new era of fake videos, an interview with Issa Rae, and more.
Cover Story
What if the problem isn't the president—it's the presidency?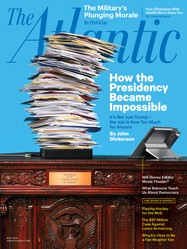 Get the digital edition of this issue.
Subscribers can access PDF versions of every issue in The Atlantic archive. When you subscribe, you'll not only enjoy all of The Atlantic's writing, past and present; you'll also be supporting a bright future for our journalism.
Features
Dispatches
The Culture File
Departments
Poetry