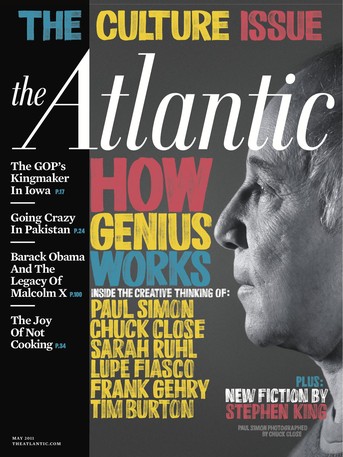 In This Issue
How inspiration becomes art, Stephen King's new fiction story, why Malcolm X lives on in Barack Obama, the joy of not cooking, more
Features

New fiction from Stephen King
A story and puzzle in 76 clues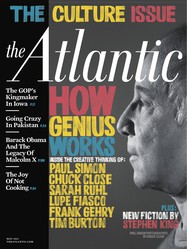 Get the digital edition of this issue.
Subscribers can access PDF versions of every issue in The Atlantic archive. When you subscribe, you'll not only enjoy all of The Atlantic's writing, past and present; you'll also be supporting a bright future for our journalism.
Dispatches
Books
Andrew Schwartz/HBO

HBO's Mildred Pierce is based on James M. Cain's book that has to go down as one of the great failures of American fiction.

Philip Larkin Estate

How the most exasperating of poets met his match

Illustration by Gluekit

Why his vision lives on in Barack Obama
Columns
William Abranowicz/Art+Commerce

High-end retailers are counting on us to spend more money on our kitchens—even as we spend less time in them.

John P. Midgley/Corbis Outline

Dark and disturbing, the music is honest about human nature.
Also in This Issue
Seth

Hide behind extroverts, and other advice
Poetry