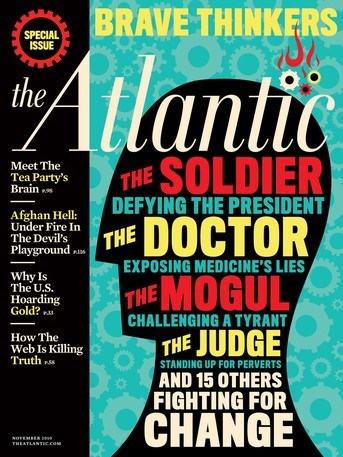 In This Issue
Explore the November 2010 print edition below. Or to discover more writing from the pages of The Atlantic, browse the full archive.
Features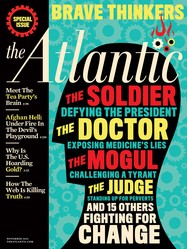 Get the digital edition of this issue.
Subscribers can access PDF versions of every issue in The Atlantic archive. When you subscribe, you'll not only enjoy all of The Atlantic's writing, past and present; you'll also be supporting a bright future for our journalism.
Dispatches
Books
Columns
Apic/Getty Images

Buyers remain wary, and Washington is unlikely to recover all its bailout cash. But the colossus has slashed costs and spiffed up its cars—and is rejoining the global race.

Oliver Munday

How can Americans talk to one another—let alone engage in political debate—when the Web allows every side to invent its own facts?

Illustration by Sean McCabe; Photos courtesy BBC and Everett Collection

Why a 47-year-old English sci-fi show is suddenly an American hit
Also in this issue
Mario Anzuon/Reuters/Corbis

The point of this annual issue isn't to celebrate power, influence, or even, necessarily, success. It's to identify people who are taking a substantial risk for a big idea.

Seth

Don't go outside (ever), and other advice
Poetry