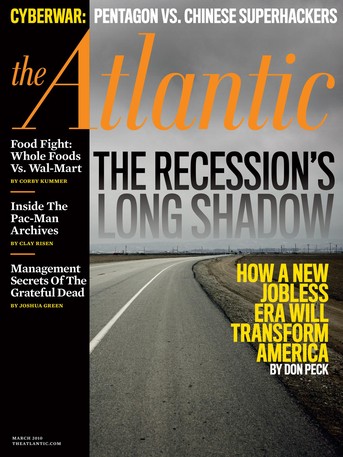 In This Issue
Don Peck on the long shadow of the recession, James Fallows on Chinese hackers, Joshua Green on the Grateful Dead's management secrets, Bruce Falconer on assisted suicide, Liz Phair on greening NASCAR, and more
Features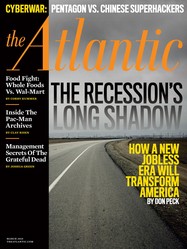 Get the digital edition of this issue.
Subscribers can access PDF versions of every issue in The Atlantic archive. When you subscribe, you'll not only enjoy all of The Atlantic's writing, past and present; you'll also be supporting a bright future for our journalism.
Dispatches
Books
Keystone/Eyedea/Everett Collection

A Hollywood legend's vivid and honest portrait of the studio era

Liza Corbett

Henry de Montherlant's work displays the charms of a black-hearted misogynist.

Brett Ryder

Hilary Mantel's Wolf Hall is a service to the history it depicts, and puts the author in the very first rank of historical novelists.
Columns
Everyone knows that people without health insurance are more likely to die. But are they?

Jacob Hekter

MSNBC's Lockup documentary series, about life behind bars, is exploitative and debasing, and as poignant a show as can be found on TV.

Eli Meir Kaplan

Will Walmart, not Whole Foods, save the small farm and make America healthy?
Also in this issue
Jason Ford/Heart Agency

Don't praise tyrants at dinner, and other advice
Poetry
Gallery