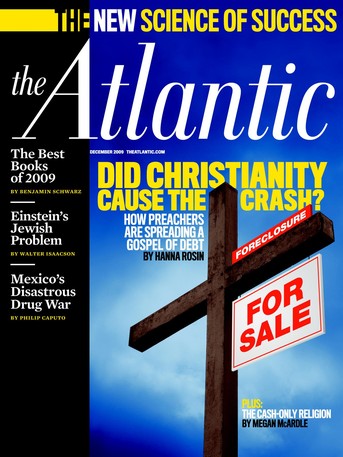 In This Issue
Hanna Rosin asks, Did Christianity cause the crash?; David Dobbs on the science of success; Philip Caputo on Mexico's drug wars; Benjamin Schwarz selects the twenty-five best books of the year; Sandra Tsing Loh on being a bad mother; and much more.
Features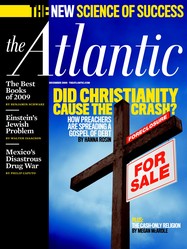 Get the digital edition of this issue.
Subscribers can access PDF versions of every issue in The Atlantic archive. When you subscribe, you'll not only enjoy all of The Atlantic's writing, past and present; you'll also be supporting a bright future for our journalism.
Dispatches
Books
Columns
Courtesy Dave Ramsey

Finance guru Dave Ramsey wins followers with a simple message: find God and lose your credit cards.

Not just chick flicks, the movies of Nora Ephron and Nancy Meyers defy categorization and provide a sentimental education for everyone.
Also in this issue
Jason Ford/Heart Agency

How to start your own advice column, whether to clean the hotel room before the maid arrives, and other conundrums
Poetry
Gallery