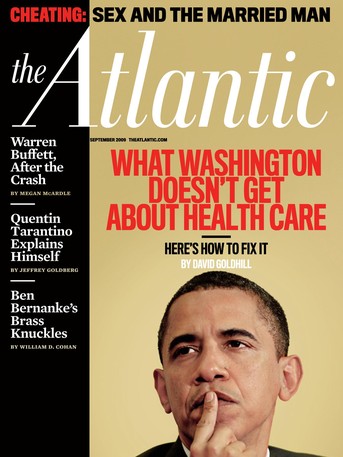 In This Issue
David Goldhill on how American health care killed his father; Robert D. Kaplan on the end of Sri Lanka's civil war; Willam D. Cohan on the final day sof Merrill Lynch; Jeffrey Goldberg on Quentin Tarantion; Caitlin Flanagan on sex and the married man; and much more.
Features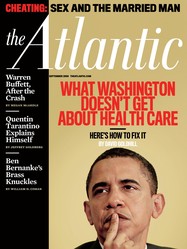 Get the digital edition of this issue.
Subscribers can access PDF versions of every issue in The Atlantic archive. When you subscribe, you'll not only enjoy all of The Atlantic's writing, past and present; you'll also be supporting a bright future for our journalism.
Dispatches
Books
Marc Yankus

How Helen Gurley Brown inspired a generation of home-wreckers, and brought down John Edwards

Ramin Talaie/Corbis

A new memoir by the politician's wife shows that the pain of infidelity pales in comparison to the loss of a child.

James Lasdun's latest; garden variety; Freudian food; and more
Columns
Ben Baker/Redux

The Sage of Omaha has redefined the idea of value investing. But will its principles survive his inevitable passing?

Barry Z. Levine/Getty Images

Revisiting the 1969 mass freak-out, and the documentary that captured it all
Also in this issue
Jason Ford/Heart Agency

Avoid destabilizing desserts, and other advice
Poetry
Gallery