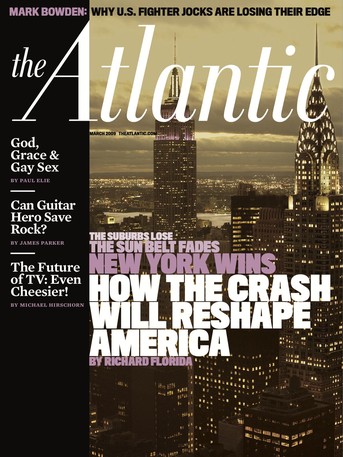 In This Issue
Richard Florida on how the crash will reshape America; Paul Elie on the Archbishop of Canterbury; Corby Kummer on cupcakes; Mark Bowden on rebuilding the Air Force; Christopher Hitchens on Samuel Johnson; Michael Hirschorn on the cheese-ification of network TV; and much more.
Features
Get the digital edition of this issue.
Subscribers can access PDF versions of every issue in The Atlantic archive. When you subscribe, you'll not only enjoy all of The Atlantic's writing, past and present; you'll also be supporting a bright future for our journalism.
Dispatches
Books
Columns
Mark Hooper

The cancer drug Herceptin saved the author's life. It also cost ,000. Would health-care reform put it, and other expensive new drugs, out of reach?

Jeremy Traum

What does Guitar Hero's popularity mean for the future of rock and roll?

Dee Conway/Lebrecht Music and Arts

Why the networks are surrendering prime time to Jay Leno and the Lord of the Dance
Also in this issue
Jason Ford/Heart Agency

Eat this magazine, and other advice
Other articles in this issue
Cyberwar is hell; paranormal psychology

Peter Arkle

Laundry as lingua franca; flow stoppers
Poetry
Gallery