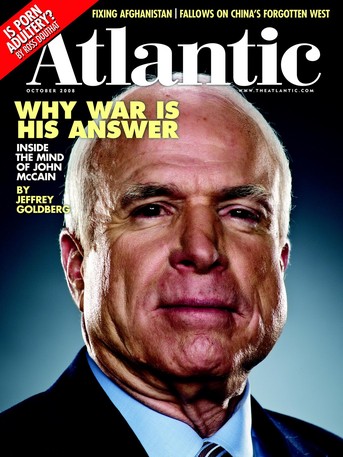 In This Issue
Jeffrey Goldberg offers a look inside the mind of John McCain; Ross Douthat assesses the relationship between porn and adultery; James Fallows tells the story of two businessman who sought to modernize rural China; Mark Bowden on Football; Andrew Bacevich on the counterinsurgency; Christopher Hitchens on Philip Roth; Jed Perl on the Metropolitan Museum of Art; Wayne Curtis pays a visit to Anne of Green Gables; and much more.
Features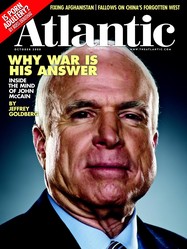 Get the digital edition of this issue.
Subscribers can access PDF versions of every issue in The Atlantic archive. When you subscribe, you'll not only enjoy all of The Atlantic's writing, past and present; you'll also be supporting a bright future for our journalism.
Agenda
Books
Editor's Choice: The new "white people" are bigoted, but not the way you think—or they'll admit.

Unlike most modern museum directors, Philippe de Montebello trusted the public to embrace his high standards—and it did.

The narrator of Roth's Indignation may die off early and horribly—but it's the reader of this adolescent work who ought to feel the most outraged.

A guide to additional releases

When bakers break up, who gets custody of the recipes?
Also in this issue
Poetry