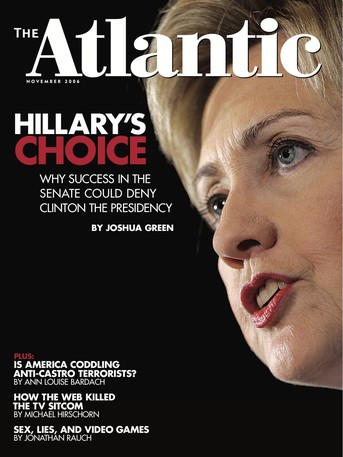 In This Issue
Joshua Green, "Hillary's Choice"; Ann Louise Bardach, "Twilight of the Assassins "; Jonathan Rauch, "Sex, Lies, and Videogames"; Mark Steyn on the Crocodile Hunter; Ilana Ozernoy on Karen Hughes; Michael Hirschorn on YouTube; and much more.
Features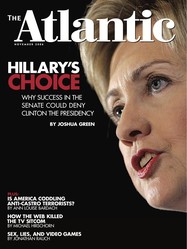 Get the digital edition of this issue.
Subscribers can access PDF versions of every issue in The Atlantic archive. When you subscribe, you'll not only enjoy all of The Atlantic's writing, past and present; you'll also be supporting a bright future for our journalism.
Agenda
Books
Pursuits
A Mexican hill town's indolent beauty belies its fiery past

Dinner cooked in plastic bags may sound more like airplane food than haute cuisine—but today, thanks to a cutting-edge culinary technique, it's both

In Julius Shulman's photographs, modern architecture became seductive, comfortable, and immortal

New programs let you easily categorize anything you come across on the Web or in your own files—and, more important, let you find it all again

DIY video is making merely professional television seem stodgy, slow, and hopelessly last century

Reuters
Also in this issue
Other articles in this issue