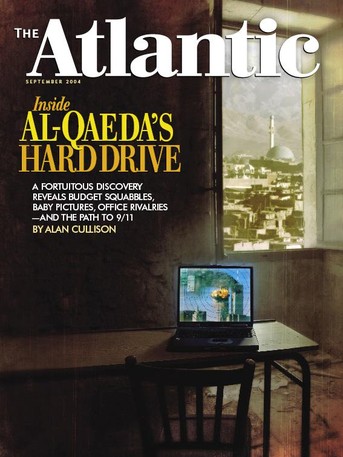 In This Issue
Alan Cullison, "Inside Al-Qaeda's Hard Drive"; Eric Alterman, "The Hollywood Campaign"; Paul Elie, "In Search of a Pope"; James Warren, "More Nixon Tapes"; Tom Carson, "Policy Wank"; Ryan Lizza, "The Natural"; Alexandra Starr, "Dixie Chicks"; P. J. O'Rourke, "Adult-Male-Elephant Diplomacy"; fiction by Christopher Buckley; and much more.
Features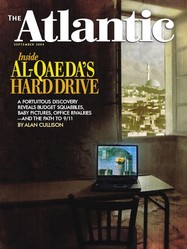 Get the digital edition of this issue.
Subscribers can access PDF versions of every issue in The Atlantic archive. When you subscribe, you'll not only enjoy all of The Atlantic's writing, past and present; you'll also be supporting a bright future for our journalism.
Agenda
The coming presidential election may be the most important in generations

Why is Barack Obama generating more excitement among Democrats than John Kerry?

A new kind of Democrat is emerging in the South—and she's no shrinking violet

Arrogant, dogmatic, and anti-American, Iraq's Shiite clerics are the last people enlightened Westerners want to see in power. Let's hope they prevail

Colin Powell talks about Iraq, the Cold War, his place in the Administration, and chilling "the ambitions of the evil"

The U.S. prison system as a terrorist university; why the suburbs make you fat; the "happiness-maximizing" number of sex partners
Books
Pursuits
Coping with the sixteenth minute

In the run-up to the invasion of Iraq, the question of whether protecting U.S. national security warranted a preventive war was fiercely debated. The question was not new. In the September 1954 Atlantic, Thomas K. Finletter, who had recently served as the Secretary of the Air Force, broached it in a very different context.

"Sustainable farming" is now open to debate and commercial exploitation. But sustainable pork certainly tastes the way pork should
Also in this issue
Other articles in this issue
The alternative minimum tax is a nuisance, but the Bush administration is relying on it to balance the budget.
Poetry