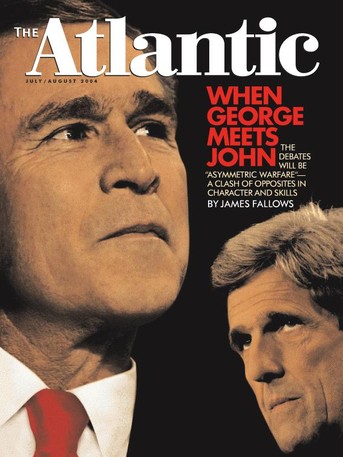 In This Issue
James Fallows, "When George Meets John"; Joshua Green, "Dumb and Dumber"; Mark Bowden, "Pompadour With a Monkey Wrench"; Joshua Micah Marshall, "Kerry Faces the World"; Robert D. Kaplan, "Five Days in Fallujah"; Benjamin Wittes, "Enemy Americans"; William F. Buckley, Jr., "Aweigh"; P. J. O'Rourke, "I Agree With Me"; fiction by Robert Olen Butler; and much more.
Features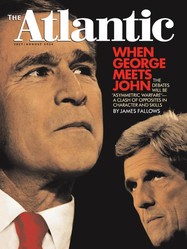 Get the digital edition of this issue.
Subscribers can access PDF versions of every issue in The Atlantic archive. When you subscribe, you'll not only enjoy all of The Atlantic's writing, past and present; you'll also be supporting a bright future for our journalism.
Agenda
Books
Pursuits
Updating Philon of Byzantium's famous list

Eric Risberg / AP

The modern condition is to be overwhelmed by everything. Now comes David Allen, who can teach even you how to stop stewing and start doing

Cole Porter's real secret was not the gay life a new film biography will highlight. It was how he made his songs

"Captain," I say, "you've got about two hundred Mexican soldiers waiting for you in the plaza."
Also in this issue
Other articles in this issue
What you know if you've seen the show live...
Poetry