In This Issue
Richard Brookhiser, "The Mind of George W. Bush"; Robert D. Kaplan, "A Tale of Two Colonies"; Bruce Hoffman, "The Leadership Secrets of Osama bin Laden"; David Brooks, "The Return of the Pig"; Christopher Hitchens, "Holy Writ"; P. J. O'Rourke, "The Veterans of Domestic Disorders Memorial"; fiction by Christopher Buckley; and much more.
Articles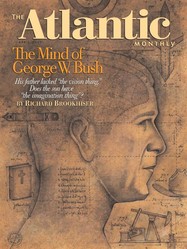 Get the digital edition of this issue.
Subscribers can access PDF versions of every issue in The Atlantic archive. When you subscribe, you'll not only enjoy all of The Atlantic's writing, past and present; you'll also be supporting a bright future for our journalism.