In This Issue
Chandler Burr, "The AIDS Exception: Privacy vs. Public Health"; Mark Sagoff, "Do We Consume Too Much?"; Larry Heinemann, "The Fragging"; Francis Davis, "The Man From Heaven"; and much more.
Articles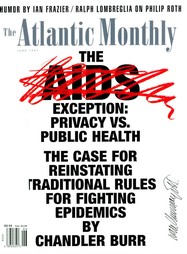 Get the digital edition of this issue.
Subscribers can access PDF versions of every issue in The Atlantic archive. When you subscribe, you'll not only enjoy all of The Atlantic's writing, past and present; you'll also be supporting a bright future for our journalism.