War and Consequences
The conflict in Ukraine is about much more than Ukraine.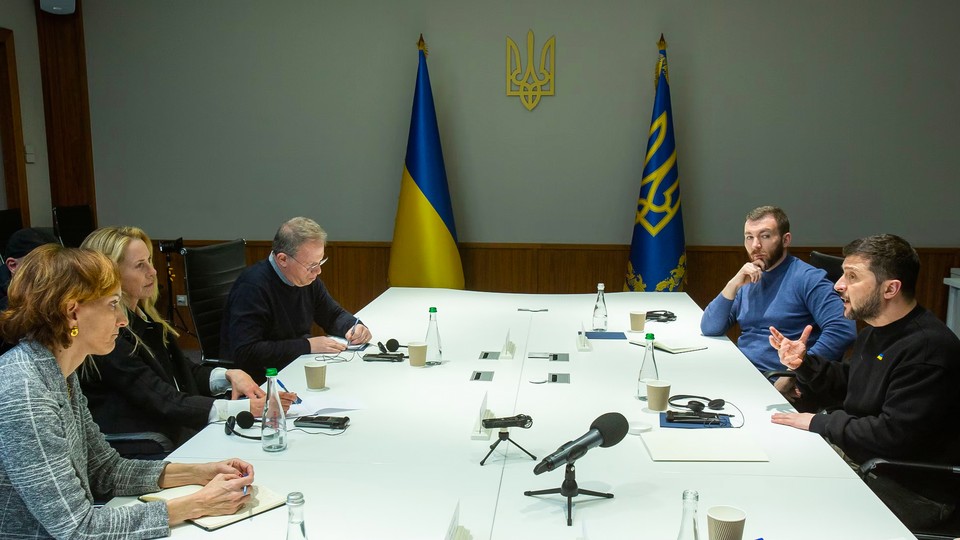 In her book Gulag: A History, Anne Applebaum writes, "The more we are able to understand how different societies have transformed their neighbors and fellow citizens from people into objects, the more we know of the specific circumstances which led to each episode of mass torture and mass murder, the better we will understand the darker side of our own human nature."
Anne, who received the Pulitzer Prize for Gulag, has made one of her professional preoccupations (to borrow from Robert Burns) man's inhumanity to man—­specifically, though not exclusively, the in­humanity manifest in Soviet and post-Soviet history. Her book Red Famine is the definitive study of Stalin's calculated starvation of Ukraine. Anne's work on that catastrophe prepared her to write about Ukraine's latest calamity, a calamity whose author is Stalin's worthy successor. Readers of The Atlantic have benefited from Anne's erudition, vision, and trenchant writing.
On our most recent visit to Ukraine, the darker side of human nature was plainly visible. One day, in Kherson, the still mostly abandoned southern city only recently liberated by the Ukrainian army, a Russian missile struck a supermarket parking lot. Anne and I were nearby, interviewing Ukrainian soldiers. The missile was meant to murder and terrorize; mission accomplished. Three people died in this attack, and three more were injured, including an elderly woman. A few hours after the strike, all that was left was a modest crater, bits of shrapnel, and smudges of blood on the asphalt. This sort of scene is repeated up and down the Dnipro River: the Russians on one bank, firing artillery and short-range missiles at civilians; the Ukrainians firing back with whatever they have, which is often not enough.
Anne and I first met Ukrainian President Volodymyr Zelensky last year, a short time after Russia's full-scale invasion began, and in that meeting one of the main subjects was, indeed, ordnance—how many rockets and artillery shells Ukraine needed simply to survive the Russian onslaught. When we saw Zelensky again, this past March, the conversation was more expansive, about democracy, education, technology. In this interview (which we conducted with Laurene Powell Jobs, the chair of The Atlantic's board of directors), Zelensky spoke with urgency about the need for the West to remain unfaltering in the face of Russian aggression. This is the subject of the story Anne and I wrote for this issue.
The war in Ukraine is about much more than Ukraine; it is about the very subjects that animate this magazine: democracy, freedom, justice, humanism. So Anne, and others, will continue to cover this war and its consequences vigorously and ambitiously. As you will see, the pictures accompanying our story were taken by Paolo Pellegrin, one of the greatest living photographers, and the cover was designed and drawn by Bono, who, in addition to … being Bono, is a gifted illustrator. Not long ago, he told me that he sometimes re­designed and reimagined Atlantic covers on his iPad. I was, as you might imagine, curious about this hobby, and I asked to see his sketches. They were very good. I suggested that he make an actual Atlantic cover. Zelensky, a man we both admire, was a natural subject for his first go. Like Anne, Bono is pre­occupied with issues of freedom and dignity, and, working with Oliver Munday, our associate creative director, he made a stunning cover that captures the resolve of Ukraine's wartime president.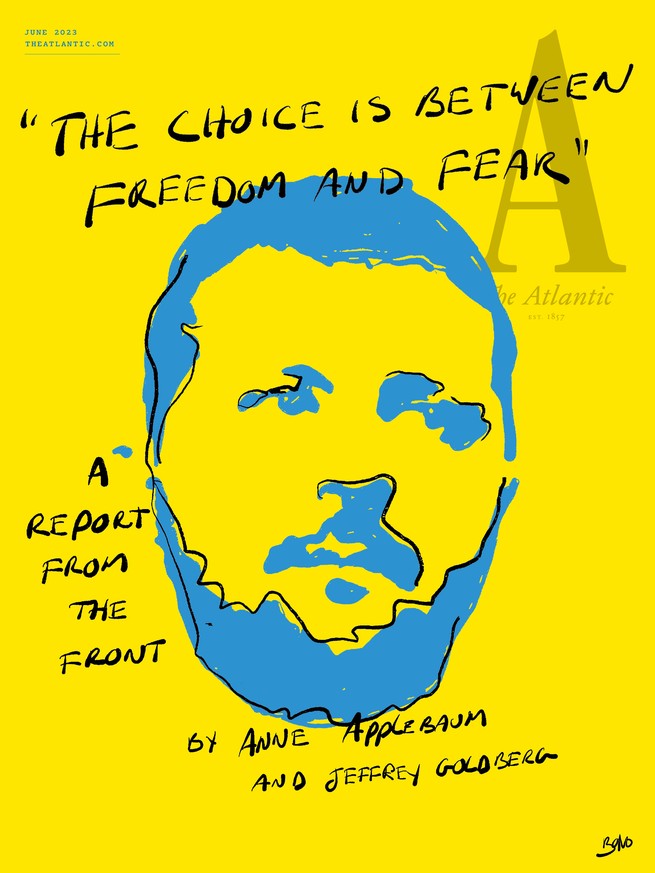 ---
In other news, The Atlantic has won the most prestigious honor awarded by the American Society of Magazine Editors, the National Magazine Award for General Excellence. Our magazine won this prize last year as well. We have a staff, and a mission, without parallel in American journalism, and it is gratifying to receive this recognition. This is a tribute to our entire team, and in particular to people like Anne Applebaum, and to the five staff writers who were finalists this year for their outstanding feature stories: Caitlin Dickerson, George Packer, Jennifer Senior, Clint Smith, and Graeme Wood. We are trying to build at The Atlantic the world's greatest writers' collective, in order to serve our readers as best we can. I thank all of you for your support and loyalty.
---
This editor's note appears in the June 2023 print edition with the headline "War and Consequences."
---
​When you buy a book using a link on this page, we receive a commission. Thank you for supporting The Atlantic.