Writing in the Ruins
The German writer Jenny Erpenbeck cuts through dogma, fractures time, and preserves rubble.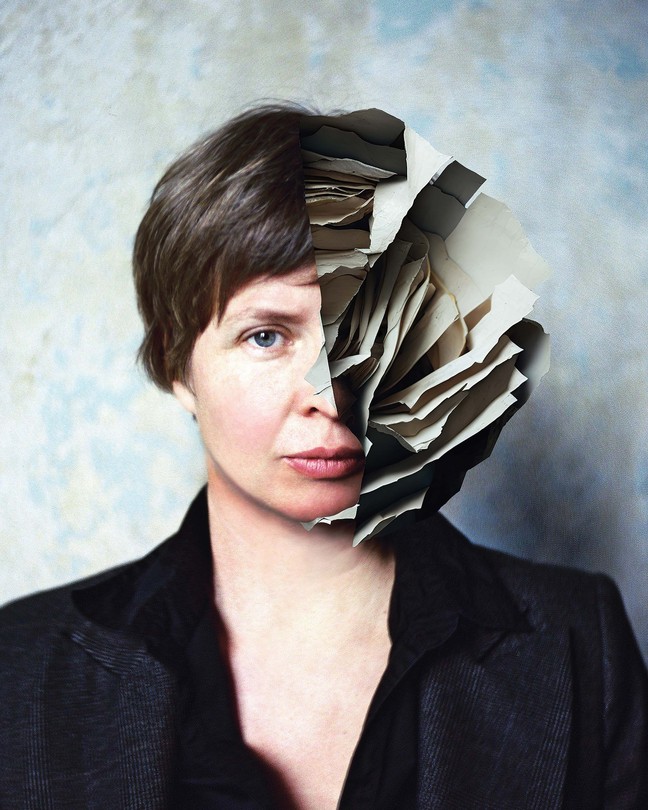 If you grew up in East Germany, a country whose national anthem began, "Resurrected from the ruins, faces toward the future turned," you might find a landscape covered in shards to be almost natural—the broken past coexisting alongside an emerging world of concrete and glass. Those ruins might even inspire an unabashed love, as they have in the German novelist Jenny Erpenbeck, born in that now-extinct country in 1967. "Steel girders. Charred beams. Walls with nothing behind them," she writes in an essay. "Rooms where the rain falls on dead pigeons because there isn't a roof overhead." These are a few of her favorite things.
For Erpenbeck, who ranks among Germany's most acclaimed writers (and is frequently mentioned as a future Nobel contender), this love comes with an ethic, one that suffuses her fiction. In an essay called "Homesick for Sadness," included in Not a Novel: A Memoir in Pieces, she describes how she felt when she learned that her GDR-era elementary school, which had been abandoned and left to crumble in the middle of Berlin, was finally being demolished. Her grief had two stages. When the school began to decompose, she felt the personal loss of a place that had once housed her childhood. But with the arrival of bulldozers to clear the rubble and erase the remnants, she was overcome by "grief for the disappearance of a place that was such a visible injury, for the disappearance of sick or disturbed things or spaces, which offer proof that the present can't make its peace with everything."
This is a very postwar-German sentiment, and Erpenbeck is a very postwar-German writer. In her professed "love of dirt," she follows W. G. Sebald and Günter Grass. For these authors, history is not compressed strata; layers of the past surround them, a constant atmosphere, felt and seen anytime they look around. Hans, the middle-aged East German author who is one of the main characters in Erpenbeck's new novel, Kairos, describes the East Berlin of the 1980s very much in his author's terms: Inhabiting a place where the past is visible everywhere, exposed and rotting, he concludes that "this devastation was the truth."
It's a truth that made Sebald digressively meditative and Grass revel in absurdity. Erpenbeck is symphonic. In fact, after the Berlin Wall fell, and before she turned to writing, she worked in an opera house in Graz, Austria. The experience shows. Her novels exist on epic planes. Erpenbeck repeatedly constructs stories that span generations, letting history leak into and through them. She relies on leitmotifs—themes, objects, exact phrases recur through the narratives over time and space. In America, our fights about history lately come out of a desire to flatten it, to clear the rubble, to find a clean narrative: 1619 or 1776? Erpenbeck ponders her own messy German birthright and sees a landscape of ruins to play in.
Born into a family of East German intellectuals and authors, Erpenbeck published her first book in 1999, a novella called The Old Child. A series of dark, fairy-tale-inflected stories followed over the next decade. In 2008 came Heimsuchung (which translates literally as "home searching" but was given the anemic title Visitation when it appeared in English in 2010). Her first truly symphonic work, it covers a century, yet never leaves the same patch of earth, a lake house in Brandenburg, not far from Berlin. In brief, impressionistic chapters, she writes of the lives that were connected to the house—among them, those of its Nazi architect and the Russian soldier who comes upon the place in 1945, after that architect has fled. The 20th century shakes its grand walls and tracks mud across its floors.
In her next book, The End of Days (2012), Erpenbeck again plays with the passage of time, shifting her attention from what is constant to the fungibility of human lives. Here, too, she deploys a conceit that, in lesser hands, could feel like a gimmick: The existence of one woman unspools in its pages, though she dies five times, each successive life picking up where the previous one ended, rescued by a slight shift of fate. The novel begins at the turn of the 20th century in a small Galician town, where a Jewish mother is mourning the death of her eight-month-old baby; misfortunes follow for the family. An "Intermezzo" then pauses the story, time folds back on itself, and the parents save their infant through the simple act of dashing snow on her chest so that she begins to breathe again. In the last of three more interludes, the now-elderly woman, living in a reunified Germany, is resurrected after a fall down the stairs of her building; she goes on to die peacefully in her bed at the age of 90. Accident and possibility are never far apart.
Erpenbeck's writing is often described as sparse or unadorned. On a sentence level, it can be. But she stacks these simple sentences one on top of another, giving the economy of her prose a grandeur (rendered lyrically into English by Susan Bernofsky, who translated all of her previous works of fiction). One 242-word sentence in The End of Days imagines the old woman's death, beginning by conjuring "all the human beings walking upon the earth at this moment, along with their falling down, their jumping, crawling, and sleeping at this very moment," and eventually arriving at the woman's son stroking her back, "feeling her bones beneath her thin, old skin, bones that will soon be laid bare."
Most of the characters in these two novels are nameless. What grounds the books are locations and material objects—the Brandenburg lake house; a volume of Goethe, nicked by a stone thrown through a window in a pogrom at the start of the century and then sitting in a pawnshop at its end. As beautiful as the novels are, a deep sadness permeates them, and not just because they inevitably remind us of our individual smallness set against the relentless march of time; some essential humanness is lost within these transhistorical narratives. The characters seem to float by, never unfolding in their particularity.
But in her third and greatest novel so far, Go, Went, Gone (2015), Erpenbeck creates a fully fleshed-out character in a story that could not be more immediate in its concerns. In contemporary Berlin, a newly retired professor of classical philology named Richard takes an interest in a group of African refugees who have set up an encampment to protest their status: They are seeking asylum and work in Germany. Richard's life becomes enmeshed in theirs, as curiosity turns into affection and care and even something like identification. He was born and lived in East Germany until, abruptly, it was no more, and the dislocation of these men reverberates with him. "Speaking about the actual nature of time is something he can probably do best in conversation with those who have fallen out of it," Richard reflects.
Novelists who consciously try to write about "issues" don't have a great track record, but Erpenbeck's ability to illuminate history's layers serves her well here. The African men and their stories are specific—the refugees recount their ordeals in their own words—but they also echo Western myths and heroes. Their journeys on the sea, swept away from home, remind Richard of Homeric epics. In connecting the refugees to an ongoing human story of war and flight and the appearance and disappearance of borders, Erpenbeck isn't pulling back and away: She's attempting to dislodge the illusion that Germany's present has nothing to do with these Africans' stories. By the end of the novel, Richard has turned his home into an asylum.
Erpenbeck's identity as a novelist is inseparable, she has written, from having lived through the overnight collapse of East Germany: "Without this experience of transition, from one world to a very other one, I probably never would have started writing." What was "self-evident ceased to be self-evident," she has explained, and the shock of how quickly this happened, how quickly it could happen, has never left her. "From that moment on, my childhood belonged in a museum."
Erpenbeck also came to see what an intimate, intense island East Berlin had been, in no way an idyll, but to her a place of authenticity, unlike the new world "of pleasant aromas and smooth objects that fit comfortably in your hand," where "whatever was broken, whatever was flawed, was left in the blind spots, in the shadows." She misses the discarded society, in which past and future, destruction and creation were starkly juxtaposed, and every citizen was both victim and perpetrator to varying degrees. Her insistence on crunching time, her accordioning of history, is one of the ways that she's tried to return to it.
Erpenbeck's new book, Kairos, her most directly personal, brings her back to the last years of East Germany, where, in full operatic mode, she stages a love story amid the ruins. Hans, a mildly successful author in his early 50s, "took his first steps under Hitler," wore the uniform of the Hitler Jugend, and then found his place among East Germany's compromised cultural elite. When he meets Katharina, she is 19, born in 1967 (the same year as Erpenbeck), and six years after a wall divided not just her city, but her own family, in half. One summer night in 1986, these two catch sight of each other on a bus and, thunderstruck, are soon in Hans's apartment (which he shares with his wife and teenage son), tearing clothes off to the strains of Mozart's Requiem. Erpenbeck is not being subtle: Love and death are intermingling. And their enraptured thoughts, too, intermingle, almost comically distilling Erpenbeck's themes. "It will never be like this again, thinks Hans. It will always be this way, thinks Katharina."
If Hans and Katharina's experience together is an allegory, it is not a pretty one. As a condensed vision of life in the German Democratic Republic, their love is, even at its best, insular and obsessive. From the very beginning, they shut out the world and build up a private mythology, using rituals to construct a wall around their relationship. They celebrate the smallest anniversaries, making a totem of the 11th of every month, the day they first met, saving receipts of their meals. She follows his family on vacation, renting a room nearby. They retrace again and again the steps they took together in an East Berlin that feels here like the smallest of towns.
Soon their relationship curdles, becoming sado-masochistic, and when Katharina, working as a set designer in a town a short distance away, has a one-night stand with a man her age, it gets even uglier. Rather than leave her, Hans insists, Stasi-like, on an "investigation": "I can only do this work if you are totally honest: expose your diaries, your notebooks, everything you jotted down, all your letters." He emotionally abuses her for a couple of years, recording and sending her cassette tapes in which he berates her and fixates on her unfaithfulness; on her 21st birthday, he whips her with a riding crop.
This is not Ostalgie (a nostalgia for the East). Erpenbeck once showed off a wall in her apartment devoted to quotidian GDR artifacts to a reporter profiling her—a collage of milk cartons and bureaucratic forms and assorted other remnants of life in the old regime. But in the stifling world of Kairos, passion and intimacy are entangled with self-abasement and suspicion, and history crowds its way in too. She has written a story of lovers so many decades apart (they marvel that their birth years, '33 and '67, together equal 100) precisely so that she can encompass ruptures and their residue. Hans is still haunted by his family's complicity in the war. Katharina, a child of the Communist paradise, feels comfort in the confines of the Wall, and by the end of the book is thrust beyond them.
Erpenbeck also dramatizes the collision of East and West. In one of the novel's most striking scenes, Katharina gets permission for the first time to visit her grandmother in Cologne and while there walks into a sex shop. Until now, the prose has displayed Erpenbeck's signature restraint. But upon entering the store, Katharina is barraged with images of every position and orifice, and the reader is assaulted by a cascade of words for it all: "hairy or clean-shaven, wet, sullied, dripping, gleaming, stretching." The break from the grayness of East Berlin roils us as it does Katharina. "Excitement stabs her in the belly like a butcher's knife. Freedom down there is perpetrating a massacre, and she feels sick."
When the Wall is demolished, as we know it will be, it is as if a vacuum has been punctured. Time in the book speeds up. Whereas the first month of their relationship consumed some 90 pages, 1991 becomes 1992 over the course of a few pages. Katharina is mostly released from Hans, but she also feels lost in a freedom that "will render obsolete and forgotten everything that is ephemeral," Erpenbeck writes. "The bread will taste different … Already the eastern districts have started to smell different."
For Katharina—as the reader has learned in the prologue—the novel is her revisiting of this history, instigated by the delivery of an archive many years later: A crying woman (presumably the wife of a now-dead Hans) leaves her with two cardboard boxes containing the material history of their long-past affair—postcards, photos, a lock of hair preserved in a matchbox. Katharina finds her own dusty suitcase filled with letters and diaries: what archivists call "flat product," she tells us. Ruins, Erpenbeck might say, containing the story of their brutal love and the last years of the GDR:
A suitcase like that, cardboard boxes like that, full of middles and endings and beginnings, buried under decades' worth of dust; pages that were written to deceive alongside other pages that were striving for truth; things itemized, other things passed over, all lying together higgledy-piggledy; the contradictions and the denials, silent fury and mute adoration together in one envelope, in one folder; what is forgotten just as creased and yellowed as what, dimly or distinctly, one still remembers.
In Erpenbeck, Germany has a rare national writer whose portrayals of a ruptured country and century are a reminder that novelists can treat history in ways that neither historians nor politicians ever could, cutting through dogma, fracturing time, preserving rubble. The novelistic challenge is daunting, but has also provoked inventive experiments in form in some recent American fiction. As I read and reread Erpenbeck's work, Richard McGuire's brilliant 2014 graphic novel, Here, came to mind. He pictures one spot on Earth—a corner of the living room in his childhood house in Perth Amboy, New Jersey—and all the history that took place there. The time span extends from the primordial past to the year 22175, with different moments of time intruding, tearing holes through any particular present. In a mustard-yellow version of the room in 1964, captured in one typical spread, a woman sits at a piano and three girls dance, one wearing polka dots in 1932, another doing a backbend in 1993, and a third pirouetting in a blue dress in 2014. It's an American palimpsest—a variation, in a minor key, of Visitation.
Unsurprisingly, perhaps, the contemporary fiction writers in this country who have lately tried to swallow history on a grander scale are those who have been personally attuned to the dissonances of our own national past: to slavery and emancipation, xenophobia and assimilation, fatalism and opportunity. In Honorée Fanonne Jeffers's 2021 novel, The Love Songs of W. E. B. Du Bois, the life of one Black woman, Ailey Pearl Garfield, living at the end of the 20th century (an aspiring historian, no less), provides the occasion to rewind to the swamps of colonial Georgia. The stories of her progenitors, who include enslaved and free Black people, as well as Scottish colonists, unfold alongside her own racial and identity crises. In Valeria Luiselli's Lost Children Archive (2019), a couple, each embarked on a documentary project, set out with their two children on a road trip to the Southwest. He wants to find the traces of the Apache warriors who lived in the Chiricahua Mountains, and she is looking to record the stories of migrant children. As they make their way, the news from the border, coming over the radio, wafts out onto a landscape marked by earlier migrations and extinctions, and the parents and the children enact a drama that connects them to a long history of vulnerability and loss.
The incongruities and violent disjunctions of history are there in both novels, jumbled like an archive, visible in a family saga, and in the migrants' detritus that litters the Sonoran Desert. There is no narrative neatness here, no methodical sifting of all this dirt. What these American works do, what Erpenbeck does so well, is instead make room for a history that can't be reckoned with—a too-tidy phrase—but needs to be recognized and stirred up again and again.
"She cannot remember a time in her life when she didn't know that in Germany, death is not the end of everything but the beginning," Erpenbeck writes about Katharina. "She knows that only a very thin layer of soil is spread over the bones, the ashes of the incinerated victims, that there is no other walking, ever, for a German than over skulls, eyes, mouths, and skeletons, that each step stirs these depths, and these depths are the measure of every path, whether one wants to or not."
These are German sentences from a German writer, sensitive to what lies so close to the surface for her and her country. But Erpenbeck's novels point us beyond her nation's particular convulsions; they are about capturing what humans leave behind as other humans follow them—the ruins we must live with, even as they molder.
---
This article appears in the June 2023 print edition with the headline "Writing in the Ruins."
---
​When you buy a book using a link on this page, we receive a commission. Thank you for supporting The Atlantic.