The Day the Civil-Rights Movement Changed
What my father saw in Mississippi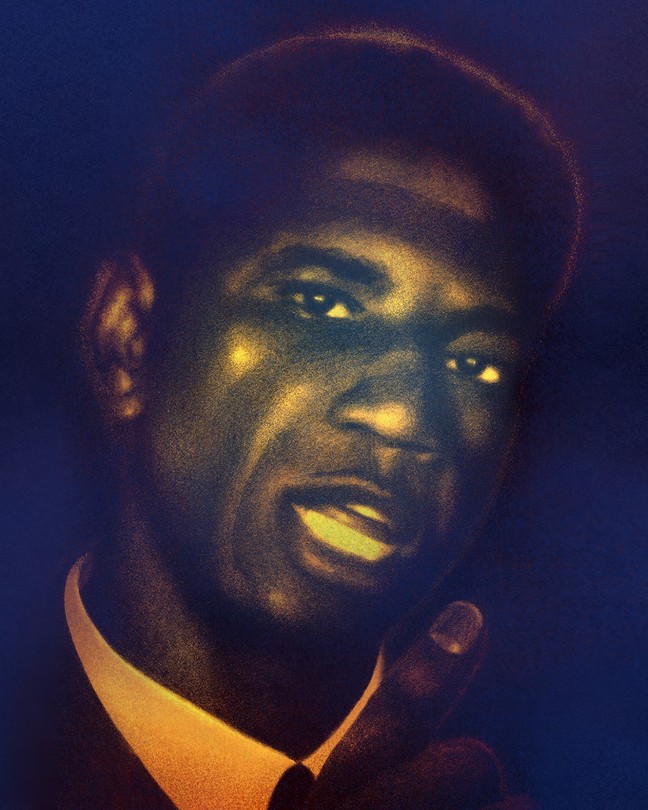 There's a video of James Baldwin interviewing a stranger with my daddy's face. The VHS tape of this interview has been in my family for 40 years. The cassette bears a label that reads, "James Baldwin Interviews Civil Rights Workers (1981)." Baldwin himself gave the tape to my dad, who doesn't recall ever watching it. It stayed at my mother's house after my parents' divorce, collecting dust until I started researching my father's life a few years ago.
The man whose face appears on the screen is my father, but not the one who figures in my memories from childhood. The man in the video is scowling, his hands pressed against his temples, the skin around his jaw drooping. I'd thought that the Dave Dennis Sr. I'd seen behind podiums with his finger to the sky, the civil-rights veteran who galvanized crowds, was the man who'd emerged from the movement. The Baldwin tape tells a different history. In this grainy video, the stranger dad is lost in his own fury. All that's left is a hardness. A calloused, impenetrable husk. His nostrils flare and he looks like he wants to set the world on fire. I'd seen him angry before. But never like that.
In the video, he talks about the 1964 Freedom Summer, when he and thousands of other activists campaigned for voter registration in Mississippi, facing unchecked violence from white protesters and police. He talks about the murders of his friends and the way the search for their remains also uncovered the mutilated, decapitated, desecrated bodies of long-forgotten and nameless Black Mississippians.
My father had told me these stories, but watching the video, I realized that I hadn't fully appreciated how they had affected him. I asked my father to tell them again, so I could better understand the man on the tape and so I could pass those stories on to my own children. Though his recollections were vivid, memory is always imperfect, so I talked with his friends in the movement and pored over historical documents and newspaper clippings as well, trying to fill in the gaps as best I could. But these are my father's stories, and I found that the only way I could tell them was in his voice. The dialogue you'll read in this essay all comes from my father's recollections. As he recounted events like the murder of his friend Medgar Evers, I saw flashes of that stranger on the tape.
---
The first time I met Medgar Evers, he was standing in his office at the Masonic Temple in West Jackson. "Looks like my desk is the first tour stop for outsiders, huh? Someone must have told you that I like it when you all come to Mississippi looking for trouble." It was spring 1962. I was part of a flood of out-of-towners trying to do what we could to help the Mississippians who were already putting their lives on the line. An activist named Tom Gaither had given me the names of people I needed to get to know if I was going to survive in Mississippi, and Medgar was at the top of the list.
Medgar was the son of a sawmill worker and a laundress from Decatur, Mississippi. He'd served in World War II, fighting in France and Germany before heading back home. Then, in 1954, he became the NAACP's field secretary, traveling throughout Mississippi to visit churches and preach the sermon of voter registration. He also spent his time investigating killings and searching for missing Black folks, doing what he could for every family who lost someone.
Being caught with an NAACP membership card could mean danger for a Black person in Mississippi. I knew a member who hid his card in a tin can in his backyard. "Here's what you need to know about Medgar," Tom had told me. "He keeps his membership card in his damn pocket."
"Where you from, kid?" Medgar's warmth and confidence were evident from behind his desk, even though he was trying to give me a hard time. "Actually, you don't have to answer that. I've known about you since the Freedom Rides"—when a few dozen of us had been arrested in Jackson in 1961 for protesting segregated bus stations. I'd come from Louisiana to Mississippi as a field secretary for the Congress of Racial Equality, known as CORE, and I was enamored of the way the Student Nonviolent Coordinating Committee, or SNCC, had taken on the mission of voter registration. "I knew y'all were coming back," Medgar said. "You never really leave Mississippi."
I told him I'd returned because I wanted to do what I could to get as many Black voters as possible. Medgar paused. "What if I told you that you outsiders are going to just show up here and get people killed?" he said. "What if I told you that you and those SNCC kids running around were reckless?" Maybe, he said, the sharecroppers and seamstresses were doing what they could on their own time, and doing it safely. "What if I told you we didn't really need you here?"
I started talking before I had formed an answer. I said that if the people I met in Mississippi told me they didn't need me, I'd knock on Medgar's door again and ask him to drive me to the bus station so I could head back to Louisiana.
Medgar got up from his desk and slowly walked over to me, his navy-blue suit fitting immaculately. He extended his hand and smiled this big smile that felt like a hug. "Well then, all I can say is welcome to the real Mississippi. You got time for Smackover's?"
Smackover's was the place Medgar and I would go to for coffee or a plate of soul food and sweet tea. It's where I would get to know the man I'd eventually call my best friend.
"I admire you kids over there in SNCC and CORE, even though y'all all got screws loose." He was 15 years older than me, so he loved calling us kids. "Sometimes the NAACP won't mix it up on the street level like we need to, and you kids just … Y'all just get your tails beat like it's nothing."
I told him I'd never quite learned how to get anything done without taking a beating. But he was the one with the NAACP card. He was just as ready to die as any of us.
That was where we differed, he said. "I love us and I want us to be free. But I have a wife and three babies at home. You got kids, Dave?"
I said I did not. I'd never even considered such a possibility.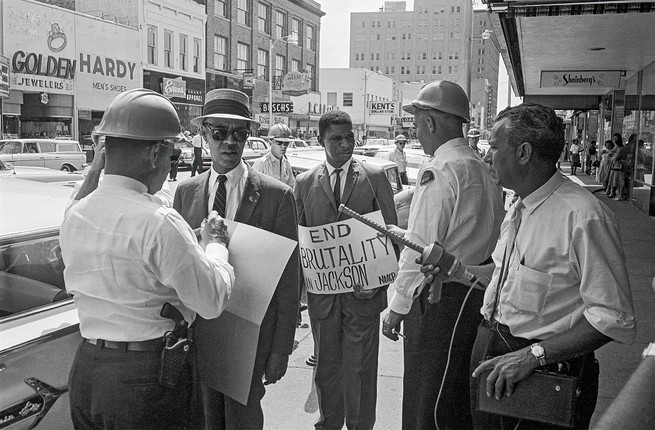 "Didn't think so." He said that the movement would go on without him if it had to. But his children needed him. He insisted that I'd be less willing to fall in front of bullets if I had to kiss a family goodbye every day. "And I got two guns in that trunk that say that even if I invite danger," he told me, "danger coming to me is getting a hell of a welcome gift."
Medgar drove me around Mississippi, introducing me to every person he thought I needed to know. He could talk business with Black lawyers and doctors and chat with farmers about how the crops were growing, from Indianola to Hattiesburg. All the while, he taught me about Mississippi. People embraced me because Medgar told them to. He introduced me to countless locals whose practical knowledge helped keep me safe. I would never have survived without him.
The bullet that tore through Medgar's flesh on June 12, 1963, changed the movement forever. Returning from an NAACP event after midnight, he was shot in the back as he got out of his car and walked toward his house. The country couldn't deny the truth of what had happened to Medgar. I remember hearing the word assassination used for the first time to describe the killing of a Black activist. Death was always possible, but some deaths we'd had time to prepare for—after a wrong turn down the wrong dark road, or whistling at a white woman. That's what death had looked like for us before. The act of registering Black people to vote and the quest to dismantle the American power structure made us feel a different kind of terror. We were going to change the country, after all, and that meant we were going to face coordinated, organized, directed murder.
In the 1950s, Mississippi formed a government entity called the Mississippi State Sovereignty Commission with the goal of preserving segregation. The commission actively spread disinformation and privately funded white-supremacist groups. The state helped prepare the legal defense for Medgar's assassin. Long before that, the commission had been a daily nemesis in our lives, routinely employing spies to attend our meetings and follow us around. Some of these spies were Black people who had been paid off. All we could do was go about our regular business and hope for the best.
Whatever sense of adventure we were feeling disappeared with Medgar. We weren't just fighting racists and cops. We were fighting the entire government. This is something we had always known, but the way Medgar was killed became a ringing in our ears that kept us from sleeping.
For me, losing Medgar ripped my soul apart. The last words I said to him—"Someone's gonna get killed riding around with you"—still bounce off my walls at night and haunt me when I wake up, sweat trickling down my chest. Why Medgar? Why him and not me?
Life after Medgar's assassination felt like a series of moments between tragedies. And the tragedies started the very next morning, before I could even grieve.
Some local students had already gotten riled up enough to start marching, so I wanted to make sure they could do it as safely as possible. Two hundred or so of us set out from Medgar's office at the Masonic Temple. The march didn't last long. The police had dozens of students locked up at the Mississippi State Fairgrounds. But I barely had time to worry about that, because I was still occupied with another crisis that had been brewing: Mrs. Hamer was in trouble.
Three days earlier, Fannie Lou Hamer, a former sharecropper who had quickly become a guiding force of the Mississippi movement, and nine other activists had been on a bus trip back from a voter-registration training led by the Southern Christian Leadership Conference, or SCLC, in South Carolina. When the bus stopped, the group would periodically sit at an interstate bus station's lunch counter or use its restrooms to test compliance with the federal regulations prohibiting segregation at such places. This upset the white bus driver, who began making phone calls at stops along the way. As the journey continued, Mrs. Hamer led the group in singing freedom songs, maybe in part to needle the driver. When Mrs. Hamer's group got to Winona, Mississippi, they realized that the driver had alerted the police.
Five of the riders—June Johnson, Annell Ponder, Euvester Simpson, Rosemary Freeman, and James West—got out to use the "whites only" restrooms and sit down at the segregated lunch counter. The police were ready, and the riders were arrested. Mrs. Hamer saw the arrests from the bus and got out to talk with her friends. The police intercepted her, told her to get in their car, and kicked her. The jailhouse in Winona would become a torture chamber for her and the others who were forced inside.
First was June Johnson.
The sheriff asked her if she was in the NAACP. June could have said no, but she said yes. The officer hit her in the face and stomach, asking her who ran the NAACP; she told him the people did. Then the sheriff, the chief of police, a state trooper, and another cop threw her to the floor and beat her, stomping her and tearing her clothes. They cracked her head with a blackjack, leaving her bloodied. She never gave them the answers they wanted. She was 15 years old.
Annell Ponder, an SCLC field supervisor, was a Georgia native and graduate of Clark College. The officers put her in the booking room and beat her with blackjacks and a belt, and said they'd keep beating her until she said "Yes, sir" when addressing them. She refused to say it.
The police tossed James West, the lone male in the group, in a cell with a few other incarcerated Black men. The cops then handed those men a blackjack and told them to beat on West. After they finished, the officers gave them shots of corn liquor as a reward for the violence.
Then the cops dragged Mrs. Hamer into the cell with the incarcerated Black men, who reeked of alcohol. The officers made one of the men lash her until his arms gave out. Her booming voice, which had awakened the spirit in so many of us, was now a scream of terror. Then it was another imprisoned man's turn. He hesitated. Mrs. Hamer, her dress pulled up to expose her back and buttocks, blood soaking the sheets below her, looked back and, as she later told me, said to the man, "Now go on 'head and do what you gotta do, because they gonna do you worse than you do me if you don't."
The man wept as he whipped her. He apologized through tears, but his crying didn't pause his swings.
When Mrs. Hamer was finally allowed back into her cell, Euvester Simpson, who was all of 17 at the time, took care of her. In the night, Mrs. Hamer developed a fever and her blood pressure spiked. Simpson, wetting a towel, wiped Mrs. Hamer's forehead, the welts on her back, and her hands, which had turned purple from trying to shield herself.
They got through the night by singing. One lyric they sang over and over again was: "Walk with me, Lord / Walk with me, Lord / While I'm on this tedious journey / I want Jesus to walk with me."
Mrs. Hamer and the others had been arrested the Sunday before Medgar was killed, and a group of us spent the rest of that day trying to find them. Hollis Watkins, a wily SNCC member, called jails in the area and threatened them by claiming, falsely, that the FBI was looking for the missing. Lawrence Guyot, a SNCC field secretary from Pass Christian, Mississippi, figured out that they were in Winona. When he went to the jail demanding answers, he was also arrested. While he was handcuffed, the police pounced. More blackjacks. More swelling and blood. They dragged Guyot to a cell.
I spent hours calling anyone I could, trying to find out what was going on. Eventually, I got word that the SCLC had secured bail money, so an organizer, Andrew Young, and a few other SCLC members drove down from Birmingham, Alabama, to get everyone out of jail. The first thing Mrs. Hamer heard when she left jail was that Medgar was dead.
Police had brutalized activists in Winona, and Medgar had been assassinated. All in one week in Mississippi. A few days later, when I saw Mrs. Hamer, I felt a rage I hadn't felt before.
She looked like she was wearing a mask too small for her face. Her cheeks and forehead were swollen beyond recognition, and she could hardly open her eyes. I remember her trying to smile and her face barely moving as she told me about what had happened in that jail. It was the first time I'd heard the gruesome details. "It's not the physical pain," she said through cracked, bloody lips. "They lifted my skirt, Dave. That's the worst part. They lifted my skirt."
I'll never get over her face. For the first time through all of this—bombings, burning crosses—I felt a desire for revenge. I wanted those white men dead. I wanted to walk to Winona and kill them all in their sleep. I wanted to bring their bodies to Mrs. Hamer and Annell and Euvester and tell them I had done this for them.
I returned to Jackson, to a city that felt the way I felt. The Black community loved Medgar, and wanted the same revenge I wanted. But I had to betray my own instincts in order to keep as many people alive as I could. It all came to a head at Medgar's funeral.
I didn't want to go to the ceremony. I didn't want to see the pomp and circumstance. I didn't want to believe he was dead. Instead, I roamed Farish Street, in the center of Jackson's Black business district, where the funeral would be held, and walked by an alley where some young Black men were gathered. Medgar had previously introduced me to this crew. They called themselves the "Corner Boys" and had taken on the role of community protectors, always keeping an eye out when white folks drove down Farish Street. They were generally peaceful, but today I noticed the handguns in their pockets and I saw the shotguns they weren't even trying to hide.
I tried to persuade them to put their weapons away—to tell them that, if they started any violence, the police would end it. But they'd heard about our way long enough. Our way got Medgar, whom they all loved, killed. I didn't have any comeback to that.
We were arguing, but saying the same thing. We just wanted the hurt to go away. I kept walking down Farish Street, peeking through alleyways between the buildings. Men were standing by with guns in their hands, like they were ready to fire bullets at anyone who dared to bother the funeral. I kept walking south toward downtown. Then, around a corner and over the horizon, I saw the horsemen of the apocalypse. Not just four, but dozens. Police officers, state troopers, and sheriff's deputies were dressed for a massacre: Riot gear. Rifles. Shotguns. Some were indeed on horseback. Others held back snarling dogs. They were waiting for the funeral march to come their way. Violent or not, it wouldn't matter. I felt certain they had the green light to kill as many Black people as possible.
I turned around and ran to all the alleyways and corners I could find, trying to talk to the men who were waiting with knives and guns. I kept begging them not to do anything, for their own good. I had to stop them from running into that wall of white rage without telling them what exactly was waiting for them. I didn't want them to take the possible war as a challenge. When I looked back up Farish Street, an agitated mass of Black marchers was heading straight toward the white militia.
The police arrested the first few marchers. But they weren't going to stop there. Several of the white men waved their batons with abandon. The Black folks weren't having it. They started tossing bottles and swinging any objects they could get their hands on. The police seemed to want blood. The only thing that eventually slowed them down was a single white man with a megaphone.
John Doar was a Republican lawyer from Wisconsin who had started at the Justice Department in 1960 under President Dwight Eisenhower and stayed to work under John F. Kennedy and Lyndon B. Johnson, making it his personal crusade to find justice for Black folks. He put his life on the line to bail the civil-rights leader Bob Moses out of jail in Mississippi whenever Bob got arrested for marches or for trying to register people to vote. Doar told Moses and me to call the Justice Department if we were arrested. When Black people disappeared, Doar's fingernails may as well have been filled with dirt from digging up bodies. He was there to make sure James Meredith got to Ole Miss, in the face of a furious mob protesting the school's first Black student. And it was Doar's presence that halted the white militia's march, most likely because the police knew he was a government official, and they didn't want the FBI on their back.
I'd met Doar in planning meetings, and I would always call him if someone went missing or if I needed help getting somebody out of trouble. Most of the Black protesters on Farish Street, though, had no idea who Doar was. They just saw a white man who looked like an FBI agent. "Please! Just listen to me! This is an unsafe situation! Please turn around!" he kept yelling into the megaphone. As I approached Doar, I saw a Black man running toward him, out of his line of vision. He had a brick in his hand, raised above his head. I sprinted and got between them.
"Dave?" said the man with the brick. "The hell you doing?"
"He's with the movement, brother. You're making a mistake."
Nearby, another man put down a shotgun he'd aimed at Doar.
"Jesus, thank God, Dave," Doar said. He handed me his megaphone, and asked me to say something to help stop things from going any further.
I grabbed the megaphone and begged everyone to stop their march. To de-escalate, calm down, and go home, even though I wanted to join them and burn everything to the ground. It's what this damn city deserved. But we had to survive to fight. The crowd quieted.
Losing Medgar ultimately galvanized the movement. In the months that followed his death, we would pull ourselves together and find a resolve we didn't know we had. A year after he was killed, we would launch the Freedom Summer, when thousands of activists campaigned for voter registration in Mississippi.
And yet, at that moment, we all just stood around Farish Street like we'd collectively woken up from a nightmare. Like something had taken over us. A few people wandered home, left with their grief and anger. The rest of us stayed behind to clean up the mess.
The kids listened to me because Medgar had brought me in to train them. The rest of the people, rage-filled locals who loved Medgar, listened to me because they'd seen me with him. I think they knew he would have vouched for me if he were there. Medgar was still saving lives from a grave he hadn't yet been buried in.
---
This essay is adapted from David Dennis Jr.'s book, The Movement Made Us: A Father, a Son, and the Legacy of a Freedom Ride. It appears in the June 2022 print edition with the headline "Losing Medgar."