The Story Behind Stacey Abrams's Fiction Career
How she became a novelist, what politics and writing have in common, and why, at the end of every good story, someone's got to die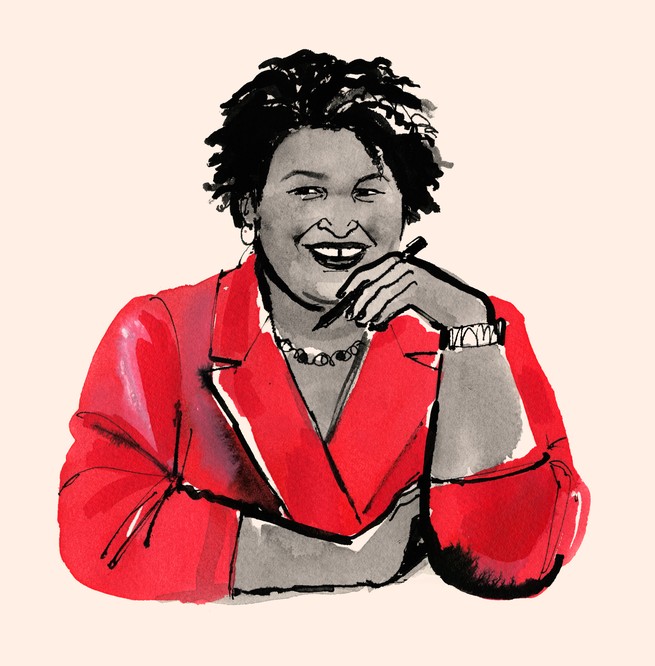 ---
This article was published online on May 11, 2021.
On the afternoon of my first conversation with Stacey Abrams, she had just moved house. She sat in front of a bay window, sunlight pouring in around the sides of drawn blinds. We were talking over Zoom, and the little square of our interaction was spare and tidy—that is, until she turned her camera around to show me a long, rectangular table crowded with things that hadn't yet found a home: an open box, an orphaned white vase, a pile of books. In the stack sat biographies of Booker T. Washington and James Madison and, she said, "a book about butterflies." Why butterflies? "Well, it's about how butterflies are part of the ecosystem that we rarely think about. Much like bees, when we had the bee-colony collapse."
I wouldn't have guessed that Abrams had bee colonies on her mind. It was early March, and Georgia lawmakers had recently proposed a raft of new voting restrictions that Abrams would later describe in a tweet as "Jim Crow in a suit + tie." Abrams is, of course, best known as the standard-bearer in the battle against disenfranchisement in her home state of Georgia and around the nation, and the founder of two voting-rights advocacy organizations: Fair Fight Action and the New Georgia Project. In 2018, she became the first Black woman to run for governor in any state as a major party's nominee, but she narrowly lost the general election to then–Secretary of State Brian Kemp, whose office had purged nearly 700,000 voters from the rolls in the preceding two years. After her loss, she doubled down on her long-game strategy of registering and mobilizing hundreds of thousands of Georgia voters—an effort that is now credited with helping flip the state blue, sealing victories there for Joe Biden and Senators Jon Ossoff and Raphael Warnock.
But threats to our democracy weren't the focus of our chat. We'd met to talk about an Abrams many don't know: Stacey Abrams the novelist. In addition to two nonfiction books—Lead From the Outside and Our Time Is Now—she has published nine works of fiction. Eight are romance novels, written under the pseudonym Selena Montgomery; her new political thriller, While Justice Sleeps, is the first novel to be released under her own name.
I am embarrassed to admit that I came to my conversations with Abrams assuming that her novels were a diverting side hustle, the product of whatever corner of her mind is home to whimsy and all things nonpolitical. I was wrong. Sure, the novels are a whole lot of fun, page-turners in which love and the good guys win. But they're far from peripheral.
If Abrams is a skilled agitator and resetter of expectations, it is in large part because she has the capacity to imagine alternate realities, and the ability to bring the rest of us along. What's more, she understands this about herself. She's not self-aggrandizing, but she doesn't patronize with false humility, either. "I'm a good politician in part because I'm a very effective storyteller," she told me. "In my world, these are of a piece. I just deploy them in different ways."
From the beginning, Abrams's parents immersed their six children in books and ideas. When she was growing up in Gulfport, Mississippi, her father, Robert, was a shipyard worker, and her mother, Carolyn, was a librarian at a college library. "I literally would sleep in the stacks," Abrams said. "We went to a preschool that was on campus. And when it ended, my parents couldn't afford babysitters. So they would just bring us over to the library."
I laughed and told Abrams that when I was a kid in Philadelphia, my mother couldn't afford child care either, so I'd take the bus after school to a branch library, where my mother would pick me up when she finished work in the evening. I'm a fiction writer myself, and a lifelong love of books took hold on those afternoons.
At the library, Abrams was allowed to read whatever she could reach—and she consumed books hungrily, including the encyclopedia and the dictionary. When the Abrams kids asked questions and their mother said, "Look it up," she meant it. (Among Abrams's five siblings are a biologist, an anthropologist, and a judge. The six have a monthly book club.)
Public schools in Gulfport varied widely by neighborhood, so Abrams's parents sought out the least expensive house to be had in one of the better school zones. Their focus on education paid off in the form of teachers who inspired Abrams, including one who taught her Latin for two years and encouraged her interest in Greek, Norse, and Egyptian mythology. Abrams still says her name, Mrs. Carr, with gratitude and a hint of reverence.
Her experiences in school weren't all positive, however. One teacher gave her a C on a paper for using too many big words. Abrams was the only Black kid in the class, and the other students, this teacher said, found her language off-putting. "She wanted me to write and speak differently," Abrams recalled. Instead, she stopped speaking in class altogether, and stopped handing in her work, too. It was a painful but formative lesson: If an arbitrary and unreasonable standard was set, she didn't have to accept it.
After her family moved to Georgia, Abrams remained an unconventional student, with a habit of snoozing in class. A nap during high-school physics proved particularly fateful. She dozed through a pop quiz, jeopardizing her academic standing, but her teacher allowed her to make up part of the grade with an extra-credit assignment. He was so impressed with what she turned in—a paper on Mesopotamian astronomy—that he helped get it published in a scientific journal. "For a minute there I thought I was gonna be a physicist. Turns out I just like Star Trek," she deadpanned before growing serious. "I was a published author—a poor girl from Mississippi. It was just transformational."
Abrams carried this new identity with her to Spelman College, where she took a class with the playwright Pearl Cleage. The first of Abrams's novels wouldn't be published for many years, but Cleage's theories about drama appealed to Abrams's intuition that in writing, as in life, if the stakes aren't high enough, the story won't matter. "She said, 'At the end of the book, someone's got to die.' And what she meant was not that you had to kill a person, but an idea, a person, a theory, an emotion," Abrams explained. "If you end a book and there has been no consequence to everything that's happened, you have failed as a writer."
I confessed that my first literary agent had told me I was a disaster at plot. Get yourself a couple of Lee Child's novels, the agent advised me, and see if you can re-create a truly suspenseful first chapter. I couldn't do it. Still can't. Abrams gave a knowing smile. The thing is, she can.
Rules of Engagement, Abrams's first novel, was an espionage thriller. Or she intended it as such, but when she sent it to publishers, the book industry wasn't much interested in spy novels featuring (or written by) Black women. Abrams, then in her third year at Yale Law School, rewrote the novel so her spies fell in love. The gambit worked, and the book was published in 2001.
Abrams's romances are racy, with titles like The Art of Desire and Hidden Sins. They contain sex, of course, and lines like this, from Deception: "Salty, strong, powerful, he filled her senses and stole her breath." Gorgeous ethnobotanists, celebrity lawyers, criminal psychologists, and fabulously wealthy international poker players mix it up with grifters, organized-crime types, and money-laundering bank executives. "Sometimes," Abrams told me, referring to her more unsavory characters, "you don't want to be responsible and respectable; you just want to have fun." Most of the protagonists are Black women, a rarity in the relatively whitewashed realm of mainstream romance writing. Abrams is eager for Black women who read her books to encounter themselves in roles and places where they usually don't.
Abrams wrote most of her latest book while serving as minority leader in the Georgia State House of Representatives. What might happen, she wondered during lunch with a mentor in 2008, if a Supreme Court justice were permanently incapacitated but didn't die? Over the next few years, she spun this conceit into a legal thriller, but an editor who read the book in 2011 turned it down on the grounds that the villain, a megalomaniacal and corrupt U.S. president, was too awful to be believed. The manuscript languished on her hard drive. In 2019, when Abrams showed it to her agent, a bombastic president and an intense focus on the failing health of a Supreme Court justice were all too real. This time, she had no trouble finding a publisher.
Abrams is a fan of John Grisham and Scott Turow, and in some ways While Justice Sleeps reflects the conventions of their genre. An irascible Supreme Court justice, Howard Wynn, is found unconscious and put on a respirator; Avery Keene, his law clerk and the novel's heroine, follows the baffling trail of clues Wynn left behind to guide her to his enemies. By the end of the prologue, she has been thrown into the deep end of a sinister conspiracy involving a deadly bioweapon.
Avery is a woman of color, with green eyes, corkscrew hair, light-brown skin, and a prominent nose. Abrams describes these as "complicated features"—that is to say, Avery's is a face that triggers an old, deep American anxiety about who is Black and who isn't. The character also has a complicated past, one that makes Avery especially vulnerable to the powers that amass against her: "The records indicated a dead father, a drug-addicted mother, and the hint of a gambling habit."
The book is shot through with Abrams's eclectic and sometimes nerdy curiosities. The plot involves the foreign-investment law known as the Exon-Florio Amendment, the Lasker-Bauer chess strategy, gene-editing technology, and nasty fictional diseases that Abrams cooked up with the help of her younger sister Jeanine, the biologist. Secrets are stashed behind Robert Caro biographies.
A week after our first conversation, Abrams and I spoke again. Georgia's voting-restrictions bill had moved further through the state Senate; by the end of the month, it would be law, imperiling a decade of Abrams's work.
I asked how she navigates darkness. It was an imprecise question. What I really wanted to know was how she deals with evil, and whether the obstacles she encounters ever seem insurmountable. "There has to be darkness for light to be known, and there has to be hardship for joy to be real," she said without hesitation. "In my writing and in my real life, you're solving a pain."
In real life, politics is a slog: The big victories, spectacular though they may be, are a long time coming. Abrams's fictional worlds, however, are gratifyingly under her control. Bad people are punished for doing bad things; grave injustice meets satisfying resolution. If a main character wants to punch a rude, corrupt president in the nose, she does. "It's comforting to have a repository for the parts of you that you can't unleash, because you can't do your job if you do," she told me.
The storytelling skills that Abrams uses to write fiction are also essential to her political life; through narrative, she renders difficult, sometimes intimidating, political concepts compelling. "I can get you to listen to me talk about tax policy," she said proudly at one point. A tax lawyer by training, she is adamant that voters need to know more about the topic. In politics, "you tax the people you think can't fight back," she said. "You spend the money on those you're afraid of." At one of her regular town-hall meetings back when she was serving in the Georgia House, she recalls overhearing a conversation between a couple of her constituents. "One guy said, 'I hear she talks about taxes.' And the older gentleman said, 'Yeah, but she's not nearly as boring as you'd think she'd be.' "
The word imagination isn't much used in politics—it sounds too soft, I guess—but like love, it is a discipline. A mind that is rigorous about constructing plots is a mind that can make tax policy interesting. It is a mind capable of envisioning a blue Georgia, and willing it into being. Abrams has an anticipatory sense of reality, of what might be even though it is not yet.
Near the end of our final conversation, I asked Abrams if she was an optimist. "No," she said. "I am an ameliorist, which is something I made up. I believe that the glass is half full. It's just probably poisoned. And so my job is always to be on the hunt for the antidote."
---
This article appears in the June 2021 print edition with the headline "Stacey Abrams Writes a Thriller."