The Commons
Readers respond to our December 2020 cover story and more.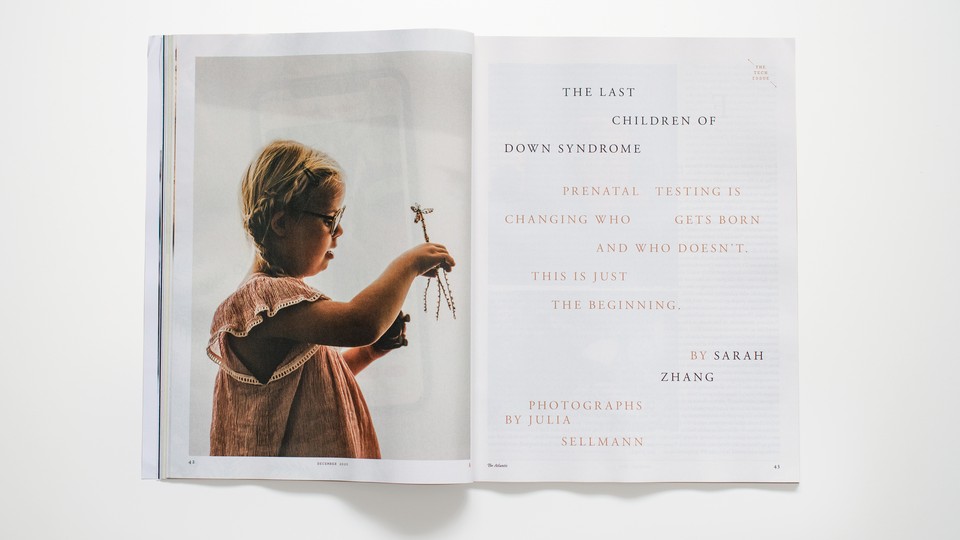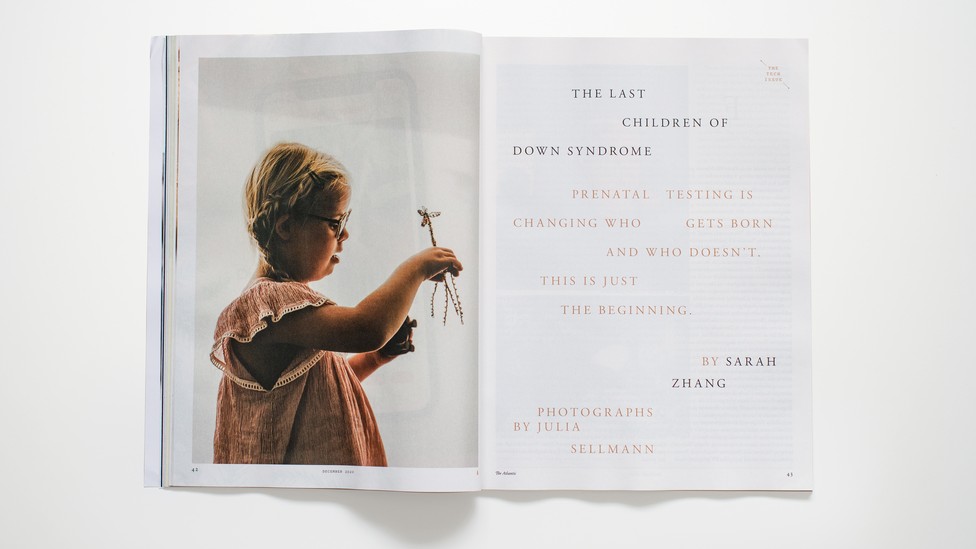 The Last Children of Down Syndrome
Prenatal testing is changing who gets born and who doesn't, Sarah Zhang wrote in the December issue. This is just the beginning.
---
"The Last Children of Down Syndrome" was well written, thought-provoking, and emotional. I did not have prenatal testing, and at the age of 29 I gave birth to a son with Down syndrome. It was a shock, to say the least. I am so glad that I did not know he had Down syndrome while I was pregnant; his father and I may have made the wrong decision and aborted the pregnancy.
Eric, now 32, has not experienced any major health problems but has had challenges throughout his life. But what child has not had challenges? I am thankful every day for him. He is friendly, funny, moody, caring, and the best thing that has ever happened to our family. He has meaningful relationships with family and co-workers. I am a better person because of him. I have much more tolerance of others, patience, empathy, and acceptance.
Judy Osowiecki
Moosup, Conn.
---
Thank you for sharing this sensitive, balanced article about Down syndrome. My eyes were first opened to Down syndrome when, as a book-smart third-year medical student, I interviewed a 42-year-old expecting mother. "Did you get a prenatal test?" I asked. "No," she responded. "My first child has Down syndrome. I wouldn't trade him for anything in the world."
Now, as a pediatrician who is 35 years wiser, I have cared for scores of children with Down syndrome. Despite their myriad medical challenges, they have taught me more about love and family than I could have ever imagined. They are also among the most emotionally intelligent people I have ever known.
Kip Webb, M.D., M.P.H.
San Francisco, Calif.
---
As a long-practicing prenatal genetic counselor, I am moved to ask why the conversation about prenatal diagnosis is still focused on abortion of babies with Down syndrome. There is so much more to this issue.
Some American women, many in my own practice, undertake prenatal screening in order to be aware of and start learning about their child's condition. Obstetric care and plans for delivery and newborn care are often different if Down syndrome or structural differences are known prenatally. For example, identification of cardiac defects that will require immediate postnatal surgery enables delivery at a hospital with a pediatric heart surgeon, and third-trimester monitoring of a fetus with Down syndrome reduces the risk of stillbirth.
Many more fetal conditions are detected prenatally, and a small but growing number are amenable to prenatal treatment. Fetal surgery for spina bifida improves the outcome for affected children, and lifesaving fetal therapy exists for babies with severe congenital diaphragmatic hernia. There is no question, however, that the availability of such therapy is limited, and there are indeed inequities in who gets to take advantage of it.
Parents and professionals must consider the potential benefits and risks of employing prenatal and preimplantation genetic testing, and providers should counsel individual patients with complete information, care, and respect. But we've got to stop limiting the discourse about prenatal testing to the inflammatory issue of abortion.
Kathy Morris, M.S.S.W., L.C.G.C.
Albuquerque, N.M.
---
Sarah Zhang's article misses a key consideration for parents trying to decide whether to carry to term a pregnancy that would result in a child with Down syndrome. When parents elect to have a child with Down syndrome, they are not only committing to parenting that person until they themselves reach the end of their lives; they are also committing their other children to take over the parenting role. When my mother had a stroke at age 88, the parenting role for my brother fell to me. I assumed this responsibility willingly and gladly. Not a day goes by that I am not involved in some aspect of parenting my brother.
My love for my brother has no limits and no conditions. I would do anything to protect him from harm. But as I myself get older, I cannot help but be concerned about what would happen to him if something were to happen to me.
I do not bring this up to say that abortion is the right solution whenever a fetus is diagnosed with Down syndrome. But it is unfair to call choosing to terminate a Down syndrome pregnancy the "canary in the coal mine," or a step toward designer babies.
Richard Fleming
Benicia, Calif.
---
The Existential Despair of Rudolph the Red-Nosed Reindeer
In December, Caitlin Flanagan revisited "the most disturbing Christmas special."
---
Everything Ms. Flanagan writes about the show is true. Both Santa and Comet behave abominably. Donner is a chauvinistic jerk. Even Sam the Snowman is not above criticism—his obsession with silver and gold surely is not healthy.
Yet they are not the reason we watched the show faithfully as kids. We relished the unforgettable lines of Hermey, Rudolph, and Yukon Cornelius. Even now a year doesn't go by that someone in my family doesn't say, "Let's be independent together," or "Don't you know that bumbles bounce?"
Chris Wright
Spokane, Wash.
---
Caitlin Flanagan replies:
If I may defer to the school of reader-response criticism, I would say only that we each have our own Rudolph, none more or less accurate than the other. Let us honor Rudolph in our hearts, and try to keep him all the year.
---
Q & A
Remote schooling has been a misery, Erika Christakis wrote in December—but it's offering a rare chance to rethink early education entirely. Here, she responds to a reader's questions about her essay.
---
Q: I appreciated this article and agreed with it, particularly its observation that schools have remained the same despite our changed understanding of childhood development. What might reforms look like, practically? If you had money and control and support, what would your ideal school look like?  — Douglas Baker, Pittsburgh, Pa.
A: Effective educators, research tells us, prize knowledge of child development on two levels: the general ("What does a 6-year-old look like?") and the specific ("How does this 6-year-old think and learn?"). This deep understanding of childhood and children calls us to reimagine the crushing uniformity of so many school norms and policies (such as unvarying school hours and calendars) that ill-serve the disparate needs of children and families—and often the needs of their teachers, too. If bespoke scheduling seems too radical, we could jettison our cultlike devotion to homework, which burdens children across the socioeconomic and learning spectrums by fueling the specious view that "learning" happens under the auspices of an institution, rather than within the unbounded human brain. Some children need to be left alone after a long school day to juice their learning mojo; others may need much more comprehensive support to unleash their potential than is found in a pack of multiplication flash cards. Adults often balk at this kind of customized education, and the challenges shouldn't be minimized. But in the long run, it's surely easier and more cost-effective to educate the individual than to keep tripping over the realities of human development.
---
Behind the Cover
To mark the launch of the "Inheritance" project, we commissioned the photographer Aaron Turner to create this month's cover. Turner's work engages with race and history as he visually represents the relationship between the past and the present. For the cover, he began with Dan Budnik's 1965 photo of young people in Selma demanding voting rights for their parents and teachers. The resulting image conveys both resilience and fragmentation—persistent themes in our collective American history.
Luise Stauss, Director of Photography
Christine Walsh, Contributing Photo Editor
---
Correction
The print version of "The COVID‑19 Manhattan Project" (January/February 2021) stated that the Moderna and Pfizer/BioNTech vaccines were reported to be 95 percent effective at preventing COVID‑19 infections. In fact, the vaccines prevent disease, not infection.