He Won a Super Bowl. Now for the Real Challenge.
Former New England Patriots tight end Martellus Bennett believes there aren't enough Black characters in children's literature—and he wants to change that.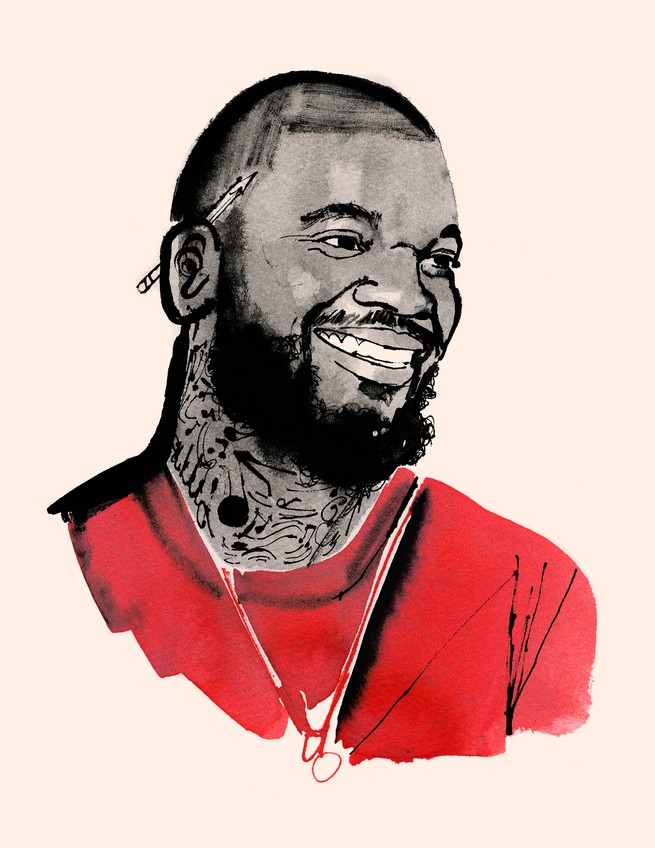 ---
This article was published online on December 17, 2020.
Martellus Bennett was in Japan when Bill Belichick called. The legendary New England Patriots head coach wasn't surprised to find Bennett in such a far-flung locale. "You're always somewhere," Bennett recalls a bemused Belichick telling him. It was February 2018, and the veteran tight end had just reached his second straight Super Bowl with the Patriots; Belichick, Bennett says, was calling to talk about his plans for the next season. Most players would have seized the opportunity to make a pitch for playing time. Bennett told his coach he'd have to get back to him. Something was happening.
Bennett had undertaken the solitary, 10-day trip to Tokyo, Kyoto, and Osaka in search of illumination. His tumultuous 2017 season had begun with a new team, the Packers. Green Bay is a famous football town, but Bennett found it worse than inhospitable. "The way you feel the coldness when you walk into a freezer, you could feel the racism there," he told me recently. He finished the season back in New England, but injury kept him off the field during the team's playoff run, which ended in a loss to the Philadelphia Eagles. Now, as he toured Tokyo (with a guide who had been recommended by the Patriots quarterback Tom Brady, who, even in Japan, knew a guy) and explored the Tenryuji Temple and Shinto shrines, Bennett found the clarity he sought. "It hit me," he said. "I do not love everything that I do. In fact, I hate more about it than I love." Rather than continue playing, Bennett hung up his cleats.
In recent years, fellow tight ends Jason Witten and Rob Gronkowski have retired from football only to find themselves unsatisfied with their second acts; both quickly returned to the familiarity of the game. Bennett, by contrast, hasn't missed it for a moment. He had laid the groundwork for a second career while still in the NFL. For all of the speed and brutality of the sport, the life of a professional football player is marked by long stretches of tedium. During endless team meetings, Bennett was never without his sketchbook, in which he would invent characters and build universes for them to inhabit. "I had to learn how to play football, how to run routes, how to catch," he said. "No one has ever taught me how to be creative. It's just who I am."
It's a testament to Bennett's talent—on the field, and in his sketchbook—that such an avocation was permitted inside Belichick's famously all-business locker room. Bennett presented some of his sketches and storyboards to the entire Patriots roster; Chris Long, a former teammate, told me he's "a big admirer of his creativity."
Bennett was also known on the team for his commitment to social justice. Beginning in 2016, he was one of a cohort of players who advocated for police accountability, a group that included Colin Kaepernick as well as Bennett's older brother, Michael. The issue has since gained traction, but at the time it was a lonely cause, and one that came with real costs.
Bennett, who is now 33, remains a critic of the NFL, a league he regards as infected by racism, even as it has belatedly made a show of embracing social-justice issues. But in his second career, he's trying to address racial disparities in a different industry: children's entertainment.
Bennett is the author of four books for children, which he writes as well as illustrates. His goal is to tell the kinds of stories he struggled to find during his own childhood: stories about Black characters going off on fantastical adventures, which too often have been the exclusive province of white characters written by white authors. In June, Bennett signed a deal with Disney to create an animated series based on his Hey A.J. series, which follows the escapades of his daughter, Austyn Jett Rose. It was a coup for Bennett's still fledgling enterprise, and a meaningful one, given the scope of his ambition. "I don't ever want to be remembered for playing sports," he told me. "I don't want anyone to bring up Super Bowls. I want them to say, 'Oh, and he played football.' "
Growing up in Houston, Bennett was a standout athlete, excelling at both basketball (he briefly considered the NBA, and was talented enough to have been drafted) and football (as a senior at Alief Taylor High School, he was ranked the best tight end in football-rich Texas). But Bennett was also big-brained and quick-witted, with interests that stretched well beyond athletics. His mother, Pennie, was a middle-school teacher. His father, Michael, was an IT tech at Enron. Martellus was an honor student and a first-chair trombonist in the school band. As a hobby, he and his father would build computers from scratch.
Despite his diverse interests, Bennett felt he was inevitably seen as an athlete first. Senior year, he stood 6 foot 6 and weighed 240 pounds. For most kids, being considered NFL material would be the ultimate compliment. Yet even as an adolescent, Bennett saw sports less for what they offered and more for what they took away. His brother was already on track for a career in the NFL; several star athletes from the area would reach the professional ranks. Bennett observed the way that, in America, Black ability could mean only athletic ability: What else could a guy that big, that rich, and that Black possibly be?
"The value we place on the athlete is greater than the value we place on the scholar," Bennett told me. "Two kids walk into the barbershop, and one is a pretty good basketball player. People will be like, 'You gotta watch him. He's got a jumper. He's got a shot at the NBA.' And if a kid comes in and has won two science fairs in a row and got a grant? No one says, 'That's the next Mark Zuckerberg.' Or 'He's going to be Bill Gates.' They don't celebrate him."
Bennett was one of the lucky ones: Like Michael, he possessed world-class athletic talent and went on to a high-earning career in professional sports. His book Dear Black Boy, which he began writing while he was still in the NFL, was addressed to the 99.9 percent of children who won't be able to make a living playing sports. As a kid, even one growing up with certain middle-class advantages, Bennett felt the weight of the pernicious American idea that a Black boy who can't play ball will end up either dead or in jail. He wants these boys to see another path. He exhorts his young readers to exercise their mind, in preparation for a different kind of contest. "We must lace up our shoes to do more than run another sprint, dunk another ball, catch another pass, or swing at another pitch," he writes. "We must lace our shoes and run toward freedom."
Dear Black Boy was an extension of Bennett's activism; he was inspired to write it by the 2016 killings of Philando Castile, shot by a police officer during a traffic stop in a Minneapolis suburb, and Alton Sterling, who was shot at close range by an officer in Baton Rouge, Louisiana. More recently, his writing for children has taken a new approach: His goal is to tell stories that a young Martellus Bennett would have loved. "A lot of my work is me subconsciously trying to validate my childhood, because the childhood I had as a Black boy does not exist in media today," he said. "I was more like The Goonies than Boyz n the Hood."
Bennett worries that Black kids aren't afforded the same opportunities to imagine their way into mischief that white kids are. Surveying the children's-entertainment landscape, he sees stories in which Black characters either don't exist or exist merely to satisfy some goal of representation. Black authors are rarer still: According to data collected by the Cooperative Children's Book Center, at the University of Wisconsin at Madison, less than 5 percent of children's books published in 2019 were written by Black authors.
To make his point about the scarcity of Black heroes for young readers, Bennett asked me a seemingly simple question: "Who is the most universally known Black character of your lifetime? Off the top of your head. The Black Mickey Mouse. The Black Spiderman. Who immediately comes to mind?" I was stumped. The most obvious answer, Black Panther, was created at the height of the civil-rights movement, but the character wasn't even American, and for decades the African king remained a minor character in the Marvel Comics universe. In 2016, Ta‑Nehisi Coates took over the title, but even his efforts—and the blockbuster success of the movie adaptation—have hardly changed the landscape. "Go to a comic-book store and ask for a comic with a Black lead that's not Black Panther," Bennett said. "It's a struggle."
When Black characters do show up as protagonists in children's entertainment, too often it's in service of recounting a tragedy, their Blackness inevitably rooted in pain. Bennett said he doesn't want his daughter to read books like The Hate U Give, Angie Thomas's young-adult novel centered on a police shooting: "I'm sure it's a fascinating book, but why do I want my kids to see more racism, or kids dealing with racism?" White kids are constantly invited to escape into universes bearing no resemblance to our own. Why aren't Black kids?
Even Black creators like Thomas, Bennett said, can't help but freight their stories about Black kids with the horrors of racial injustice. He pointed to the Netflix movie See You Yesterday, directed by Stefon Bristol and produced by Spike Lee. "I was so excited to see this movie," he said. "They had these smart Black kids in New York City, and they built a time machine, and I'm like, This is about to be the Black version of Back to the Future! " The plot, however, takes a violent turn. "You know what this genius Black girl had to do?" he asked me. "Her brother gets shot by the cops, and she has to go back in time to stop her brother from getting shot by the cops." To Bennett, such narratives only reinforce the old dead-or-in-jail idea. Black trauma has become the de facto Black culture.
"Black people are treated as second-class citizens in reality and fantasy," he said. "I want to build worlds where kids and families of color can come and know that they own it, they belong there, and it's a magical place." Put another way: "If you get a time machine in my world, you're going someplace amazing."
As a boy, Bennett loved roaming the candy-coated halls of Willy Wonka's chocolate factory, and there's something of Roald Dahl in his own work—flights of wild imagination cut with wry humor. In Hey A.J., It's Bedtime!, a bedroom full of toys comes alive the moment A.J.'s parents turn out the light: Mermaids watch an action movie, dinosaurs order pizza, and zombies dance. A.J. has a difficult decision to make: get some sleep, or join the fun. She finds a way to do both, by partying for a while before retreating to her parents' room when things get a bit too raucous. In the end, A.J. collapses in a blissful post-adventure slumber, her right foot planted firmly in her father's sleepless face.
When I spoke with Bennett this summer, over Zoom, he was at his home in Los Angeles. Behind him was a mural he had painted, called The Little Brown Girl. Bennett's visual style is heavily influenced by the spiritual undercurrents of the Japanese animator Hayao Miyazaki; his approach has also been shaped by the Japanese concept of heta-uma, which finds meaning in blemished lines. "It's ugly and pretty at the same time," Bennett told me. "It's not supposed to be perfect. I want you to see the human in my art."
In The Little Brown Girl, an ominous whirlwind carries a curiously unafraid little girl aloft as she holds on to the stem of a red umbrella. The mural suggests an adventure about to unfold, and it perhaps reveals something about its restless creator, who always seems to be in pursuit of some new fantasy. Back when he would build computers with his father, the activity was fueled by tubs of rocky-road ice cream. Nostalgia for those sessions inspired Bennett to partner with OddFellows, a Brooklyn ice-cream maker, on a concoction called "The Happy Flavor by Marty." Then there was a collaboration with the Brooklyn chocolatier Fine & Raw, on a trio of chocolate bars (raspberry, lucuma and vanilla, and sea salt) that came wrapped in gold foil and packaging illustrated by Bennett. Bennett doesn't want to be Willy Wonka—but like the fictional candy man, he sees no reason why his wildest ideas can't be brought to life.
This summer, Bennett settled on a name for his post-football enterprise: Browniversal. He thinks the name, which was his wife, Siggi's, idea, captures his audacious ambition, which includes not just books but apps, games, even theme parks. "Black kids 6 to 13 are largely forgotten," he said. "They have to jump to sports, because they don't see themselves [anywhere else]. Cartoon Network having Black characters on the afternoon block isn't change. I imagine a world where all the characters are brown."
Bennett is well aware of the challenges he's facing. He has to persuade the monolith of mainstream publishing and media distribution to see Black kids as he does. He also understands the grim realities faced by his intended audience. Seventy-five percent of Black boys in the United States aren't at reading level in fourth grade. Remedying that problem will require the structural societal reforms for which Bennett has been advocating since his days as a football player. "I do know my task is hard," he told me. "But I keep my head down and do the work, and never look at the finish line." As he writes in Dear Black Boy, prodding his young readers to join the race, "freedom is still a giraffe and a half away."
---
This article appears in the January/February 2021 print edition with the headline "The Second Career of Martellus Bennett."