The Many Lives of Adrienne Rich
Praised by W. H. Auden as neat and modest, she vowed to be passionate and radical instead.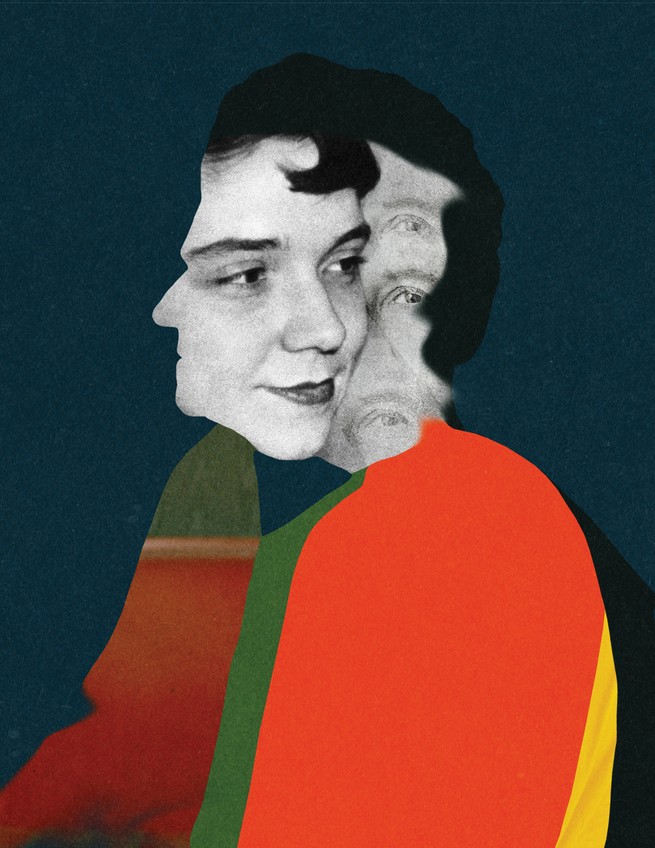 In 1952, in her native Baltimore, Adrienne Rich delivered her first public lecture, "Some Influences of Poetry Upon the Course of History." She was 23. Over the next 59 years, Rich (1929–2012) would herself alter both poetry and history. As an author, a teacher, and an editor, she helped define American feminism. As a poet, she left a stack of books that are animated by anger, by self-reproach, by deep knowledge of the poetic traditions she often rejected, and by her fierce desire to be understood. She created, and illuminated, divisions—within her readers as much as among them—as she reversed and revised her life's goals.
The simplest story about those goals—and it's not wrong—presents an obedient daughter and a young mother, rewarded early for talent, radicalized in middle age. Adrienne's father, Arnold, was a prestigious pathologist at Johns Hopkins University and a WASP-passing Jewish man. An "absolute authority" in his own home, as Rich wrote, Arnold required his wife, Helen, to wear the black crepe dress he designed for her, day after day, year after year. Helen, a trained pianist and composer, threw herself into Adrienne's music lessons (she was playing Mozart by age 4); Arnold, into her literary education, neglecting her younger sister, Cynthia. When Arnold died in 1968, Hilary Holladay writes in her capacious, generous biography, The Power of Adrienne Rich, Rich had "spent her life becoming the accomplished poet he wanted her to be." She had also "hated him for a long time."
Rich was driven and admired, though never popular, in her all-girls high school. She enrolled at Radcliffe (then Harvard's college for women) seeking a husband and a literary career. The "self-possessed and proper" Adrienne impressed professors, among them the poet Theodore Morrison and the renowned F. O. Matthiessen, an authority on American literature and a gay socialist. She also became engaged to a graduate student in history, Sumner Powell. Before her senior year at Radcliffe, Rich had completed the manuscript W. H. Auden chose for the Yale Younger Poets prize. His foreword to A Change of World (1951) praised the undergraduate's "neatly and modestly" finished work. Writing to her family, Rich resolved to be "messily passionate and grand" instead.
The Yale book made Rich a well-mannered wunderkind; it also led to a Guggenheim-funded year at Oxford, with travels on the European Continent (de rigueur for her poetic generation). A poem from The Diamond Cutters and Other Poems (1955) suggested more unruly ferment; set at Versailles, it augured great change (such as the French Revolution) for "all good children who are all too good." Before Rich moved overseas, she left Powell cold. She then fell hard for Alfred Conrad, whose Jewish background repelled Arnold. "I didn't know a great deal about him," remembered the poet Donald Hall, who knew Rich at Harvard and Oxford, "but I knew he was an economist and I knew she loved him—and I knew that her father disapproved."
When she returned, the pair married and settled in Cambridge, where they enjoyed a Harvard-centric social world at once comfortable and stifling. "She had a script to follow," as Holladay writes: that of young faculty wife. As her first two children, David and Pablo, neared school age, Rich found herself pregnant with a third, Jacob. She nonetheless managed to enter the Boston University–based literary circles of Robert Lowell, Anne Sexton, and Sylvia Plath. Rich "advised Sylvia very strongly not to have children." Poems in free verse about feeling trapped in a household, about being a woman in a male-dominated world, opened Snapshots of a Daughter-in-Law (1963). In the title poem, angels tell the writer at the kitchen sink, "Be insatiable … Save yourself; others you cannot save."
Nonetheless, she tried. The family spent a year happily in Rotterdam, where Rich acquired her strong interest in translation; renditions of Dutch poems conclude Necessities of Life (1966), whose signature poem envisions New England settlers "starved, intense," "lonely," "each with his God-given secret, / spelled out through months of snow." Denied tenure twice at Harvard, Conrad in 1966 took a job at the City University of New York. Rich went with him, "vigilant mom by day, chain-smoking, hard-drinking poet by night" in Manhattan and in their vacation house in Vermont. CUNY expected Conrad's energies to go into its new doctorate program in economics. Instead, he threw himself into activism: against campus racism, for open admissions, against the Vietnam War.
Rich shared his confrontational politics. "Even to hope is to leap into the unknown," she mused in Leaflets (1969), "under the mocking eyes of the way things are." And yet she found it hard to share his life. She recalled in an interview, "Essential portions of me were dying." "She couldn't get him to talk to her," Holladay writes. In New York (and perhaps earlier), Rich and Conrad decided to open up their marriage, and her lovers included Robert Lowell. She had no sense of herself as attracted to women until after Conrad's death. In July 1970, Rich told him she was moving out; three months afterward, she wrote in her poem "Sources," Conrad "drove to Vermont in a rented car at dawn and shot himself."
Reactions to that loss, and attempts to move past it, energized Diving Into the Wreck (1973), a book widely recognized for its bold commitment to women's liberation. Though W. B. Yeats was no feminist, Rich's career now seems Yeatsian—early fame; complex private life (with a hinge in her 40s); shifting styles, each a reproach to the last. She could have said, as he did, that each time she changed her approach to verse, "it is myself that I remake." Holladay singles out a poem from Wreck called, simply, "Song," where the poet stands
with the rowboat ice-fast on the shore
in the last red light of the year
that knows what it is, that knows it's neither
ice nor mud nor winter light
but wood, with a gift for burning
Before Wreck, Rich was an eminent left-wing poet. After it, she was a public figure, showing other women hurt by patriarchy, by domestic isolation, by competition, how to claim submerged selves, how to read the "book of myths / in which / our names do not appear." She had changed herself, even saved herself. Now she wanted to change the world. Holladay devotes perhaps too many pages to Rich's star turn at the 1974 National Book Awards, where she, Audre Lorde, and Alice Walker together accepted her prize on behalf of "all the women." But the fame was real: For decades, her readings filled auditoriums.
It was after Wreck that Rich came out, first to friends, then with her 1976 chapbook "Twenty-One Love Poems," among the first well-known openly lesbian love poems in modern America. Rich's first lesbian partners included the activist poet June Jordan and (after they sparred in print) Susan Sontag. A light sense of unaddressed controversies, of material withheld, lingers over Holladay's treatment of those years. Yet she resolves the greatest mystery in Rich's career, the identity of the lover in "Twenty-One Love Poems." The woman who inspired such passionate words, Lilly Engler, refused to come out, let alone make the romance public. And no wonder: Engler was Rich's psychiatrist—she could have lost her practice and her license. The relationship lasted less than a year. "These are the forces we had ranged within us," the love poems conclude, "within us and against us, against us and within us." Rich could have meant everything from shyness, to coyness, to therapeutic ethics, to internalized or society-wide homophobia.
By this time, the poet craved not just same-sex love, but communities made by and for women. Rich diminished or cut off contact with prominent men and refused to take questions from men in her audiences. Her poems sought historical parallels in women mountain climbers, in neglected artists, in Marie Curie. Holladay asserts, a bit defensively, that the poet was no dogmatic separatist: "All Rich wanted was a break" from men. Even before she bought a house in Massachusetts, the social and intellectual center of her life had begun to shift to the Pioneer Valley, around Amherst and Northampton, a lesbian destination then as now. Holladay's sources for these years include Janice Raymond, whose egregiously influential 1979 book, The Transsexual Empire, argued that transgender women are not really women and should not exist. Rich's role in its writing—and her attitudes toward trans people (did they change?)—go unmentioned. We do, however, see Rich change her mind about other things. Once active, with Raymond and Catharine MacKinnon, in anti-pornography campaigns, Rich in 1985 switched sides: "Laws intended to punish pornographers would harm women whose sexual desires fell outside the perceived norm."
Rich owed her eminence not only to her poetry but to essays such as "Compulsory Heterosexuality and Lesbian Existence" (1980), and to her book-length polemic about "motherhood as experience and institution," Of Woman Born (1976). Rich's copy editor for that book was a younger writer, the Jamaican poet and novelist Michelle Cliff; they fell in love. Rich settled down with Cliff for the rest of her life, first in New York; then in western Massachusetts, where the pair ran the lesbian feminist journal Sinister Wisdom; and from 1984 on in Santa Cruz, California. Volatile, and sometimes prickly about her lesser fame, Cliff nonetheless made a strong partner for Rich. Santa Cruz neighbors remember the couple as welcoming, warm, and reliable, and as avid fans of the sitcom The Golden Girls.
Anchored in life, Rich the writer remained unsatisfied, and uncompromising, in literary matters. She told the poet Hayden Carruth in 1971 of a "hunger that seems almost … to be who I am." Rich assembled a controversial—and wonderful—1996 edition of Best American Poetry with work from teenagers and prisoners (as well as from the usual poetic suspects). Devoted to an ideal of integrity, she had trouble expressing gratitude, lest any kindness seem transactional. In Holladay's telling, she kept friends close for decades, but could drop them without warning. With Carruth, it's a wonder she took so long; their "intimate, almost entirely epistolary friendship" could not survive his resistance to her feminism. Audre Lorde took on a similar role—close in every way except physical sex—in Rich's later life. "You have climbed into my poems," Rich wrote to Lorde, "and, in less visible ways, I have perhaps climbed into yours." Their friendship surfaced questions she felt she needed to ask herself about her relationships with other Black women.
Rich also asked herself what to do as a Jew. "Yom Kippur 1984" found her "trying to say / that to be with my people is my dearest wish / but that I also love strangers / that I crave separateness." Holladay remarks that Rich "made a Talmud out of her life." Capacious sequences, ragged stand-alone lyric poems, and pages that read like notebook entries, in books like Time's Power (1989) and Midnight Salvage (1999), revealed a writer still arguing with herself, trying "to give up power for the greater good," reaching out internationally, rejecting earlier efforts to speak for all women. And if the late prose turned glib, the verse remained profound. The lead poem in Fox (2003), dedicated to the HIV-positive poet Tory Dent, addressed readers everywhere:
I guess you're not alone    I fear you're alone
There's, of course, poetry:
awful bridge rising over naked air …
I'm driving to your side
—an intimate collusion—
packed in the trunk my bag of foils for fencing with pain …
If you have a sister I am not she
nor your mother nor you my daughter
nor are we lovers or any kind of couple
  except in the intensive care
      of poetry
Few readers knew Rich's own pain: It literally hurt to be her. (The "foils," above, are hypodermics.) Diagnosed at 22 with rheumatoid arthritis, she kept her condition private for decades; "acute suffering could occur at any time," Holladay writes. In 1969 she declined to attend a march, worried that she would slow her companions down. She used canes and wheelchairs beginning in the early 1980s, if not earlier; onstage, "she did not appear strong until she spoke." The New England chill made her arthritis worse—one reason Rich and Cliff chose California. In a metaphor almost too good to be true, a 1992 spinal operation required Rich to wear, all day and all night, a metal "halo screwed into her head."
The halo, of course, also meant she needed help. Rich's mature writings, verse and prose, insisted on interdependence, attacking the systems that separate women from women, rich white people from all the rest. And yet her writings stood out. "It's an oldfashioned, an outrageous thing," Rich mused in the '80s, "to believe one has a 'destiny.' " But she felt she did: "The faithful drudging child / the child at the oak desk … becomes the woman with a mission." People who have read few books of poetry have read Diving Into the Wreck ; people otherwise untouched by feminist theory have led lives improved by her prose. And people who have read many poems, and many poets, can still find little-known gems of introspection, ways to look outside our personal bubbles, to remake ourselves, in the complexities of her work.