The Last Anti-Trump Republicans Are Biding Their Time
The movement didn't prevent the president's 2016 ascent, but it may yet save the GOP.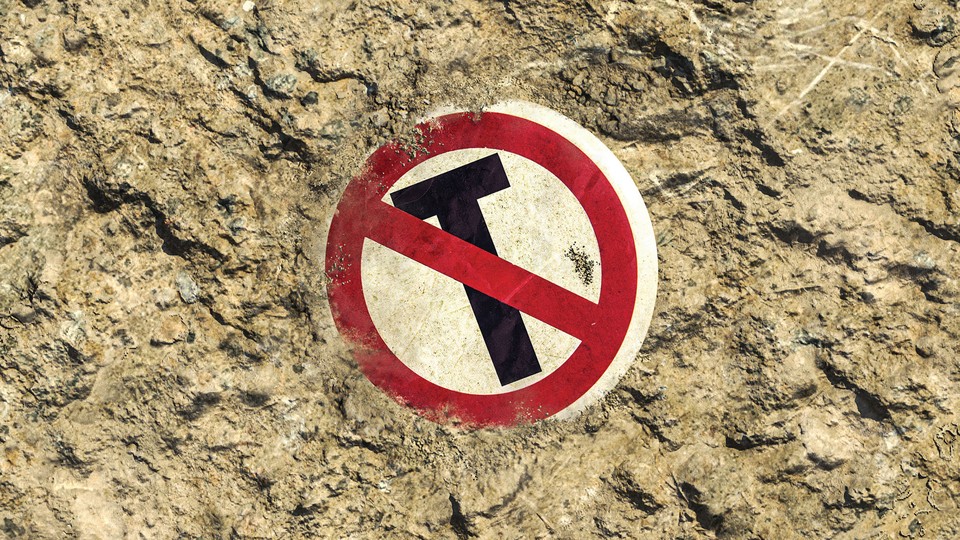 As the first nominating contests of the 2016 election approached, Republican elites were mortified that a casually cruel man with decidedly unconservative views seemed to be hijacking their party. Yet for all their professed horror, many GOP insiders seemed frozen in place as Donald Trump consolidated support—unable or unwilling to do anything to stop their party from being captured by a vulgar demagogue.
One of the few party faithful who leapt into action was Joel Searby, a political operative in Florida. Searby worked a couple of rungs below celebrity consultants such as Mike Murphy and Stuart Stevens, focusing mostly on local and state legislative races, plus a smattering of congressional campaigns. By early 2016, Searby had come to believe that American voters would be faced with a choice between two terrible presidential candidates. Despite his distance from the party's power centers, he took it upon himself to do something.
Searby started researching what, exactly, would be necessary to run an independent candidate. The most obvious challenge was getting the candidate's name on ballots. There was no single formula; each state has its own rules. Before long, Searby found himself immersed in what he describes as "a Ph.D.-level ballot-access course."
The hurdles, he concluded, were not insurmountable. The late start was far from ideal—deadlines were rapidly approaching in some states. Yet Searby calculated that, with something in the neighborhood of $6 million and court challenges in a few states that were particularly hostile to independent candidates, he could get someone on the ballot in nearly every state.
At roughly the same time, Searby commissioned a poll about potential contenders. "One of the names we put on there was Condoleezza Rice, and she polled astronomically well. And I thought, Hmm, that's interesting. I wonder if I could get in touch with her." But Searby did not have the professional network to facilitate an introduction with the former secretary of state, nor did he know anyone at the Hoover Institution, the Stanford-based think tank where Rice works.
On Google, he located contact information for Rice's chief of staff, whom he emailed and called. A couple of weeks went by with no response. Eventually, he received "a rather frustrated response from her chief stating in no uncertain terms that Dr. Rice would not be running for president and I should leave them alone."
Not quite ready to give up, Searby attempted to stoke interest by emailing Rice a memo summarizing his research and offering a rationale for her candidacy. He acknowledged his previous attempts to contact Rice and generously characterized her thoughts on the matter as "reluctant." The memo asserted: "There is only one viable independent candidate: Condoleezza Rice … The reality of the matter is that we will have President Trump or President Clinton—if we do not have President Rice."
Searby then followed up with two more requests by phone that Rice run for president. These elicited a definitive reply: in Searby's paraphrase, "Hell no."
despite his failure to recruit Rice, Searby had helped kick-start a political movement that may yet shape the future of the Republican Party. By late February 2016, he was far from the only member of his party trying desperately to rescue it from the Trump insurgency. A small network of political operatives and Capitol Hill staffers led by Mindy Finn, a digital-media expert who had worked on three presidential campaigns, began a concerted effort. They started a super PAC to support their movement, and promoted it with a soon-ubiquitous Twitter hashtag: #NeverTrump.
Although politicians including Lindsey Graham, Ted Cruz, and Nikki Haley initially denounced Trump, they turned out to be, at least in the minds of Never Trumpers, summer soldiers and sunshine patriots. The core of the movement was made up of the public intellectuals, political operatives, and once and future political appointees whom the party depends on to run campaigns and to govern after successful ones. Eliot A. Cohen (now an Atlantic contributing writer), Bryan McGrath, and John Bellinger were among the ringleaders of the nearly unanimous resistance by the GOP's foreign-policy establishment. Another strong constellation of Never Trumpism was made up of writers such as the venerable columnist George Will and Bill Kristol, a co-founder of The Weekly Standard. A small but vocal contingent within the Republican political-operative class also joined the effort.
The leaders of the nascent movement published open letters declaring their opposition to Trump. They tried and failed to coalesce behind a single primary challenger (and later schemed to deny Trump the party's nomination at the Republican National Convention). Searby teamed up with Kristol, and together they continued trying to recruit a spoiler. They courted General James Mattis, Senator Ben Sasse, and Mitt Romney. Each took a meeting with the search team and several days to mull things over before declining. Looking back, Kristol still bridles at the notion that the mission to land a marquee name was hopeless. Some thought, " 'Oh, Kristol's going around on some pathetic Don Quixote kind of thing, tilting at windmills,' " he said in an interview. But "we had three serious people, as far as I could tell, seriously considering it."
When none of the party elders would bite, the effort degenerated into a series of flailing overtures to second- and third-tier options, including Dwayne "The Rock" Johnson. Eventually, the recruitment effort settled on Evan McMullin, an obscure ex–CIA agent and House staffer. After a campaign consisting largely of earnest tweets, McMullin placed fifth in the general election, behind the Libertarian and Green Party candidates in the popular-vote tally.
In some ways, it's hard not to see the Never Trump movement as having comprehensively failed, even as the costs of Trump's brand of populism—demagogic, conspiracy-minded, anti-science, scorched-earth—have been brought into sharp focus. In some circles, Never Trump is looked at as little more than the pitiful last gasp of a decadent, exhausted, and now vanquished elite. Despite the ongoing public-health crisis caused by the coronavirus, Trump remains, as of this writing, popular with Republican voters. The party's core coalition partners—from the National Rifle Association to anti-abortion activists—have, with varying degrees of enthusiasm, stuck by him. The Never Trump ranks, meanwhile, have seen considerable attrition: Some foot soldiers slunk into the Trumpian fold while others defected to the Democrats or simply resigned themselves to being politically homeless.
Nonetheless, a dedicated remnant has kept the candle burning. Kristol has nurtured several organizations committed to traditional conservative values, including Republicans for the Rule of Law and Defending Democracy Together. McMullin and Finn launched Stand Up Republic, an organization dedicated to strengthening American democracy that now has chapters in 18 states. And many of the intellectuals and writers linked to Never Trump continue their work at think tanks, universities, newspapers, and magazines. New publications have also sprouted up, including The Bulwark, the go-to source for anti-Trump commentary on the center-right, and The Dispatch, founded by two leading conservative journalists, Jonah Goldberg and Stephen Hayes. These stalwarts have kept up rearguard efforts to expose the perfidy of the current administration and to wrest their former allies away from Trumpian populism.
They may yet provide the foundation for the triumphant return of traditional conservatism. More likely, however, Never Trumpers will play a different but still vital role in American politics. It could fall to them to prevent Trumpism from dominating the Republican Party—and the country—for years to come.
Since Trump's takeover, political observers have envisioned two futures for the party of Lincoln. In one view, the GOP will become permanently subsumed by populism. If Trump wins a second term and can maintain his vindictive cult of personality, successful challenges to his style of politics do seem improbable. The conversion of onetime Never Trump favorites like Graham and Representative Elise Stefanik into shameless sycophants bears this out, as does the demonizing of critics such as former Senator Jeff Flake, former Representative Mark Sanford, and Representative Justin Amash, who left the party and now identifies as an independent. If Trump can withstand the bungling of the COVID-19 response and an economic downturn, that does not bode well for Never Trumpers hoping to free the party from his brand of populism.
Others cling to the view that if the president is repudiated at the ballot box this fall, the Trumpist fever will break and the party will be restored to something like its former self. This outcome seems unlikely. Deep sociological factors—in particular, a GOP base that is overwhelmingly white and is becoming more working-class, less formally educated, and older—will lead the party to go where its voters are, even in the absence of Trump.
But there may yet be a more hopeful story to tell about the Republican Party and the civic future of America. This story begins with the observation that, historically, American parties have rarely been homogeneous. While our institutions push strongly in the direction of two parties, our vast geography and demographic heterogeneity make it hard for those parties to be internally coherent. The ideological and coalitional diversity that in other countries is processed through multiple parties has typically been institutionalized in the United States as durable factions within the two dominant parties. As recently as the 1970s, the Democrats had a powerful faction of conservative southerners, and the GOP had a liberal wing based in the Northeast.
Over the past couple of decades, however, factional divisions within both parties declined. The Republicans in particular have not had organized groups with significantly different ideas, institutions, funders, and geographic bases. There is the Freedom Caucus in the House of Representatives, but it has dissented from party leaders less about first principles than on tactics. Former Speaker Paul Ryan and the caucus's previous chairman, Mark Meadows, basically agreed on where the ship should sail; the only question was whether it needed to tack to get there.
That kind of internal coherence remains a historical anomaly and is unlikely to persist in either party. For the foreseeable future, the dominant faction of the GOP may be populist and nationalist. But the populists will not have the party all to themselves. They will be forced to share it with what we will call a liberal-conservative faction, in recognition of their grounding in classical liberal principles of pluralism, constitutionalism, and free trade. That faction, in other words, is the Never Trumpers and their fellow travelers: the educated middle class, business interests, and the more upwardly mobile parts of minority groups.
This wing of the party may be small, but it will enjoy some impressive advantages. It will find significant financial support in the technology and finance sectors and thus will have more than adequate resources to build institutions, fund candidates, and engage in intraparty warfare for control of state parties. Because it will be especially attractive to the kinds of experts and thinkers who played such a key role in the Never Trump movement, it will not lack for well-developed policies and philosophies. In the midst of a pandemic, expertise might even regain some of its appeal.
A Never Trump faction within the Republican Party might also benefit from a similar evolution within the Democratic Party. The Democrats are already seeing signs of factional division emerging in their ranks, as moderates do ideological battle with a left wing whose members openly call themselves socialists. The left wing of the party has quickly grown from a small band of disgruntled partisans to a powerful political force with its own think tanks and fundraising strategies, and a large membership organization, the Democratic Socialists of America, which has doubled in size over the past two years.
Notably, the parts of the country where populist Republicans are least competitive are also the parts where the left wing of the Democrats will be the strongest—possibly even dominant. That dominance would make the Democrats beatable, especially in state and local races, by liberal-conservative Republicans who embrace racial and ethnic diversity and are in favor of economic competition, market mechanisms to protect the environment, internationalism, and aggressive measures to fight poverty. The competitiveness of this part of the Republican Party in the bluer corners of the country can already be seen in the reelection of the popular Republican governors of Maryland and Massachusetts, who have embraced something like this liberal-conservative approach.
At the national level, a Congress with durable, organized factions would look far different from the one we've become accustomed to. For decades, we've seen the linked trends of homogenizing parties and growing polarization create one of the most toxic problems the nation faces: partisanship so paralyzing that it all but eliminates the possibility of compromise. Yet as the parties become less unified, legislators have an opening for a revival of bipartisanship. If these factions develop into genuinely distinctive, independent brands, they could become powerful enough that the majority faction is forced to negotiate with them. And on a host of key issues—national security, trade, and immigration, for example—the Democrats' moderate wing and the Republicans' liberal-conservative faction may find that they have more in common with each other than with other members of their respective parties. The more populist elements of both parties might find affinity on precisely the same issues.
Such cooperation can be seen as another legacy of the Never Trump movement, a natural outgrowth of the personal connections that many Never Trumpers forged with erstwhile political opponents who became allies in their resistance to the president. Kristol's rehabilitated moral status among some progressives—once unthinkable—is a prominent example. The Republican and Democratic donors who now meet regularly with various centrist activists through a network called Patriots and Pragmatists is another. These ties will only become stronger as donors in both parties shift their support to their respective factions and away from the party as a whole. Billionaire donors such as Kathryn Murdoch and Seth Klarman are already starting to target their giving so as to build up political infrastructure for the parts of the major parties that are neither populist nor socialist.
This scenario will continue to rely heavily on the devotion of the Never Trump faithful. Kristol, for his part, is pleased with the work he's done to date, though he is uncertain about the future. "Most of my efforts were based on the premise that it was worth trying to stay in the Republican Party—which I think was right—but that it was also doable, which may not have turned out to be right, at least in the short term," he said. "Let's say Trump loses. I find it hard to believe I'm going to just be getting together with Mitch McConnell and John Cornyn and Kevin McCarthy and yukking it up." Kristol may be right that he's unlikely to be welcomed back with open arms by party leadership. But the future of the GOP may depend less on a détente between Never Trumpers and Trump loyalists than on a revived tradition of spirited intraparty antagonism.
---
This article was adapted from Never Trump: The Revolt of the Conservative Elites. Copyright © 2020 by Robert P. Saldin and Steven M. Teles. Published by Oxford University Press. All rights reserved. It appears in the May 2020 print edition with the headline "The Never Trumpers' Next Move."