Melina Matsoukas's Unflinching Eye
The director has collaborated with artists such as Beyoncé, Rihanna, and Issa Rae. Now she is set to premiere her debut feature film—a romance set against a backdrop of police violence.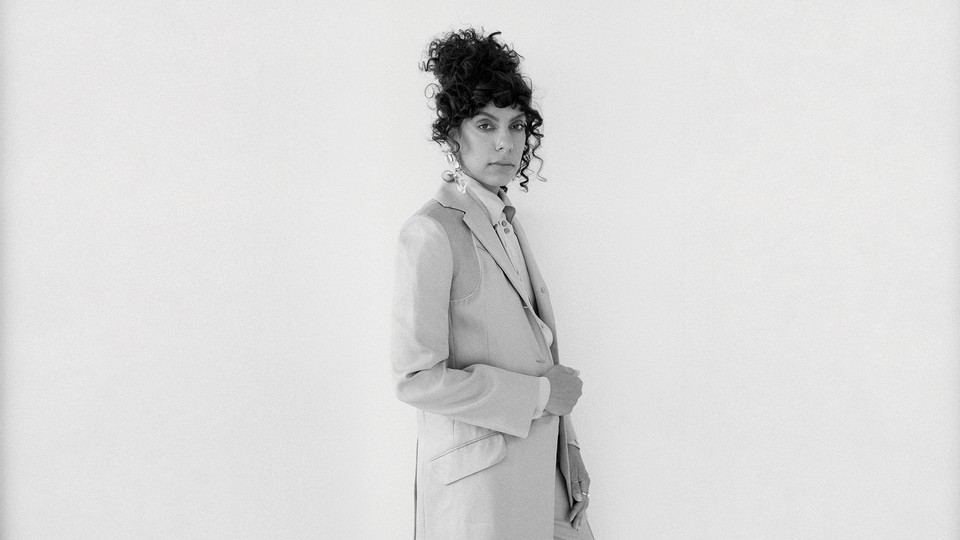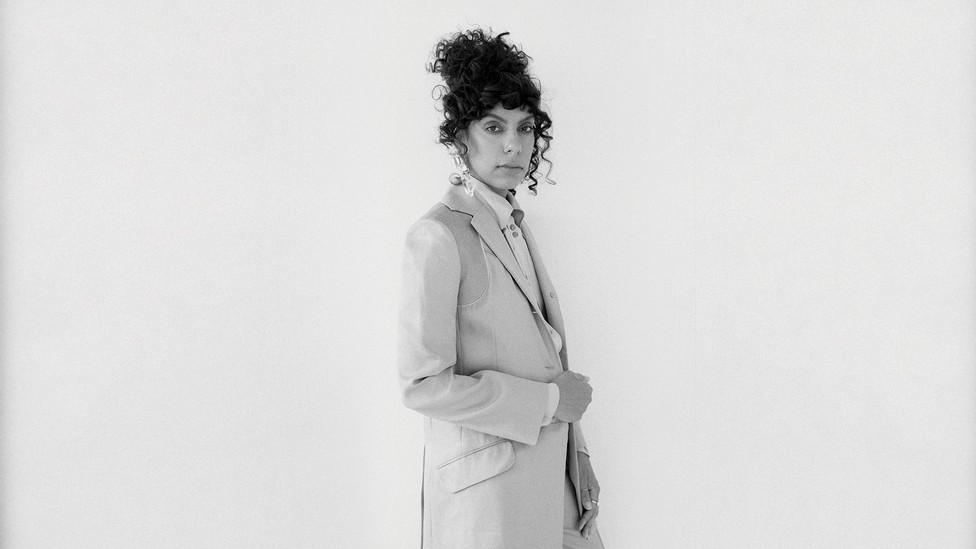 Earlier this year, while location scouting for her first feature film, Melina Matsoukas ended up in St. Clair Superior, Ohio, a black neighborhood on the northern border of Cleveland. Over the course of half an hour, the director watched six drivers get pulled over by police. When I sat down with her at a café on Sunset Boulevard in Los Angeles this summer, Matsoukas told me that while making Queen & Slim, she recalled one of the cars pulled over that day—a white Honda Accord. "That's Slim, right there," she said. "This is what it looks like on a Tuesday night … how your life can be turned around in two seconds."
Queen & Slim, written by the Emmy winner Lena Waithe and starring Daniel Kaluuya and Jodie Turner-Smith, follows a black Ohio couple on the run after they kill a cop in self-defense during a traffic stop on their first date. During the stop, the officer riffles through the trunk of Slim's car; finding only boxes of sneakers, he draws his gun and orders Slim to the ground. Queen hops out of the car to defend Slim, and the cop shoots at her before a struggle ensues and Slim gets hold of the gun. The couple's survival of the encounter is a departure from the grainy bystander videos and police dashcam tapes that have been released in recent years. The bulk of the film follows Queen and Slim (the "black Bonnie and Clyde," as another character calls them) trying to avoid capture as they journey from Cleveland to the Florida Keys, in an effort to reach Cuba. Along the way, they are confronted by reminders of America's racist legacy: prisoners working a far-off field in the South; police officers in riot gear at protests that boil over into violence.
And yet, despite the film's troubling themes, it's equally invested in romance. More captivating than the chase is the couple's capacity to nurture their connection while racing against the various forces that threaten their lives. As the black community's clashes with police swell into crisis, the film resists turning its leads into antiheroes. Instead, Queen & Slim shifts its focus toward love as a salve for oppression.
Provocative subject matter isn't foreign to Matsoukas, who was raised in the Bronx by a Cuban mother and a Jewish Greek father, whom she describes as "freedom fighters." She's the visionary behind a number of cultural touchstones from the past decade: Beyoncé's music video for "Formation," which shows the pop star sitting on a sinking police cruiser in New Orleans; the video for Rihanna's "We Found Love," which touches on domestic violence. Matsoukas has also made her mark on TV, where her credits include the Emmy-winning "Thanksgiving" episode of Master of None and Issa Rae's HBO hit, Insecure. In an industry that lacks opportunities for female directors, Matsoukas is one of the few with a major-studio release this year.
Perhaps most notable is her talent for capturing the inextricable beauty and brutality of life for black Americans, and the necessity of exuberance in the face of hardship. "That's how we deal with trauma," she told me. "We still find a way to celebrate and carry on our traditions, and to laugh and to eat and to sing. That's just the way that we survive."
---
This interview has been shortened and edited for clarity.
Adrienne Green: What were your parents like?
Melina Matsoukas: In the '70s, they were part of the communist-leaning Progressive Labor Party. I was raised to figure out how I was going to be an activist—I chose the arts. That was always a value in my life. How are you going to give back to this world? I found my passion for film because I felt like it had the capacity to change minds.
Green: What did you read and watch as a kid?
Matsoukas: I remember my parents taking me to watch [Julie Dash's 1991 film] Daughters of the Dust; I was seeing black people beautifully captured on-screen. My mother is an educator, and she introduced me to so many writers: Audre Lorde, Maya Angelou, Alex Haley, James Baldwin, Paula Giddings. Some Karl Marx was thrown in there by my father.
Green: How did you get interested in music videos?
Matsoukas: I'm an MTV baby. I fell in love with the partnership between music and film. I wanted to start out in music videos because it was a way to be experimental and hone my skills as a filmmaker. You're able to approach each project in a completely different way. At NYU, where I studied film, I was probably the only person who made a music video as my thesis.
I moved [to Los Angeles in 2003] to get my master's at the American Film Institute. I worked as a production assistant while I was in school, and then, a couple of videos into my career, Beyoncé hired me to do four videos [for songs from] B'Day. My career kind of catapulted from there.
Green: You've worked with so many dynamic women with distinctive points of view. What's that been like?
Matsoukas: What I do for Beyoncé is not what I do for Lena Waithe; it's not what I create for Issa. I try to make work that's authentic to them, instead of saying, "Oh, you're a black girl and this is how you should look; this is how you should be represented." We're not a monolithic group of people. We're very diverse, even though we are of the same culture.
Green: Why did you want Queen & Slim to be your first feature film?
Matsoukas: It falls in line with my politics and my values. I like to make things that create empathy and understanding for our culture. Queen and Slim are not the same; they're not meant to be together. They weren't getting along on that first date, and they probably wouldn't have seen each other again if they hadn't been forced together by this shared experience. They were forced to become vulnerable with each other.
And we wanted to shed light on police brutality, on all the fallen soldiers we've lost because of this oppressive institution. I also wanted to showcase black love and unity, not just romantic love. Black unity is our greatest power against oppression. What is represented on-screen is not just the love between those two characters, but the love that the community shows Queen and Slim.
What I loved about Queen & Slim is that it's everything. It's a comedy, it's a drama. At times, it's almost like a documentary—there's brutal reality—but then some of the scenes seem fantastical, like we're in a dream. Even the darkness can be beautiful.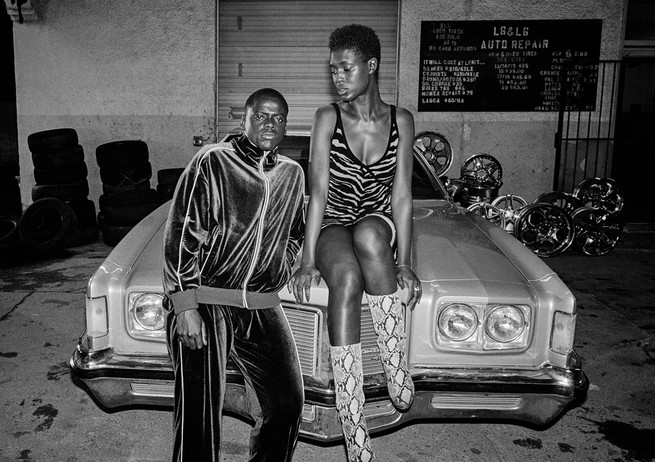 Green: What was the atmosphere on set like?
Matsoukas: Well, when we first got to Cleveland, there was a polar vortex. I was literally in a blue snowsuit looking like the Michelin Man trying to direct this scene. Everybody knew that we were doing something very serious; it was not fun and games. It was really trying at times. We were fighting to tell our story and shooting in places that weren't used to being shot, and that comes with a certain amount of effort.
Green: Making painful things beautiful is a running theme in your work.
Matsoukas: Black culture is the biggest commodity in the world. It's shipped around the world, stolen from us, exploited, and then underappreciated. It was really important for me to showcase it in a beautiful light, to show that the true value of life is community, not what you have or what you own.
Green: It's interesting to be talking about love and unity alongside brutality during this fractured political moment.
Matsoukas: If you look at Spike Lee's Do the Right Thing, [those characters] struggled with the same issues that we're struggling with today. Not much has changed since then in terms of police brutality. But it was important to show us not as victims, but as empowered people.
Queen and Slim are falling in love as the world is burning around them. I looked at protests, from apartheid in South Africa to Ferguson, Missouri, to see how easily things can escalate. We wanted to show the interaction between the police community and the people, and the fact that [even for black officers] once you put on the uniform, it's not black and white anymore—it's blue. Whatever color you are, you are responsible for the sins of your colleagues and that institution.
I hope that people are open [to it]. I hope people see what the black experience is. This is something we go through every day of our lives as soon as we step out the door. I fear for my man's life, my father, my brother, my cousins, every day when they get in a car. A cop comes, and it can go many different ways.
Green: A part of that fear has to be connected to watching black people being murdered, whether it's on the news or via clips on Twitter. How do you process that?
Matsoukas: We're living in a war zone. It's become normalized. It's a real problem that we go about our day without recognizing the lives that have been stolen from us. I don't know how to process that.
Green: You've said that you treat each video like a thesis project. What did you pull from for inspiration for this movie?
Matsoukas: Every decision in this film was rooted in authenticity, even the locations where we shot. The film starts in Cleveland. [Ohio] still has the death penalty, and Queen's character defends people on death row. We were on a road trip that went from north to south—as Queen and Slim's relationship warmed up, so did the environment around them. I always talk about it as a reverse slave escape narrative. Cleveland was the last stop on the Underground Railroad before slaves would go to Canada. There were a lot of elements like that that came from research.
Green: Most of the secondary characters in the film enable Queen and Slim's journey, although there seems to be a divide between the people who are energized by the couple defending themselves and those who view it as an invitation for police to kill more black people.
Matsoukas: The common thread in the community is that no one sees Queen and Slim as monsters. No one sees them as criminals, whether they agree with what happened or don't. We wanted to show all sides—we didn't want it to be all black people on one side and white people on the other side. That's just not what happens.
Green: Black people who have been killed by the police—Eric Garner, Michael Brown—are memorialized as symbols of injustice. But Queen and Slim see themselves become representations of the fight for black lives. Why was memory, and the idea of creating a legacy, so important to the film?
Matsoukas: Black people are sometimes more celebrated in death than in life. What is your legacy? What is your gift to the world? Unfortunately for us, sometimes it's our lives. That's why I feel like we could not let the people who have passed—the Sandra Blands and Eric Garners—die in vain. This is really for them. It's to honor what they gave us unintentionally. They were fighting a war that they didn't even know they were in, and we want to carry on that conversation.
Green: At one point, Slim says, "I ain't gon' bend the world." But isn't that part of what you're trying to do?
Matsoukas: That's my favorite line! And I guess, but unintentionally so. We can't just be. Which Slim says. We're just telling a story that's our story, and because we have been written out of history, it feels like it's trying to do more than it is. But it's simply trying to exist.
Green: Do you feel pressure because of that?
Matsoukas: Every day. I feel pressure to build on the legacy of those [who came before], and also pressure to create, and kick down doors for the next person. We don't get to make mistakes. We have to succeed—whatever we do, we can't fail. It's a part of being the first and the few. When others say there's no pressure, they're lying. There's been immense pressure to make my people proud. I take it very seriously.
---
This article appears in the December 2019 print edition with the headline "Love in an American War Zone."