Boy Scouts Are Holding Together a War-Torn Country
In the Central African Republic, peacekeepers come in all sizes.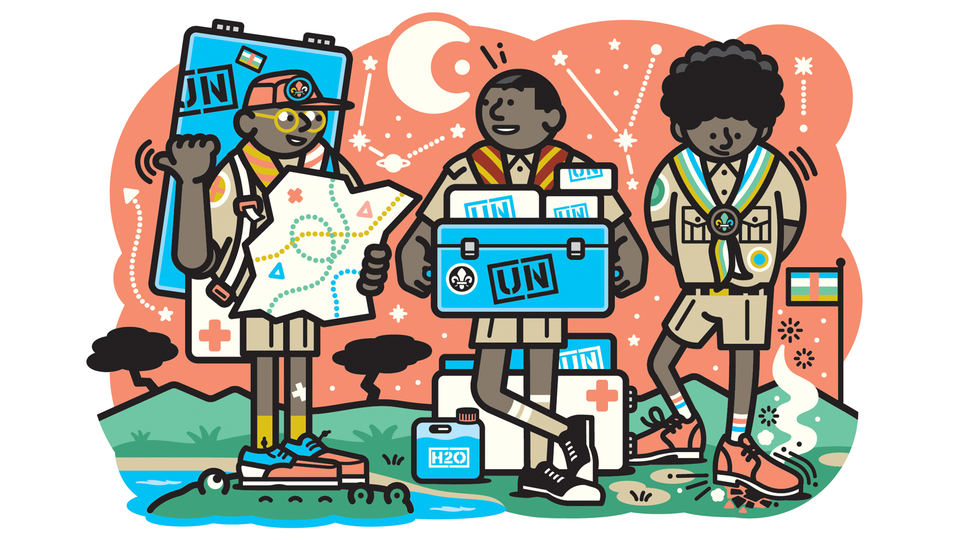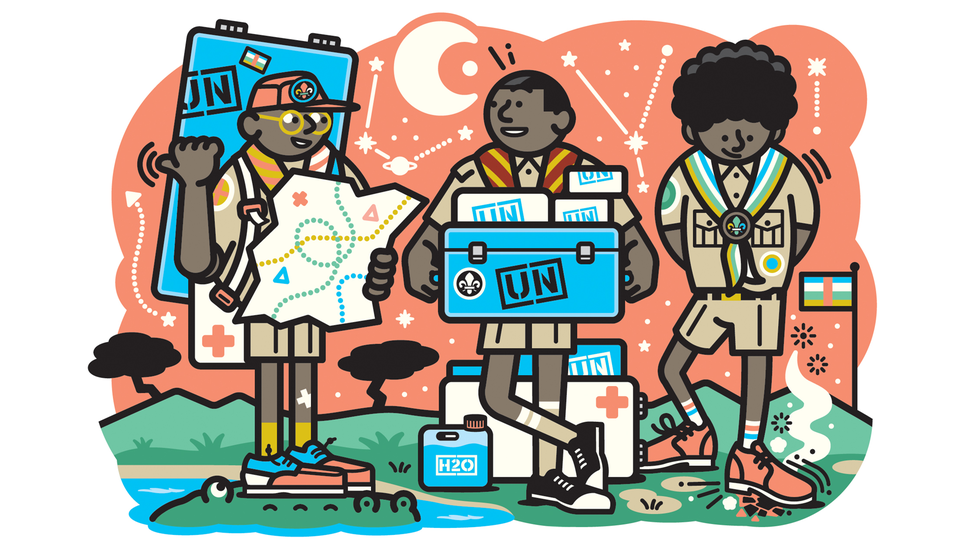 Updated at 9:38 a.m. ET on July 9, 2019.
If you venture outside Bangui, the capital of the Central African Republic, it's dangerous to travel alone. Journeying from village to village means navigating jungle or savanna without paved roads or reliable communication networks. CAR straddles one of the world's largest magnetic anomalies, so compasses often err. And conflict among more than a dozen armed religious groups has balkanized the country.
Amid all of this, one unlikely institution has become crucial to the country's survival: the Boy Scouts. Like scouts the world over, members wear trim shorts and multicolor neckerchiefs—but their youthful uniform belies a grander-than-average sociopolitical mission. When they aren't earning badges for cooking and woodworking, they're guiding ailing villagers to hospitals, or distributing mosquito nets and food at refugee camps. Last year, as Simon Allison reported in Mail & Guardian, the boys investigated rumors of Ebola in a remote part of the country. The year before that, they helped negotiate the release of a Muslim community held hostage by armed groups.
Since 2013, when rebels staged a coup and religious violence flared, CAR has been in a state of civil war. Today, the enfeebled government in Bangui relies on foreign aid agencies to hold the country together—and the agencies in turn rely on the country's 20,000 boy scouts, who surpass CAR's largest armed factions in both size and geographic reach. UNICEF, for example, deploys boys to public squares to perform plays about hand-washing, and sends them door-to-door to promote the polio vaccine.
The peacekeeping role that scouts play in CAR is more fitting than it might at first seem. Founded in 1907 by the British army officer Robert Baden-Powell, the scouting movement combines military reconnaissance tactics with a pacifist philosophy—in his famous book Scouting for Boys, Baden-Powell urged readers to think of themselves as "peace scouts." According to Elleke Boehmer, a professor at Oxford, scouting technique was also strongly influenced by Baden-Powell's observations during his extensive African travels. "The Ingonyama chorus—a central scouting chant—is a Zulu chant," she told me. And the wooden beads on the uniform were inspired by "a Zulu necklace he once found during a raid."
For many boys and young men in CAR, scouting offers community, and keeps them from grimmer alternatives, such as being enlisted by local militias or drug dealers. Rod Gallaut, a scout leader in Bangui, told me that scout training helps young men secure work, and that he encourages child soldiers to lay down their weapons and join his troop.
Unsurprisingly, given CAR's pervasive sectarianism, Catholic, Muslim, and evangelical scouts have long had separate troops. In the past few years, however, they've begun to team up—motivated in part by a desire to join scouting's official world body, which requires each member country to have a united national movement. In 2017, Gallaut, who is Christian, became friends with a Muslim scout leader when they traveled together to Cameroon for a scouting conference. "This experience has changed my conception of Muslims," he said. Scouts of different denominations now attend camps where they bond over music and sports. And they recently began laying the bricks of an interfaith training center—and earning badges in peacebuilding.
---
This article appears in the July 2019 print edition with the headline "Big In ... The Central African Republic: Peacekeeping Boy Scouts."