What Song Exploder Has Taught Us
How the hit podcast has revealed the creative process of artists as diverse as Fleetwood Mac, Metallica, and Lorde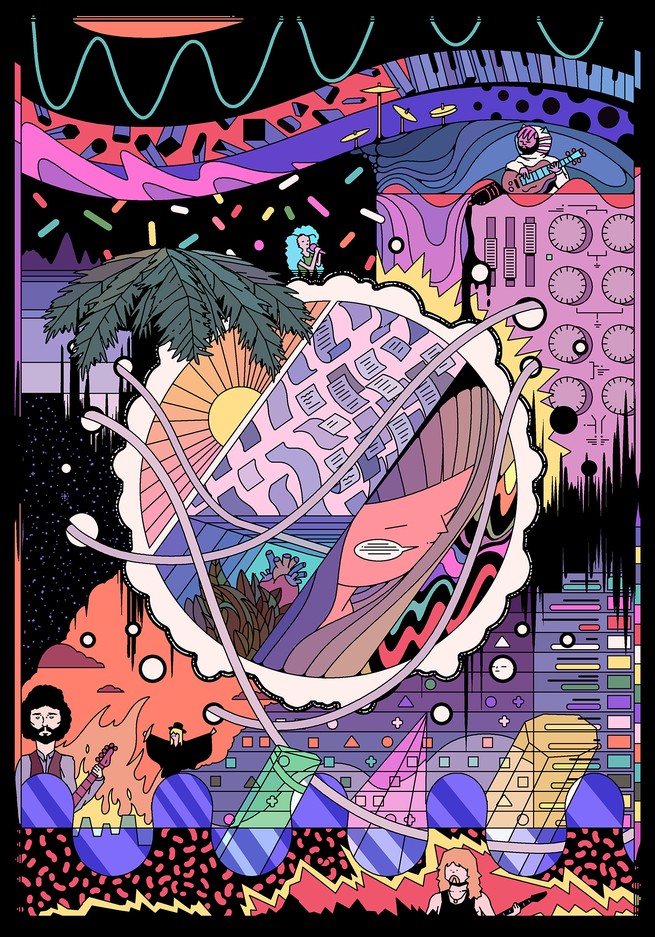 Headphones on. Earbuds in. Seal your consciousness; prepare to fertilize the inner life. Now, what's it going to be: some music, or a podcast? A dose of (in my case) Iron Maiden doing "Rime of the Ancient Mariner," or (again in my case) three dudes muttering about the Premier League?
So far, the two spheres—music and words, rapture and sobriety—have been largely nonoverlapping. Few podcasts have had the resources or pluck to license music for their shows. But now a giant of music streaming has made a massive lurch into the podcast world: In February, Spotify announced its multimillion-dollar purchase of the podcast companies Gimlet and Anchor. Some industry watchers believe the merger could clear the way for music from major record labels to replace the homely, pajama-inflected podcast scores of old. Pandora, meanwhile, has launched a new format, Pandora Stories, which promises to "combine the best of podcasts and music playlists" (Jane's Addiction front man Perry Farrell, for example, giving the lowdown on his back catalog). The market, as usual, wants it all, the music and the words.
Why do we care? Because we might, each in our private orb of listening, be about to enter a rich new era. Music plus commentary can be music magnified. We know this because, since 2014, one podcast has been elegantly interleaving layers of music with layers of talk, and conducting us thereby deep into the sonic-artistic mysteries.
Hrishikesh Hirway's Song Exploder does what it says on the tin. In each episode, a single song gets explained/expanded/exploded—broken down into its constituent parts and ideas, its drum tracks, its backing vocals and strata of emotion. After a brief intro, the host (previously Hirway; as of January, the musician Thao Nguyen) cuts out, so the only voices we hear are those of the composers and makers, telling the story. And telling it coherently, sequentially—a tribute to the show's agile editors, who construct narrative from even the most musicianly rambling.
It's a revelatory method. "Musicians like to exist in a state of pure potentiality," Joe Carducci, the author of Rock and the Pop Narcotic, once told me. "They never want to finish anything." But things do get finished somehow, thank God, and Song Exploder takes us—economically and expertly—from the roots of a song all the way to the completed work, which gets played in full at the end of the episode.
So where do songs begin? In states of heaviness and cloudiness, in moments of obscure magnetism. A lonely Thundercat gets drunk; now he's even lonelier. Lorde, during a "wild and fluorescent" summer in her native New Zealand, has one of those verbally constricted, charged-with-yearning conversations at a party. Fleetwood Mac's Lindsey Buckingham needs to let his bandmate/ex-girlfriend Stevie Nicks know how he's feeling; his guitar starts chugging and smoldering with aggrieved punk-pop energy. So Thundercat writes "Them Changes"—a work of squelching melancholy, patterned around a splashy Isley Brothers hi-hat. Lorde writes the erotically cranked "Sober." This is how inspiration works. A word suggests itself, then another. A strand of tune floats by. Into the khaos—the dark jostle of instincts, the dim forms, the undeclared sensations—comes the logos: the transforming spirit. Art breathes upon the waters. And then you find that your drummer can't play it.
That's a great lesson, actually: It's what happens when Buckingham takes "Go Your Own Way" to his band. In his head he has a beat-scheme like the Rolling Stones' "Street Fighting Man," all cool and driving and syncopated—but Mick Fleetwood, rhythm's gravedigger, has a problem. "When I showed him the pattern, he couldn't actually play it," Buckingham recounts. "And finally I'm saying to him, 'Look, I mean, is there a way you can paraphrase that?' " Hence the distinctively lolloping, half-collapsing, stuttering-heart pulse—quite perfect for its theme—of "Go Your Own Way." Loving you / Isn't the right thing to do. An incapacity becomes an asset.
Such moments of instruction abound on Song Exploder. When Phoebe Bridgers, recording her lovely, doleful "Scott Street," got to the lines There's helicopters over my head / Every night when I go to bed, her guitarist made helicopter noises—shimmering blade-sounds—with his guitar. He was joking. Or was he? "I have a theory," Bridgers says, "that the jokes you make in the studio are actually just kind of the best ideas but you're just shoving them aside … Whatever your joke idea is is probably just a genius idea you're a little nervous about." The helicopter noises stayed.
Metallica, on the other hand, has bypassed serendipity: In the band's senior years, its process seems to be completely and satisfyingly industrialized. As a prelude to writing its latest album, drummer Lars Ulrich is given an iPod containing 1,500 proto-riffs and maybe-ideas: chordal blurts, noise-stammers, and hummings-into-the-mic produced by guitarist James Hetfield during various sessions and sound checks. ("There's nothing that happens in this band these days that's not recorded.") Ulrich winnows it down, this vast germinal pile, to 20 or 30 viably squirming riffs, and takes them to Hetfield. Is this even songwriting? "I'm letting you in on a lot of trade secrets here!" says the jumpy Ulrich. "I've never really talked about this stuff in this detail." One of these riffs—the one known as "plow" because, Hetfield says, "it had that feeling of just, it could push through anything. It's like, Okay, nothing's gonna stop this riff"—will eventually form the basic grid of Metallica's "Moth Into Flame." Which, as it happens, is not that great a song. It's no "Master of Puppets." But oh how I love, having enjoyed it in its nudity and sincerity, that beautiful plow riff.
Multiple collaborators; months, sometimes years of on-again, off-again work; false starts; fiddlings; breakthroughs; accidents; exposures. It is, or it can be, a proper grind, writing a song. This, too, Song Exploder teaches us: that as the initial song-impulse is mingled with the world, with the material and the technical and the mortal, it takes a certain kind of grit to see the thing through. Big Boi, building his hustler's anthem "Order of Operations," works with the producers Scott Storch and Diego Ave, the songwriter Eric Bellinger, and his own patient sense of craft. The words need to be right, but so does the timbre. "My voice has a little raspiness to it," Big Boi says, "and I know how to control it with breath control; I know how to make it hum, or make it smooth at certain times."
Sometimes a single comment or detail will, synesthetically speaking, illuminate our hearing. The composer Daniel Davies, on John Carpenter's twinkling, tight-as-cheese-wire Halloween theme: "The purity of that piano is what makes it scary." The techno auteur Jon Hopkins plays an A-flat bass note on his synth, but then pitch-bends it so low that the note separates into subterranean-sounding electronic pulses—a chthonic throb that will become the rhythm track for his magic-mushroom epic "Luminous Beings."
And sometimes the testimony has the heft of a sermon. Yo-Yo Ma, being Yo-Yo Ma, gets a special episode of Song Exploder, in which he talks about his lifelong relationship ("literally the first piece of music I learned") with the prelude to Bach's Cello Suite No. 1 in G Major. At weddings and funerals I have fidgeted like an oaf through many listless and creaking recitals of this piece. It has always seemed to me to be just there, inert, part of the furniture of tradition. But here comes Yo-Yo Ma, speaking with great eloquence about the filtration of the prelude, over the years, through his nervous system and through the totality of his livingness. "Any experience that you've had has to be somehow revealed in the process of making music. And I think that almost forces you to make yourself vulnerable to whatever is there to be vulnerable to. Because that, actually, is your strength." His performance, his cello, scrapes every membrane of culture off the prelude. I'm exposed to it, exposed by it. Made vulnerable to Bach, at last, by the words of a musician.
---
This article appears in the June 2019 print edition with the headline "The Story of a Song."